O rápido crescimento de VE na China deveria ser ainda mais rápido
SÃO FRANCISCO – Sendo uma tecnologia consolidada e económica, os veículos elétricos (VE) são uma parte fundamental da solução para as emissões que estão a aquecer o planeta. Quando combinados com eletricidade limpa, abrem caminho para o transporte terrestre de neutralidade ambiental. E, felizmente, a eletricidade está a ficar cada vez mais limpa, de ano para ano, devido à rápida queda dos custos das energias solar e eólica.
As vendas globais de VE dispararam no ano passado, subindo para 13% a venda de novos veículos, acima dos 8,6% em 2021. Grande parte desse crescimento é proveniente da China, onde as vendas de VE duplicaram em 2022, para os 6,9 milhões (26% do total de vendas de carros novos), e não revela sinais de ficar por aqui. A Associação de Fabricantes de Automóveis da China prevê que as vendas de VE no país crescerão 35% em 2023, atingindo os nove milhões (33% do total de vendas de veículos novos).
Mas nem mesmo essa taxa de crescimento será suficiente para cumprir os compromissos climáticos da China ou do mundo. Para alinhar as emissões dos transportes com as metas científicas para um clima seguro, os líderes da China precisarão de acelerar ainda mais o ritmo.
De acordo com o Conselho Internacional de Transportes Limpos, um elemento-chave para o sucesso da China até agora é a sua norma de venda de veículos com novas fontes de energia (NEV), uma política pouco conhecida que estabelece metas de vendas para fabricantes de automóveis nacionais. Essas metas vão aumentando com o tempo, permitindo um cumprimento flexível através do comércio de créditos de carbono. Se um fabricante vender mais do que o objetivo médio do setor, ele receberá créditos NEV que poderão ser vendidos a um fabricante que venda menos. Desde que a política entrou em vigor em 2019, o índice de referência subiu, passando dos 10% de todas as vendas naquele ano para os 18% em 2023. Mas como as vendas já ultrapassaram em muito esse limite no ano passado, o Ministério da Indústria e Tecnologia da Informação da China pode – e deve – definir um patamar mais elevado para metas futuras.
Especificamente, as autoridades chinesas de transporte devem planear uma norma NEV que atinja 75% de todas as vendas até 2030. Quando combinado com outras medidas viáveis de alta ambição para veículos comerciais pesados, isso reduziria as emissões de automóveis 70% abaixo dos níveis de 2020 até 2050. Em contraste, prevê-se que as emissões de veículos aumentem 63% até meados do século se não houver medidas adicionais.
As autoridades chinesas não têm qualquer motivo para se conter. Afinal, colocar mais carros limpos nas estradas também salvaria dezenas de milhares de vidas anualmente ao reduzir a poluição do ar. Normas NEV ambiciosas também são essenciais para alinhar o setor de transportes da China com o seu compromisso mais amplo das zero emissões líquidas.
Subscribe to PS Digital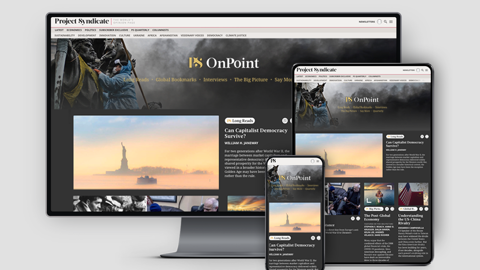 Subscribe to PS Digital
Access every new PS commentary, our entire On Point suite of subscriber-exclusive content – including Longer Reads, Insider Interviews, Big Picture/Big Question, and Say More – and the full PS archive.
A modelagem da Agência Internacional de Energia mostra que a adesão mundial aos VE terá de ultrapassar os 60% de todos os carros, até 2030, para se atingir as zero emissões líquidas, a nível mundial, até 2050. Na prática, isso significa que os maiores e mais avançados mercados de carros terão de ultrapassar a média global, uma vez que muitos outros países não terão os meios para alcançar uma transição tão rápida. Seria, portanto, extremamente importante se a China tomasse a decisão de aumentar a sua norma NEV para 75% até 2030.
Uma transição mais rápida é viável e acessível. Já há muitas opções de VE disponíveis nos principais mercados e, constantemente, são adicionadas outras novas às linhas de produtos dos fabricantes. O crescente investimento mostra que os fabricantes de automóveis levam a sério a aceleração da mudança para os VE. Os preços continuarão a descer com melhorias na tecnologia de baterias e economias de escala. Os VE na China já são mais baratos do que os carros de combustão interna, em termos de vida útil do veículo (depois de contabilizar a economia de combustível e manutenção que os VE oferecem). Esses desenvolvimentos empurraram as vendas de VE para um ponto crítico na China e em 18 outros países, incluindo os Estados Unidos. Os principais mercados entraram numa fase de adesão em massa de VE, na qual as preferências mudarão com uma rapidez surpreendente.
Ainda assim, seria um erro deixar as coisas nas mãos invisíveis do mercado. Sem mudanças nas políticas, a transição será mais lenta do que precisamos, dada a vida útil de um carro típico e as décadas de investimento em infraestruturas de combustíveis fósseis. Enquanto cerca de 25 milhões de carros novos de passageiros são vendidos na China anualmente, mais de 200 milhões de veículos já estão nas estradas e a maioria circulará nos próximos anos.
Para superar essa inércia, os ambiciosos padrões de vendas NEV têm de ser incorporados num conjunto mais amplo de políticas estratégicas de VE. Por exemplo, aumentar a adesão aos VE em massa exigirá medidas para estimular e coordenar o investimento em infraestruturas de carregamento. E para colher todos os benefícios climáticos e de saúde pública dos VE, terá de haver uma maior implantação de VE combinada com uma transição acelerada para a eletricidade limpa.
O notável crescimento das vendas de VE nos últimos anos é promissor para a luta mundial contra as alterações climáticas. Mas as autoridades da área dos transportes têm de continuar a agir rapidamente para se adaptar as políticas às necessidades globais. Ao passo que a existência de pouca ambição arrisque danos climáticos insustentáveis, uma transição rápida é essencial para se alcançar um clima seguro e um ar mais limpo. Não há tempo para atrasos. Os líderes da China têm de pisar fundo no acelerador.