China's snelle EV-groei zou nog sneller moeten gaan
SAN FRANCISCO – Als volwassen, kosteneffectieve technologie zijn elektrische auto's (EV's) een belangrijk onderdeel van de oplossing voor de opwarming van de aarde. In combinatie met schone elektriciteit bieden ze een route naar klimaatneutraal vervoer over de weg. En gelukkig wordt elektriciteit elk jaar schoner, dankzij de snel dalende kosten van zonne- en windenergie.
De wereldwijde verkoop van EV's nam vorig jaar een hoge vlucht en steeg tot dertien procent van alle nieuw verkochte auto's, tegenover 8,6 procent in 2021. Een groot deel van deze groei kwam uit China, waar de verkoop van EV's in 2022 verdubbelde tot 6,9 miljoen (26 procent van alle nieuw verkochte auto's), zonder tekenen van vertraging te vertonen. China's Association of Automobile Manufacturers voorspelt dat de verkoop van EV's in het land in 2023 met 35 procent zal toenemen tot negen miljoen (33 procent van alle nieuw verkochte auto's).
Maar zelfs dit groeitempo zal niet volstaan om de klimaatverbintenissen van China of de rest van de wereld na te komen. Om de vervoersemissies in overeenstemming te brengen met de wetenschappelijke doelstellingen voor een veilig klimaat zullen de Chinese leiders het tempo nog meer moeten opvoeren.
Volgens de International Council for Clean Transportation is een belangrijk element van China's succes tot nu toe de verkoopnorm voor nieuwe elektrische auto's (NEV), een weinig bekend beleid waarin verkoopdoelstellingen voor binnenlandse autofabrikanten zijn vastgelegd. Deze doelstellingen worden na verloop van tijd verhoogd, terwijl flexibele naleving via de handel in koolstofkredieten mogelijk is. Als een fabrikant meer verkoopt dan het branchegemiddelde, ontvangt hij NEV-kredieten die kunnen worden verkocht aan een fabrikant die minder verkoopt dan het gemiddelde. Sinds de inwerkingtreding van het beleid in 2019 is de benchmark gestegen van tien procent van alle verkopen in dat jaar naar achttien procent in 2023. Maar aangezien de verkoop die drempel vorig jaar al ver overschreed, kan – en moet – China's ministerie van Industrie en Informatietechnologie de toekomstige doelstellingen veel hoger stellen.
Meer bepaald zouden de Chinese transportambtenaren een NEV-norm moeten plannen waarmee 75 procent van alle verkopen tegen 2030 wordt gerealiseerd. In combinatie met andere haalbare en ambitieuze maatregelen voor zware bedrijfsvoertuigen zou dit de uitstoot van auto's tegen 2050 met zeventig procent verminderen ten opzichte van 2020. Daarentegen wordt verwacht dat de voertuigemissies zonder aanvullende maatregelen tegen 2050 met 63 procent zullen stijgen.
De Chinese autoriteiten hebben geen goede reden om zich in te houden. Meer schone auto's op de weg brengen zou immers ook tienduizenden levens per jaar redden door minder luchtvervuiling. Ambitieuze NEV-normen zijn ook essentieel om China's transportsector op één lijn te brengen met zijn bredere verbintenis tot netto-nul-emissies.
Subscribe to PS Digital Now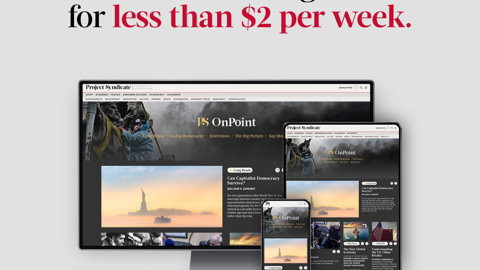 Subscribe to PS Digital Now
Access every new PS commentary, our entire On Point suite of subscriber-exclusive content – including Longer Reads, Insider Interviews, Big Picture/Big Question, and Say More – and the full PS archive.
Uit de modellen van het Internationaal Energieagentschap blijkt dat tegen 2030 ruim zestig procent van alle nieuwe auto's in de wereld elektrische auto's moeten zijn, om tegen 2050 wereldwijd netto-nul-emissies te kunnen bereiken. In de praktijk betekent dit dat de grootste, meest geavanceerde automarkten het mondiale gemiddelde moeten overtreffen, omdat veel andere landen niet de middelen zullen hebben om zo snel over te schakelen. Een Chinees besluit om de NEV-norm tegen 2030 op te trekken tot 75 procent zou dus zeer grote gevolgen hebben.
Een snellere transitie is haalbaar en betaalbaar. Veel EV-opties zijn al beschikbaar op de belangrijkste markten en er worden gestaag nieuwe toegevoegd aan de productlijnen van de fabrikanten. De groeiende investeringen tonen aan dat autofabrikanten de overstap naar EV's serieus nemen. De prijzen zullen blijven dalen door verbeteringen in batterijtechnologie en schaalvoordelen. EV's zijn in China al goedkoper dan auto's met een verbrandingsmotor over de hele levensduur van het voertuig (na verrekening van de brandstof- en onderhoudsbesparingen die EV's bieden). Door deze ontwikkelingen is de verkoop van EV's in China en achttien andere landen, waaronder de Verenigde Staten, het omslagpunt voorbij. Grote markten zijn in een fase van massale adoptie van EV's gekomen, waarin voorkeuren verrassend snel zullen verschuiven.
Toch zou het een vergissing zijn om de zaken over te laten aan de onzichtbare hand van de markt. Zonder beleidswijzigingen zal de transitie trager verlopen dan nodig is, gezien de levensduur van een doorsnee-auto en de decennialange investeringen in de infrastructuur voor fossiele brandstoffen. Terwijl in China jaarlijks ongeveer 25 miljoen nieuwe personenauto's worden verkocht, rijden er nu al ruim tweehonderd miljoen auto's rond en de meeste daarvan zullen nog jaren blijven rijden.
Om deze inertie te overwinnen, moeten ambitieuze NEV-verkoopnormen worden ingebed in een bredere reeks strategische EV-beleidsmaatregelen. Om het massale gebruik van elektrische auto's op te voeren zijn bijvoorbeeld maatregelen nodig om investeringen in oplaadinfrastructuur te bevorderen en te coördineren. En om de voordelen van elektrische voertuigen voor het klimaat en de volksgezondheid ten volle te benutten, moet een groter gebruik van elektrische auto's gepaard gaan met een versnelde transitie naar schone elektriciteit.
De opmerkelijke groei van de verkoop van elektrische auto's de afgelopen jaren is veelbelovend voor de wereldwijde strijd tegen de klimaatverandering. Maar vervoersfunctionarissen moeten snel blijven handelen om het beleid aan te passen aan de wereldwijde behoeften. Terwijl te weinig ambitie dreigt te leiden tot onhoudbare klimaatschade, is een snelle transitie essentieel voor een veilig klimaat en schonere lucht. Er is geen tijd voor uitstel. China's leiders moeten het gaspedaal intrappen.
Vertaling: Menno Grootveld