Wzrost Liczby Pojazdów Elektrycznych w Chinach Powinien Być Szybszy
SAN FRANCISCO - Jako dojrzała i efektywna kosztowo technologia, pojazdy elektryczne (EV) stanowią kluczową część rozwiązania problemu emisji gazów cieplarnianych na naszej planecie. W połączeniu z czystą energią elektryczną oferują drogę do neutralnego dla klimatu transportu naziemnego. Na szczęście energia elektryczna staje się czystsza z każdym rokiem, dzięki szybko spadającym kosztom energii słonecznej i wiatrowej.
Globalna sprzedaż EV rozkwitła w zeszłym roku, wzrastając do 13% wszystkich sprzedanych nowych pojazdów, z 8,6% w 2021 roku. Duża część tego wzrostu pochodziła z Chin, gdzie sprzedaż EV podwoiła się w 2022 r., do 6,9 mln (26% wszystkich nowych samochodów), i nie wykazywała oznak zatrzymania. Chińskie Stowarzyszenie Producentów Samochodów prognozuje, że sprzedaż EV w tym kraju wzrośnie o 35% w 2023 roku, osiągając dziewięć milionów (33% całkowitej sprzedaży nowych pojazdów).
Jednak nawet takie tempo wzrostu nie wystarczy, aby dotrzymać zobowiązań klimatycznych Chin i świata. Aby doprowadzić emisję z transportu do poziomu zgodnego z naukowymi celami dla bezpiecznego klimatu, chińscy przywódcy będą musieli jeszcze bardziej przyspieszyć tempo.
Według Międzynarodowej Rady Czystego Transportu, kluczowym elementem dotychczasowego sukcesu Chin jest standard sprzedaży pojazdów napędzanych nową energią (NEV) - mało znana polityka, która wyznacza cele sprzedaży dla krajowych producentów samochodów. Cele te będą się z czasem zwiększać, co pozwoli na elastyczne dostosowanie się do nich poprzez handel kredytami węglowymi. Jeśli producent sprzedaje więcej niż średni cel branżowy, otrzymuje kredyty NEV, które mogą być sprzedane producentowi, który sprzedaje mniej. Od czasu wejścia polityki w życie w 2019 roku, benchmark wzrósł z 10% całej sprzedaży w tym roku do 18% w 2023 roku. Ale ponieważ sprzedaż już znacznie przekroczyła ten próg w zeszłym roku, chińskie Ministerstwo Przemysłu i Technologii Informacyjnych może - i musi - ustalić wyższe przyszłe cele.
W szczególności, chińscy urzędnicy odpowiedzialni za transport powinni zaplanować wprowadzenie standardu NEV, który pozwoli na osiągnięcie 75% sprzedaży do roku 2030. W połączeniu z innymi możliwymi do zrealizowania, ambitnymi środkami dotyczącymi ciężkich pojazdów użytkowych, pozwoliłoby to do roku 2050 ograniczyć emisje z samochodów o 70% poniżej poziomu z roku 2020. W przeciwieństwie do tego, przewiduje się, że bez dodatkowych działań emisje z pojazdów wzrosną o 63% do połowy stulecia.
Chińskie władze nie mają dobrego powodu, by się wstrzymywać. W końcu wprowadzenie na drogi większej liczby ekologicznych samochodów pozwoliłoby również uratować dziesiątki tysięcy istnień ludzkich rocznie dzięki zmniejszeniu zanieczyszczenia powietrza. Ambitne standardy NEV są również niezbędne do dostosowania chińskiego sektora transportu do szerszego zobowiązania do zerowej emisji netto.
Subscribe to PS Digital Now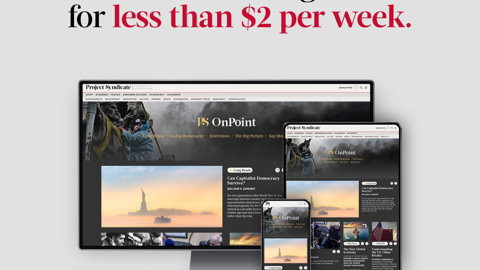 Subscribe to PS Digital Now
Access every new PS commentary, our entire On Point suite of subscriber-exclusive content – including Longer Reads, Insider Interviews, Big Picture/Big Question, and Say More – and the full PS archive.
Modelowanie Międzynarodowej Agencji Energii pokazuje, że globalne przyjęcie pojazdów elektrycznych musi przekroczyć 60% wszystkich samochodów do 2030 r., aby osiągnąć zerową emisję netto w skali globalnej do 2050 r. W praktyce oznacza to, że największe, najbardziej zaawansowane rynki samochodowe muszą przekroczyć średnią światową, ponieważ wiele innych krajów nie będzie miało środków na tak szybkie przejście. Decyzja Chin o podniesieniu standardu NEV do 75% do roku 2030 miałaby zatem ogromne znaczenie.
Szybsza zmiana jest zarówno do wykonania, jak i przystępna cenowo. Wiele opcji pojazdów elektrycznych jest już dostępnych na głównych rynkach, a nowe są stale dodawane do linii produktów producentów. Rosnące inwestycje pokazują, że producenci samochodów poważnie myślą o przyspieszeniu przejścia na pojazdy elektryczne. Ceny będą nadal spadać dzięki udoskonaleniu technologii akumulatorów i korzyściom skali. Już teraz pojazdy elektryczne w Chinach są tańsze od samochodów spalinowych w całym okresie eksploatacji pojazdu (po uwzględnieniu oszczędności na paliwie i konserwacji, jakie oferują pojazdy elektryczne). Dzięki tym zmianom sprzedaż pojazdów elektrycznych przekroczyła punkt krytyczny w Chinach i 18 innych krajach, w tym w Stanach Zjednoczonych. Główne rynki weszły w fazę masowego przyjmowania pojazdów elektrycznych, w której preferencje będą zmieniać się zaskakująco szybko.
Mimo to błędem byłoby pozostawienie spraw niewidzialnej ręce rynku. Bez zmian w polityce, przejście będzie wolniejsze niż potrzebujemy, biorąc pod uwagę żywotność typowego samochodu i dziesiątki lat inwestycji w infrastrukturę paliw kopalnych. Podczas gdy w Chinach sprzedaje się około 25 milionów nowych samochodów osobowych rocznie, po drogach jeździ już ponad 200 milionów pojazdów, a większość z nich będzie jeździć jeszcze przez wiele lat.
Aby przezwyciężyć tę inercję, ambitne standardy sprzedaży NEV muszą być wpisane w szerszy zestaw strategicznych polityk dotyczących EV. Przykładowo, zwiększenie skali masowego przyjęcia pojazdów elektrycznych będzie wymagało podjęcia działań mających na celu pobudzenie i koordynację inwestycji w infrastrukturę ładowania. Aby w pełni wykorzystać korzyści płynące z pojazdów elektrycznych dla klimatu i zdrowia publicznego, ich wprowadzeniu musi towarzyszyć przyspieszone przejście na czystą energię elektryczną.
Niezwykły wzrost sprzedaży pojazdów elektrycznych w ostatnich latach jest obiecujący dla globalnej walki ze zmianami klimatu. Jednak urzędnicy odpowiedzialni za transport muszą nadal szybko dostosowywać politykę do globalnych potrzeb. Podczas gdy zbyt małe ambicje grożą niezrównoważonymi szkodami klimatycznymi, szybka transformacja jest niezbędna do osiągnięcia bezpiecznego klimatu i czystszego powietrza. Nie ma czasu na opóźnienia. Chińscy przywódcy muszą przycisnąć pedał gazu.
Z angielskiego przetłumaczyła Marz McNamer