Lidská tvář změny klimatu
Před několika týdny byl v novinách popsán důmyslný nový přístroj. Vytáhne z atmosféry vodu a předloží vám sklenku čisté, chlazené H2O. Je úžasné, co technika dokáže bohatým nabídnout.
Milionům Afričanů sužovaným poruchou dešťových srážek, na nichž závisí jejich úroda, dobytek i rodiny, takové štěstí ovšem nekyne. Dá se očekávat, že jim změna klimatu přinese nepravidelnější a nejistější bouře, bez záruky, že budou mít vodu ve studni, ve vědru a na poli.
Kolem vody se točí veškerý život, ať už jde o vodu k pití, mytí a praní, zavlažování plodin, napájení dobytka či výrobě elektřiny. Ti z nás, kdo žijeme ve vlhkých povětrnostních podmínkách, máme sklon vodu proklínat, ale skutečně v úzkých bychom se ocitli, kdybychom týden za týdnem čelili spalujícímu slunci bez naděje na mraky v dohlednu. Bezmála miliarda lidí na planetě musí život snášet se závažným nedostatkem vody a je pravděpodobné, že jejich podmínky se budou se změnou klimatu a překotnou urbanizací jedině zhoršovat.
V polské Poznani se právě sešly vlády, aby dosáhly dohody nad tím, jak zásadní výzvy plynoucí z globálního oteplování řešit. Musíme se domluvit do konce roku 2009, abychom zahájili ctižádostivější snižování emisí skleníkových plynů. Hlavními vyjednavači dohody jsou však státy s nejvyššími emisemi, poněvadž právě ty mají s čím obchodovat. Většina afrických zemí nemá v rozhovorech o změně klimatu dostatečně silný hlas ani vyjednávací váhu, takže budou muset přijmout dohodu takovou, jaká bude dojednána. Leč právě na ně dolehne značná část nejvyšších nákladů, které si adaptace na změny vzorců počasí vyžádá.
Kam se v této věci poděla spravedlnost? Jak může být správné, že ti nejméně zodpovědní za globální oteplování jím budou zasaženi nejvíc a mají nejmenší možnost ovlivnit celosvětovou dohodu, kterou potřebujeme?
Posledních několik let nám také ukázalo, jak je všechno vzájemně provázané, ať už jste na planetě kdekoli. Cíle pro zavádění biopaliv v Evropské unii, Spojených státech a Číně vyvolávají zábory půdy v Mosambiku, Kolumbii a Kambodže. Horké peníze se přelévají z trhu s podřadnými hypotékami do potravin a dalších komodit a najednou se chudí obyvatelé měst na Filipínách, v Peru a na Pobřeží slonoviny potýkají s příšerným hladem.
Subscribe to PS Digital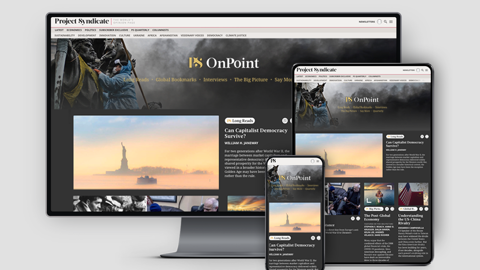 Subscribe to PS Digital
Access every new PS commentary, our entire On Point suite of subscriber-exclusive content – including Longer Reads, Insider Interviews, Big Picture/Big Question, and Say More – and the full PS archive.
Imunní vůči změně klimatu dnes není nikdo. Nad očekáváním, že život půjde dál známými stezkami, vítězí znepokojení, že probíhající změny přinesou v mnoha koutech světa obrovské šoky a náročné korekce. Odborníci předpovídají, že části jižní Afriky postihne teplejší a sušší skladba počasí a že totéž se stane i v oblasti Maghrebu na severu.
Úroda může klesnout na polovinu a řeky, na nichž závisí zavlažování a hydroelektrárny, se mohou proměnit v pouhé potůčky. Na druhou stranu přílišné srážky dokážou být stejnou metlou jako srážky nedostatečné, zejména přijdou-li mimo obvyklé období. Očekává se, že části východní a západní Afriky budou vlhčí, přičemž pršet bude při hustých, prudkých bouřích, které nejenže přinášejí vyšší riziko eroze, záplav a škod na úrodě, ale také zvyšují ohrožení lidí malárií a skotu zkázou při propuknutí chorob, jako je horečka z oblasti Velké příkopové propadliny.
Debata o změně klimatu občas vypadá velice komplikovaně – hrozí, že se lidé ztratí v mlze zkratkových slov, množí se technická řešení lidských problémů a experti se dohadují o správné ceně uhlíku a vhodných diskontních sazbách. Uvnitř veškeré této složitosti je ale velice jednoduchá pravda: už nejméně deset let víme, že pokračovat ve vypouštění skleníkových plynů je riskantní, a přesto jsme naprosto selhali a nepodnikli žádné věrohodné kroky k jeho zastavení.
Vyhýbáme se svým povinnostem jak vůči svým potomkům, tak vůči obrovskému počtu lidí, kteří žijí tady a teď v jiných částech světa a v důsledku naší krátkozrakosti trpí.
Západní vlády jsou s to se dohadovat s Číňany a Indy o tom, zda se břemeno snižování emisí přenese i na rozvíjející se ekonomiky a kdy se tak stane, ale mlčí ohledně mnohem větší nespravedlnosti, která dopadá na nejchudší obyvatele světa. Ve světě s narušeným klimatem bude lidské právo na vodu jen jedním těch, která budou v ohrožení.
Jsme spokojeni se životem ve světě, kde se bohatí mohou spolehnout na čím dál důmyslnější technická kouzla, a přitom ignorujeme právo chudých zemí a společností na základní potřeby nezbytné pro přežití?