O vínculo entre dívida e clima
NOVA IORQUE/LONDRES/GENEBRA – Novembro foi um mês atarefado para a actividade política relacionada com as alterações climáticas. Ao mesmo tempo que os decisores políticos tentavam registar progressos na Conferência das Nações Unidas sobre as Alterações Climáticas (COP27), em Sharm El-Sheikh, no Egipto, os líderes mundiais reuniram-se em Bali, na Indonésia, para a cimeira do G20. Apesar de nenhuma das cimeiras se ter concentrado na confluência entre as crises ambientais e da dívida que assolam actualmente grande parte do Sul Global, ambas conseguiram alguma evolução no sentido de proporcionar, aos países em desenvolvimento, o apoio financeiro de que necessitam para resistirem à tempestade em curso.
Em Bali, os líderes das maiores economias do mundo confirmaram em grande medida as suas posições anteriores quanto à crise da dívida, apenas com correcções pontuais. Mas na COP27 os países mais pequenos conseguiram fazer ouvir a sua voz e sublinharam a necessidade de medidas internacionais que visem o alívio da dívida. Por exemplo, a primeira-ministra dos Barbados, Mia Mottley, apelou à comunidade internacional para que apoiasse os países mais vulneráveis ao clima. A sua "Agenda de Bridgetown" propõe um plano em três passos para resolver a crise do mundo em desenvolvimento, que inclui injecções de liquidez de emergência realizadas pelo Fundo Monetário Internacional, aumento do crédito cedido pelos bancos multilaterais de desenvolvimento e novos mecanismos de financiamento.
Mottley não esteve isolada na sua defesa de uma solução para a crescente crise de liquidez. O presidente colombiano Gustavo Petro, por seu lado, propôs que o FMI iniciasse um programa de permuta de dívida por investimento que poderia ajudar a acelerar projectos de adaptação e mitigação climática em países em desenvolvimento. Com o apoio da Comissão Económica das Nações Unidas para África, o Egipto lançou uma coligação para o endividamento sustentável. E grupos da sociedade civil afiliados com o movimento Dívida pelo Clima (NdT: no original, Debt for Climate) apelaram ao perdão das dívidas dos países mais pobres do mundo. Mas, em última análise, a maior conquista da COP27 foi a decisão de criar um fundo para perdas e danos que pretende ajudar os países em desenvolvimento a atenuar os piores efeitos das alterações climáticas.
Mas como é que a dívida se tornou no problema mais comentado numa conferência sobre o combate às alterações climáticas? A invasão da Ucrânia pela Rússia perturbou os mercados da energia e dos produtos alimentares e provocou um aumento dos preços em todo o mundo. Mas enquanto os países desenvolvidos se debatiam com os efeitos da inflação elevada, os países em desenvolvimento que importam energia foram os mais atingidos. As suas reservas de moeda estrangeira esgotaram-se rapidamente, pressionando as finanças públicas, já castigadas por dois anos e meio de COVID-19, até ao ponto de ruptura. Os custos crescentes com a energia tornaram o racionamento e os cortes de electricidade cada vez mais comuns, piorando as dificuldades económicas dos países com rendimentos mais baixos.
Para agravar ainda mais os problemas destes países, as subidas agressivas de taxas de juro realizadas pela Reserva Federal dos EUA fortaleceram o dólar e forçaram outros bancos centrais a seguir o seu exemplo. Para países em desenvolvimento que enfrentam dificuldades, a gestão das consequências dos desastres ambientais relacionados com o clima como cheias, secas e tempestades violentas nunca foi tão difícil, e muita da evolução económica e social das últimas décadas está a ser revertida.
Sem qualquer culpa própria, os países de rendimentos mais baixos estão à beira de um abismo económico. Segundo o FMI, mais de um quarto das economias emergentes ou entraram em incumprimento ou estavam a negociar obrigações soberanas em níveis críticos. Entre os países de baixos rendimentos, mais de 60% estão sobreendividados ou em risco elevado de sobreendividamento. A incapacidade dos governos investirem em medidas de adaptação e resiliência climática também agravou o risco soberano e fez aumentar o custo do capital, criando um ciclo vicioso que inviabilizará ainda mais as finanças públicas e a sustentabilidade da dívida.
Subscribe to PS Digital Now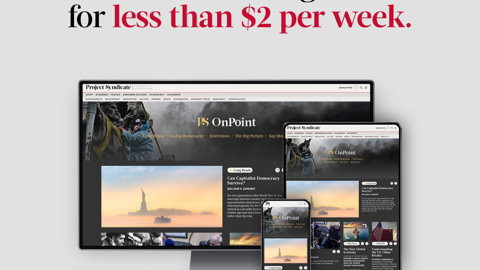 Subscribe to PS Digital Now
Access every new PS commentary, our entire On Point suite of subscriber-exclusive content – including Longer Reads, Insider Interviews, Big Picture/Big Question, and Say More – and the full PS archive.
O Enquadramento Comum do G20 para o Tratamento da Dívida, que visa proporcionar o alívio da dívida a países em dificuldades, não gerou medidas eficazes e oportunas. Além disso, exclui os países de rendimentos médios e não prevê um mecanismo para garantir o envolvimento dos credores privados. Dos três países que se candidataram ao tratamento da dívida (Chade, Etiópia e Zâmbia), só o Chade celebrou um acordo com os seus credores, e só depois de uma extenuante negociação de dois anos e sem receber qualquer perdão. A experiência destes três países provavelmente desencorajará outros países em dificuldades de procurarem reestruturar a sua dívida.
Grande parte do debate sobre as alterações climáticas e a dívida concentra-se nos swaps de dívida-por-clima (também conhecidos como dívida-por-natureza), que permitem aos países converter uma parte da sua dívida em financiamento para projectos climáticos nacionais. Apesar de tais soluções representarem uma bem-vinda fonte de financiamento para esforços de conservação críticos, os seus elevados custos transaccionais e volumes limitados tornam-nas inadequadas para resolver uma crise de endividamento de proporções sistémicas.
Posicionar os países vulneráveis numa trajectória de resiliência climática e desenvolvimento verde beneficiaria tanto devedores como credores. É por isso que a comunidade internacional, e os países do G20 em especial, têm de chegar a acordo sobre uma iniciativa abrangente de alívio da dívida que permita aos países em dificuldades financiar projectos verdes por troca de um perdão parcial da dívida.
Agora que assumiu formalmente a presidência do G20, a Índia deveria desenvolver uma análise independente da agenda do G20 relativa à dívida e apresentar recomendações para reformas. Os países altamente endividados, que normalmente não têm voz nas cimeiras do G20, também têm de intervir no processo. No fim de 2021, o Grupo V20, que representa ministros das finanças de 58 países com vulnerabilidades climáticas e uma população combinada de 1500 milhões de pessoas, propôs um plano para reestruturação da dívida que inclui soluções práticas para o financiamento de projectos com baixa intensidade carbónica. Os países mais abastados do mundo deveriam ponderar seriamente o apoio a este plano.
Outra sugestão atraente, apoiada pelo presidente francês Emmanuel Macron na COP27, consiste em convocar um painel de especialistas de alto nível para entender como se pode garantir a sustentabilidade do endividamento no mais longo prazo e permitir aos países devedores que mobilizem investimentos.
A comunidade internacional tem de evitar a repetição dos erros cometidos em crises de endividamento anteriores. A ausência ou atraso na acção resultaria em crises sucessivas em dúzias de países em desenvolvimento, o que ameaçaria a estabilidade social e política e faria derrapar ainda mais a agenda climática internacional. Para garantirmos um futuro equitativo e resiliente ao clima, primeiro temos de prevenir o desastre iminente do endividamento.
Shamshad Akhtar, antiga sub-secretária-geral das Nações Unidas, Anzetse Were, economista sénior na Financial Sector Deepening Kenya, Kevin P. Gallagher, director do Centro para Políticas de Desenvolvimento Global na Universidade de Boston e Jörg Haas, responsável de Política Internacional na Fundação Heinrich Böll,também contribuíram para este comentário.
Os autores co-presidem ao Projecto de Alívio do Endividamento para uma Recuperação Verde e Inclusiva.