Investeren voor impact en winst
PARIJS – Normen op het gebied van milieu, maatschappij en goed bestuur (ESG) zijn tegenwoordig het gesprek van de dag in de beleggingswereld. Maar ondanks de biljoenen dollars aan beleggingen die het label ʻESG' hebben gekregen, heeft deze vorm van beleggen nog niet veel echte impact gehad.
Dit geldt vooral voor het milieufront (hoewel de sociale impact van dergelijke beleggingen niet veel duidelijker is geweest). Beleggerscoalities in de strijd tegen de klimaatverandering zijn met explosieve kracht opgedoken, en beloven een enorme hoeveelheid kapitaal naar ʻgroene' bedrijven en sectoren te zullen loodsen. Op de vorig jaar gehouden VN-conferentie over klimaatverandering (COP26) hebben particuliere financiële instellingen toegezegd 130 biljoen dollar – meer dan het mondiale bbp – te zullen mobiliseren voor schone energie. En toch worden de klimaatvooruitzichten alleen maar slechter. Het rapport van de Intergouvernementele Werkgroep inzake Klimaatverandering van vorige maand bevatte ʻde somberste waarschuwing tot nu toe' over wat de mensheid te wachten staat op een snel opwarmende planeet.
Welkom in de wereld van greenwashing: hoewel de eigenaren van bedrijven hebben toegezegd de kooldioxide-uitstoot te zullen terugdringen, hebben zij de managers van die bedrijven niet daadwerkelijk opgedragen dit te doen. Maar in plaats van beleggers of bedrijven de schuld te geven, zouden ESG-activisten zich moeten afvragen waarom er zo'n grote, hardnekkige kloof bestaat tussen publieke toezeggingen en actie. Simpel gezegd zijn klimaatvoorvechters er niet in geslaagd beleggers en bedrijven over te halen actie te ondernemen, omdat ze niet begrijpen wat de uiteindelijke drijfveren van bedrijven zijn.
Of je het nu leuk vindt of niet, de meeste beleggers delen stilletjes de mening van Milton Friedman dat ʻde sociale verantwoordelijkheid van bedrijven bestaat uit het verhogen van hun winsten.' Beleggingsbeheerders krijgen van hun klanten te horen wanneer hun financiële rendement te laag is, niet als het te hoog is. De meeste beleggers zouden graag goed doen, maar vinden het ook prima als de rechterhand beweert onwetend te zijn over wat de linkerhand doet – wanneer ze kunnen ingaan op de aansporing om ʻde wereld te redden' terwijl ze hun winsten met meedogenloze efficiëntie blijven maximaliseren.
ESG-voorstanders moeten de realiteit van beleggers erkennen in plaats van te proberen die te willen bestrijden of veranderen. Omdat bedrijven door hun beleggers ter verantwoording zullen worden geroepen als ze niet méér geld verdienen, moeten ESG-voorstanders de zakelijke argumenten voor dergelijke normen aandragen. Als de positieve ESG-impact van een bedrijf de winst verhoogt, zullen beleggers bijna alles doen om die impact te maximaliseren.
Om overtuigend te zijn, moet de business case doordacht en realistisch zijn. Uit onderzoek van Arabesque blijkt dat 88 procent van de ʻonderzoeken naar operationele prestaties aantonen dat solide ESG-praktijken leiden tot betere operationele prestaties.' Maar hoewel ESG aandeelhouderswaarde kan ontsluiten, zullen niet alle ESG-acties de winst verhogen. Zo zal een loonsverhoging van tien procent goed zijn voor de werknemers en helpen om talent aan te trekken en te behouden, maar een verdrievoudiging van de lonen zou de financiële levensvatbaarheid van een bedrijf in gevaar brengen.
Secure your copy of PS Quarterly: The Year Ahead 2023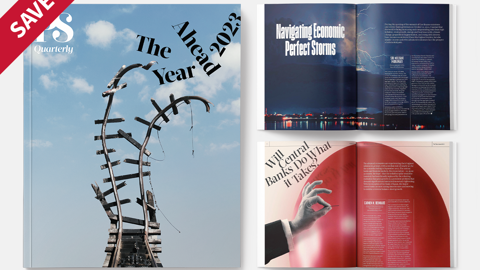 Secure your copy of PS Quarterly: The Year Ahead 2023
Our annual fourth-quarter magazine is here, and available only to Digital Plus and Premium subscribers. Subscribe to Digital Plus today, and save $15.

Beleggers moeten daarom de ʻmateriële' ESG-kwesties identificeren die rechtstreeks van invloed zijn op de bottom line van een bedrijf. Financieel niet-materiële ESG-kwesties kunnen nog steeds relevant zijn voor de algemene impact, maar zoals George Serafeim van de Harvard Business School stelt: ʻMiddelen besteden aan niet-materiële kwesties komt neer op filantropie.'
Het identificeren van materiële ESG-kwesties is niet altijd eenvoudig. Het Franse bejaardentehuis Orpea kreeg een hoge ESG-waardering, maar eerder dit jaar daalde de aandelenkoers met zestig procent na beschuldigingen dat het bejaarde patiënten mishandelde.
Beleggers moeten ook prioriteiten stellen tussen de verschillende ESG-componenten. ESG-ratings zijn een gewogen gemiddelde van honderden indicatoren. Zelfs als ze allemaal materieel zouden zijn, zou het voor geen enkele onderneming haalbaar zijn om honderden nieuwe doelstellingen voor zichzelf vast te stellen. In plaats daarvan moeten beleggers zich richten op de ESG-initiatieven die de aandeelhouderswaarde het meest zullen verhogen. Samenwerkingsplatforms zoals ESG for Investors bieden gratis tools waarmee een dergelijke aanpak voor ruim tweeduizend bedrijven kan worden uitgewerkt.
Financiële prikkels zullen op veel betrouwbaarder wijze het gewenste antwoord van beleggers en bedrijven uitlokken dan aansporingen om de planeet te redden. Door ons te richten op ESG-acties die de meeste aandeelhouderswaarde zullen opleveren, kunnen we een opwaartse spiraal creëren tussen financieel rendement en reële impact. Uit onderzoek van ESG for Investors blijkt dat het invoeren van best practices voor slechts twee belangrijke ESG-kwesties – emissies en afvalbeheer – de aandelenkoers van een bedrijf met gemiddeld 22 procent kan doen stijgen.
Als alle bedrijven hun CO2-uitstoot zouden verminderen, in lijn met hun meest geavanceerde sectorgenoten, zou de wereldwijde uitstoot met 65 procent dalen en zouden de aandelenkoersen van die bedrijven gemiddeld met acht procent stijgen. Bovendien zou de invoering van best practices inzake afvalbeheer het afval wereldwijd met 72 procent verminderen en de aandeelhouders gemiddeld een meevaller van vijf procent opleveren.
Nu we deze nieuwe gegevens en instrumenten hebben, moeten de ESG-voorstanders ophouden met kibbelen en ESG gaan zien voor wat het is: een enorme zakelijke kans. Als u een belegger bent die meer geld wil verdienen, moet u ESG weloverwogen omarmen, met een focus op het verbeteren van materiële kwesties. En als u een ESG-activist bent, moet u er bij beleggers op aandringen hun (traditionele) werk serieus te doen, door te bepalen waar het maximaliseren van de positieve impact ook de winst maximaliseert.
Zodra deze basisprincipes algemeen zijn aanvaard, kunnen we beginnen meer complexiteit toe te voegen. Er zullen meer discussies moeten komen over het meten en auditen van impact, het uitwerken van normen en standaarden, en het toevoegen van niet-financieel materiële impact aan de mix. Een onwrikbare zakelijke benadering kan het potentieel van oude concepten ontsluiten, waardoor ze – en wij allemaal – een veelbelovender langetermijnperspectief krijgen.
Vertaling: Menno Grootveld