Rozwój Ekologiczno-Gospodarczy
WASHINGTON, DC - Różnorodność biologiczna na Ziemi i usługi zapewniane przez zdrowe ekosystemy są pod ogromną presją ze względu na zmiany klimatyczne i wyzwanie, jakim jest utrzymanie ośmiu miliardów ludzi w sposób zrównoważony. Kluczowe usługi ekosystemów - takie jak drewno z lasów, zapylacze i połowy oceaniczne - muszą być chronione i pielęgnowane, jednak ulegają one szybkiej erozji. 2022 Konferencja Narodów Zjednoczonych w sprawie Różnorodności Biologicznej (COP15), która odbędzie się w tym miesiącu w Montrealu daje szansę na rozwinięcie wspólnej wizji ludzkości, jaką jest życie w harmonii z naturą.
Różnorodność biologiczna jest ważnym celem programów Grupy Banku Światowego. Jednak aby odwrócić jej utratę, decyzje gospodarcze muszą uwzględniać przyrodę. Dlatego pracujemy nad tym, by pomóc krajom włączyć przyrodę do ich modeli wzrostu gospodarczego, planów rozwoju i programów klimatycznych. Oznacza to tworzenie polityki uwzględniającej rzeczywistą wartość ekonomiczną przyrody, budowanie instytucji wspierających przyrodę, rozwijanie partnerstwa publiczno-prywatnego oraz mobilizowanie środków finansowych ze wszystkich źródeł w celu przekształcenia gospodarki i polityki - wykraczając daleko poza pojedyncze interwencje.
Rybołówstwo jest dobrym przykładem tego, dlaczego przyroda ma znaczenie dla wzrostu i rozwoju. W skali globalnej zasoby rybne zmniejszają się z powodu potrójnego zagrożenia, jakim są zmiany klimatu, przełowienie i zanieczyszczenie. Jeżeli działalność gospodarcza będzie kontynuowana, świat może stracić do końca wieku nawet 25% połowów ryb. Powinno to niepokoić wszystkich z kilku powodów.
Po pierwsze, już teraz stoimy w obliczu jednego z największych kryzysów bezpieczeństwa żywnościowego we współczesnej historii. Ponieważ ryby są ważnym składnikiem diety dla 3,3 miliarda ludzi, zmniejszone dostawy zaostrzą kryzysy żywnościowe teraz i w przyszłości. Ryby są bogate w składniki odżywcze, które są szczególnie ważne dla rozwoju dzieci i są szczególnie cenionym źródłem białka dla osób ubogich, ponieważ są łatwiejsze do zdobycia i tańsze w przechowywaniu niż inne źródła. Dlatego też ryby stanowią 50% lub więcej całkowitego spożycia białka zwierzęcego w Ghanie, Mozambiku i Sierra Leone. Ponadto, niedobór ryb wpłynie na cały łańcuch pokarmowy, ponieważ produkty rybne są ważnymi składnikami innych produktów żywnościowych, w tym pasz dla zwierząt gospodarskich.
Po drugie, w miarę jak ryby stają się rzadsze lub migrują do zimniejszych i głębszych wód z powodu zmian klimatycznych, wielu rybaków będzie zmuszonych do dalekich podróży w celu ich złowienia, do zmiany sposobu łowienia lub do znalezienia nowej pracy. Wielu z nich nie będzie w stanie się dostosować. Spośród 38 milionów ludzi na świecie, którzy są zatrudnieni bezpośrednio w rybołówstwie, najbardziej ucierpią ci najbardziej wrażliwi. Obejmuje to społeczności zajmujące się rybołówstwem na małą skalę, które często znajdują się na odległych obszarach, które już teraz są nieproporcjonalnie dotknięte zmianami klimatu. Kobiety, które stanowią 50% pracowników w szerszym łańcuchu wartości produktów spożywczych pochodzenia wodnego, również zostaną znacząco dotknięte. Dla osób z niewielkim formalnym wykształceniem trudno będzie znaleźć alternatywne źródła utrzymania.
Po trzecie, wpływ tych zagrożeń będzie rósł z czasem. Zasoby rybne nie respektują granic międzynarodowych. Bez odpowiednich regulacji i zachęt floty będą nadal maksymalizować swoje połowy w krótkim okresie, a największe gospodarki będą łowić daleko poza swoimi wodami terytorialnymi. Jeśli wszystkie kraje będą tak postępować, problem ten stanie się znacznie gorszy. Pięćdziesiąt lat temu, według Organizacji Narodów Zjednoczonych do spraw Wyżywienia i Rolnictwa, około 10% światowych zasobów rybnych było poławianych na poziomie biologicznie niezrównoważonym. Dziś liczba ta wzrosła do 35%. Podczas gdy wiele krajów będzie cierpieć, najbiedniejsze społeczności mogą stracić najwięcej.
Subscribe to PS Digital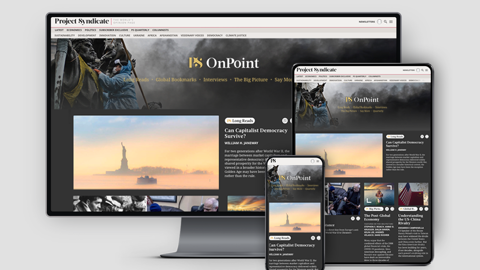 Subscribe to PS Digital
Access every new PS commentary, our entire On Point suite of subscriber-exclusive content – including Longer Reads, Insider Interviews, Big Picture/Big Question, and Say More – and the full PS archive.
W obliczu tych wyzwań nie wystarczą już działania ochronne, które jedynie powstrzymują utratę przyrody. Musimy raczej odwrócić ten proces, co oznacza zmianę sposobu produkcji i konsumpcji.
Jednym z podejść jest inwestowanie w rozwiązania oparte na naturze, które chronią przyrodę, a jednocześnie wspierają rozwój gospodarczy, tworzą źródła utrzymania i pomagają krajom łagodzić zmiany klimatu i dostosowywać się do nich. Weźmy pod uwagę lasy namorzynowe, które są bogate w różnorodność biologiczną, działają jako obszary wylęgu ryb, chronią ponad sześć milionów ludzi przed corocznymi powodziami i pochłaniają emisje dwutlenku węgla. Szacuje się, że ich bogactwo ekonomiczne jest wyceniane na 550 miliardów dolarów. Innym przykładem jest hodowla wodorostów, która ma potencjał tworzenia miejsc pracy, łagodzenia braku bezpieczeństwa żywnościowego i pochłaniania dwutlenku węgla.
Grupa Banku Światowego prowadzi działania na wielu frontach, aby pomóc krajom w dostrzeżeniu zarówno wartości przyrody, jak i zagrożeń wynikających z jej utraty. Często działając za pośrednictwem ministerstw finansów, zapewniamy finansowanie, wiedzę, doradztwo polityczne i możliwości techniczne, aby zmobilizować partnerów do wspierania rozwiązań opartych na przyrodzie. Dzięki naszemu wsparciu, kraje identyfikują obiecujące nowe interwencje, które mogą być powielane i zwiększane.
Na przykład, poprzez zaangażowanie różnych interesariuszy w planowanie morskie, Wietnam ogranicza konflikty dotyczące wykorzystania zasobów w różnych sektorach. W Chinach współpracujemy z gminami Chongqing i Ningbo, aby zmniejszyć ilość plastiku morskiego, który trafia do oceanu ze ścieków rzecznych, bazując na wcześniejszych projektach, które pomogły stworzyć chińskie możliwości oczyszczania wody. Stosując technologie takie jak satelity i drony, pomagamy Tanzanii i innym krajom uzyskać dane w czasie rzeczywistym na temat degradacji wybrzeża i morza, dzięki czemu mogą one działać w celu jej zapobiegania. Dzięki innowacyjnym instrumentom finansowym, takim jak kredyty za emisję dwutlenku węgla, Ghana zamierza odtworzyć 3000 hektarów lasów namorzynowych i pozyskać więcej prywatnych funduszy.
Pracujemy nad rozszerzeniem takich działań. Cele krótkoterminowe obejmują większe finansowanie projektów w krajach ubogich, większą rolę sektora prywatnego oraz skoordynowane działania społeczności lokalnych i rządów krajowych. Jeżeli jednak mamy zamiar powstrzymać utratę różnorodności biologicznej, musimy zrobić znacznie więcej, zarówno my, jak i społeczność międzynarodowa.
Z angielskiego przetłumaczyła Marz McNamer