Eco-economische ontwikkeling
WASHINGTON, DC – De biodiversiteit van de aarde en de door gezonde ecosystemen geleverde diensten staan onder enorme druk door de klimaatverandering en de uitdaging om acht miljard mensen op duurzame wijze te onderhouden. Belangrijke ecosysteemdiensten – zoals hout uit bossen, gewasbestuiving en oceaanvisserij – moeten worden behouden en gekoesterd, maar worden in snel tempo uitgehold. De conferentie van de Verenigde Naties over biodiversiteit (COP15) van 2022 in Montreal deze maand biedt een kans om voort te bouwen op de gedeelde visie van de mensheid om in harmonie met de natuur te leven.
Biodiversiteit is een belangrijk doel van de programma's van de Wereldbankgroep. Maar om het verlies ervan te kunnen keren, moeten economische beslissingen rekening houden met de natuur. Daarom helpen wij landen de natuur te integreren in hun economische groeimodellen, ontwikkelingsplannen en klimaatagenda's. Dat betekent dat er beleid moet worden opgesteld dat rekening houdt met de werkelijke economische waarde van de natuur, dat er instellingen moeten worden opgebouwd die de natuur ondersteunen, dat er publiek-private partnerschappen moeten worden ontwikkeld om dat doel te schragen en dat er financiële middelen uit alle bronnen moeten worden gemobiliseerd om de economie en het beleid om te vormen – wat veel verder gaat dan geïsoleerde interventies.
De visserij is een goed voorbeeld van waarom de natuur belangrijk is voor groei en ontwikkeling. Wereldwijd gaan de visbestanden achteruit als gevolg van de drievoudige dreiging van klimaatverandering, overbevissing en vervuiling. Als alles bij het oude blijft, zou de wereld tegen het einde van de eeuw tot vijfentwintig procent van de visvangst kunnen verliezen. Dat zou iedereen moeten verontrusten, om verschillende redenen.
In de eerste plaats worden we al geconfronteerd met een van de grootste voedselcrises in de moderne geschiedenis. Aangezien vis een belangrijke voedingscomponent is voor 3,3 miljard mensen, zal een verminderd aanbod de voedselcrises nu en in de toekomst verergeren. Vis is rijk aan voedingsstoffen die bijzonder belangrijk zijn voor de ontwikkeling van kinderen, en is een bijzonder gewaardeerde eiwitbron voor de armen, omdat het makkelijker te verkrijgen en goedkoper te bewaren is dan andere bronnen. In Ghana, Mozambique en Sierra Leone is vis dan ook goed voor vijftig procent of meer van de totale inname van dierlijke eiwitten. Bovendien zal een visschaarste de hele voedselketen beïnvloeden, omdat visproducten belangrijke bestanddelen zijn van andere voedingsmiddelen, waaronder veevoer.
In de tweede plaats zullen veel vissers, als vis schaarser wordt of door de klimaatverandering naar koudere en diepere wateren trekt, gedwongen worden verder te reizen om vis te vangen, hun manier van vissen te veranderen of een nieuwe baan te zoeken. Velen zullen zich niet kunnen aanpassen. Van de 38 miljoen mensen die wereldwijd rechtstreeks in de visserij werkzaam zijn, zullen de meest kwetsbaren het hardst worden getroffen. Hiertoe behoren kleinschalige visserijgemeenschappen, die zich vaak in afgelegen gebieden bevinden die al onevenredig zwaar worden getroffen door de klimaatverandering. Ook vrouwen, die vijftig procent van de werknemers in de bredere aquatische voedselwaardeketen uitmaken, zullen zwaar worden getroffen. Voor mensen met weinig formeel onderwijs zullen alternatieve middelen van bestaan moeilijk te vinden zijn.
In de derde plaats zal het effect van deze bedreigingen in de loop van de tijd toenemen. Visbestanden houden zich niet aan internationale grenzen. Zonder de juiste regelgeving en prikkels zullen de vissersvloten hun vangsten op de korte termijn blijven maximaliseren, terwijl grote economieën zich tot ver buiten hun territoriale wateren aan overbevissing schuldig maken. Als alle landen dit doen, wordt een groot probleem nog veel erger. Vijftig jaar geleden werd volgens de Voedsel- en Landbouworganisatie van de VN ongeveer tien procent van de mondiale visbestanden bevist op een biologisch niet-duurzame wijze. Vandaag is dat percentage opgelopen naar vijfendertig procent. Hoewel veel landen hieronder zullen lijden, zullen de armste gemeenschappen het meest verliezen.
Subscribe to PS Digital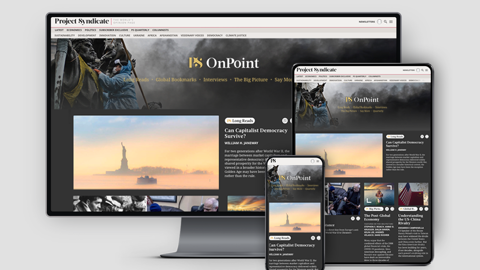 Subscribe to PS Digital
Access every new PS commentary, our entire On Point suite of subscriber-exclusive content – including Longer Reads, Insider Interviews, Big Picture/Big Question, and Say More – and the full PS archive.
In het licht van deze uitdagingen volstaat het niet langer om het verlies aan natuur te stoppen. In plaats daarvan moeten we de achteruitgang omkeren, wat betekent dat we onze manier van produceren en consumeren moeten veranderen.
Eén benadering is het investeren in op de natuur gebaseerde oplossingen die de natuur beschermen en tegelijkertijd de economische ontwikkeling ondersteunen, middelen van bestaan creëren en landen helpen de klimaatverandering te verzachten en zich daaraan aan te passen. Denk aan mangrovebossen, die rijk zijn aan biodiversiteit, fungeren als kraamkamers voor vissen, ruim zes miljoen mensen beschermen tegen jaarlijkse overstromingen en koolstofemissies absorberen. Hun economische waarde wordt geschat op 550 miljard dollar. Een ander voorbeeld is de zeewierteelt, die het potentieel heeft om banen te scheppen, de voedselonzekerheid te verminderen en koolstof te absorberen.
De Wereldbankgroep werkt op vele fronten om landen te helpen zowel de waarde van de natuur als de risico's van het verlies ervan te erkennen. Wij werken vaak via de ministeries van Financiën en bieden financiering, kennis, beleidsadvies en technische capaciteit aan om partners te mobiliseren voor op de natuur gebaseerde oplossingen. Met onze steun identificeren landen veelbelovende nieuwe maatregelen die kunnen worden herhaald en opgeschaald.
Door bijvoorbeeld verschillende belanghebbenden bij de planning van de zee te betrekken, weet Vietnam conflicten over het gebruik van hulpbronnen in verschillende sectoren terug te dringen. In China werken we samen met de gemeenten Chongqing en Ningbo om de hoeveelheid marien plastic dat via rivierafvalwater in de oceaan terechtkomt, te verminderen, voortbouwend op eerdere projecten die China's waterzuiveringscapaciteit hebben helpen opbouwen. Door toepassing van technologieën als satellieten en drones helpen wij Tanzania en andere landen real-timegegevens te verkrijgen over de aantasting van kust en zee, zodat zij maatregelen kunnen nemen om die te voorkomen. En met innovatieve financiële instrumenten zoals blue carbon credits wil Ghana drieduizend hectare mangrovebossen herstellen en meer particuliere financiering aantrekken.
Wij werken aan de uitbreiding van dergelijke inspanningen. Doelstellingen op de korte termijn zijn meer financiering voor projecten in arme landen, een grotere rol voor de particuliere sector en gecoördineerde actie, van lokale gemeenschappen tot nationale regeringen. Maar als we het verlies aan biodiversiteit willen stoppen, moet er nog veel meer worden gedaan, zowel door ons als door de wereldgemeenschap.
Vertaling: Menno Grootveld