Hvem er egentlig nazi?
WARSAWA – Vladimir Putins regime forbyr russiske medier å kalle invasjonen av Ukraina en «krig». I stedet skal den omtales som «en operasjon for å frigjøre Ukraina fra nynazister».
Det statlige nyhetsbyrået RIA har publisert flammende propaganda som hevder at Russland «for andre gang i historien vil påta seg byrden og ansvaret med å frigjøre Ukraina fra nazisme». Lesere blir fortalt at det bare skulle litt «kosmetiske korrigeringer» av svastikaen til «for å bygge en ukrainsk stat». Nå gjennomfører Russland en «denazifiserings»-operasjon «på vegne av hele Europa, selv om Europa ikke er klar over det».
Det er verdt å undersøke denne propagandaen nøyere, fordi propaganda spiller en sentral rolle i opprettholdelsen av Putins diktatur, spesielt i krisetider. Og uten Putins diktatur ville det visselig ikke ha vært noen krig i Ukraina. Jo mer den russiske militærkampanjen feiler, jo mer vil han måtte basere seg på propaganda.
Opp gjennom årene har Putin fortalt det russiske folket mange motstridende ting om Russland og Ukraina. Under de to første periodene som president (2000 - 2008), hadde han ambisjoner om å modernisere Russland og styrke båndene til Vesten. Men etter at han fikk smaken på makt, ble han mest opptatt av hvordan han skulle beholde den. Modernisering måtte vike for en brutal politistat. Det som opptar ham nå, er hans plass i historien, og han har kommet fram til at uten Ukraina kan ikke Russland bli en verdensmakt.
Da han først ble president, var Ukraina fortsatt pro-russisk og Kreml hadde fortsatt betydelig innflytelse over landet. Det var annekteringen av Krim og beslagleggelsen av 7 % av Ukrainas territorium i 2014 som gjorde at ukrainere vendte seg bort fra Putin.
Foruten å feile i moderniseringen av Russland og skyve ukrainere fra seg, har Putin begått en rekke selvforskyldte feil som framtidige generasjoner av russere ikke vil tilgi ham. Ikke glem at i de første årene som president vurderte også Putin å bringe Russland inn i EU — ja, selv NATO. Det han ikke hadde i tankene var å benekte Ukrainas suverenitet. Da han i mai 2002 ble spurt om hva han syntes om at Ukraina hadde erklært seg villig til å bli med i NATO, svarte han:
Secure your copy of PS Quarterly: The Year Ahead 2023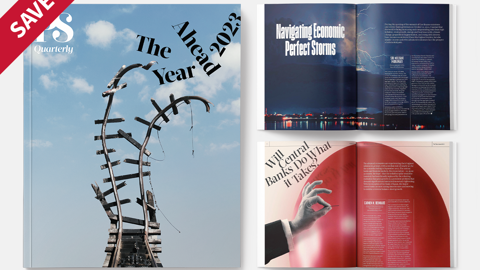 Secure your copy of PS Quarterly: The Year Ahead 2023
Our annual fourth-quarter magazine is here, and available only to Digital Plus and Premium subscribers. Subscribe to Digital Plus today, and save $15.

«Når det gjelder utvidelsen av NATO, kjenner dere til vår holdning i dette spørsmålet. Den endrer seg ikke, men det betyr ikke at Ukraina burde stille seg på sidelinjen av prosesser som har som mål å styrke fred og sikkerhet i Europa og i verden generelt. Ukraina er en suveren stat og har en selvstendig rett til å velge hvordan den vil sikre sin egen sikkerhet.»
Men da ukrainere tok til gatene under Oransjerevolusjonen i 2004 for å protestere mot korrupsjon og valgfusk, ble Putin redd. Hva om russere på et eller annet tidspunkt skulle bestemme seg for å gjøre det samme? Innen 2008, hadde Putin inntatt en ny holdning. Da han talte under et møte i NATO-Russland-rådet i Bucuresti, leverte han en tidlig pekepinn på den argumentasjonen som nå har ledet ham til aggressiv krigføring mot Ukraina. Hadde vestlige lands myndigheter tatt ham seriøst, ville de ikke ha brukt de siste tre månedene på å gjette på hva hans intensjoner var. Og de ville sannsynligvis ha gitt mere penger og flere våpen til Ukraina. Putin tydeliggjorde sine intensjoner i 2008:
«Sør i Ukraina … der er det bare russere. Hvem kan si oss at vi ikke har noen interesser der? … I Ukraina, generelt, er en tredjedel av befolkningen etniske russere. Av de 45 millionene, ifølge det offisielle folketallet, er det 17 millioner russere. Det er regioner der det bare bor russere, som i Krim — 90% russere. Ukraina, med dagens grenser, fikk territorium fra Polen — etter andre verdenskrig — fra Tsjekkoslovakia, Romania. Det mottok enorme landområder fra Russland i øst og sør i landet. Det er en komplisert statsdannelse. Og hvis du legger NATO-problemet og andre problemer på toppen av det hele, kan de sette denne staten fullstendig på randen av eksistens.»
De to påstandene om folketall var ikke sanne: 17 millioner er det antallet ukrainere som oppga russisk som sitt første språk. Og etniske russere utgjorde ikke mer enn 60 %  av befolkningen på Krim på det tidspunktet. Men poenget er at Putin signaliserte for 14 år siden at han ville anvende historisk-revisjonistiske påstander om russiske minoriteter på utsiden av Russlands grenser som et påskudd for å blande seg inn i et annet lands indre affærer. Og med dette fulgte han i fotsporene til Adolf Hitler, som brukte den tyske minoritetsbefolkningen på den andre siden av grensen som et påskudd for å ødelegge det demokratiske Tsjekkoslovakia. Dette skjedde seks måneder før han invaderte Polen.
Og i likhet med Nazi-Tyskland er Putin oppslukt av en dolkestøtslegende. Dette er en gjentagelse av tyske nasjonalister på 1920- og 1930-tallet. Han kan ikke akseptere det faktum at Sovjetunionen falt uten at det skjedde gjennom et nederlag på slagmarken mot Vesten. Den eneste andre forklaringen er at Sovjetunionen ble forrådt av eliter, som dro det storslagne landet ned med seg innenfra.
Putin er åpenbart ikke klar over disse historiske parallellene og ser nazister på frammarsj alle andre steder enn i sitt eget land. Men det er han som jevnlig får help fra nynazister som Dmitry Utkin, en leiesoldat fra Wagner-gruppen — en privat hær finansiert av Kreml-vennlige oligarker — om har Waffen-SS tatoveringer på bryst og kragebein.
Som med Nazi-Tyskland, kan man ikke ta provokasjonene som kommer fra Kreml seriøst. Russland bryter helt åpenbart og på brutalt vis folkeretten i et forsøk på å ydmyke Ukraina og skremme de vestlige landene som ikke har framstått som samlede. Det er derfor russisk propaganda har gått så langt for å sverte Ukrainas president Volodymyr Zelenskyj. Han har blitt omtalt som narkoman og nynazist, selv om han er jødisk og har en bestefar som kjempet mot nazistene under andre verdenskrig. Zelenskyj mistet også mange slektninger under Holocaust.
Inntil nylig har russisk propaganda ikke bare vært rettet inn mot Russland, men også påvirket vestlige land. I tillegg til republikanere i USA som åpenlyst har tatt Putins parti, er det mange tyskere som lenge ikke har innsett at ikke alle de sovjetiske ofrene for nazismen var russere. Faktisk tok nazistene flere ukrainske liv, og en ukrainsk soldat var den første til å åpne porten til Auschwitz.
Uansett hva som skjer i Ukraina, har myndighetene i Moskva allerede tapt krigen om innbyggernes hjerter og sinn. Tiden for feig ettergivenhet vis-a-vis Russland er over. Nå blir det ukrainske folket og dets ledere ansett som helter rundt om i verden. Og etter hvert som stadig flere likposer returneres til Russland eller brennes i mobile krematorier, kan selv Putins nærmeste støttespillere begynne å tvile på hans lederskap.
Oversatt av Marius Gustavson