Nie Ma Zero Netto Bez Przyrody
LONDYN - Przedsiębiorstwa, inwestorzy i rządy, które poważnie myślą o wypełnieniu zobowiązań dotyczących zerowej emisji netto przed 2050 rokiem, powinny spieszyć się z ochroną, zachowaniem oraz regeneracją zasobów naturalnych i ekosystemów, które wspierają nasz wzrost gospodarczy, bezpieczeństwo żywności, zdrowie i klimat. Jednak wydaje się, że jest w tych dziedzinach niepokojąco mało pionierów.
Co gorsza, szybko kończy nam się czas. Nauka jasno wskazuje, że aby uniknąć najbardziej katastrofalnych skutków zmian klimatu i zbudować odporność na skutki, które są już nieuniknione, musimy położyć kres utracie różnorodności biologicznej przed 2030 rokiem. Oznacza to ustanowienie trwałej ochrony dla co najmniej 30% obszarów lądowych i morskich w ciągu ośmiu lat, a następnie wyznaczenie kursu na życie w harmonii z naturą do 2050 roku.
Choć wyzwanie jest ogromne, ignorowanie go nie ma sensu z perspektywy biznesowej. Biała księga Światowego Forum Ekonomicznego szacuje, że polityka pozytywna dla przyrody "mogłaby wygenerować szacunkowo 10 bilionów dolarów nowej rocznej wartości biznesowej i stworzyć 395 milionów miejsc pracy do 2030 roku." Między innymi, taka polityka wykorzystywałaby technologie rolnictwa precyzyjnego w celu zwiększenia plonów - urozmaicając w ten sposób dietę o większą ilość owoców i warzyw - oraz stymulowałaby agroleśnictwo i odbudowę torfowisk.
Pozytywne dla przyrody podejście może być również bardziej opłacalne. Na przykład w raporcie Dasgupty (raport końcowy brytyjskiego niezależnego przeglądu ekonomii różnorodności biologicznej) stwierdzono, że zielona infrastruktura - jak słone bagna i lasy namorzynowe - jest 2-5 razy tańsza niż infrastruktura szara, jak na przykład falochrony.
Niemniej jednak działania sektora prywatnego są opóźnione, w tym w sektorach gospodarki, w których zdrowie łańcuchów wartości jest ściśle związane z naturą. Jest to jeden z kluczowych wniosków z analizy opublikowanej właśnie przez ONZ-owskich mistrzów wysokiego szczebla ds. zmian klimatycznych, Global Canopy, Rainforest Alliance, itd.
Spośród 148 ocenionych dużych firm, tylko dziewięć - czyli 6% - czyni zdecydowane postępy w kierunku zakończenia wylesiania. Wśród nich jest brazylijski producent papieru i masy celulozowej Suzano oraz pięć największych firm z branży dóbr konsumpcyjnych: Nestlé, PepsiCo, Unilever, Mars i Colgate-Palmolive.
Subscribe to PS Digital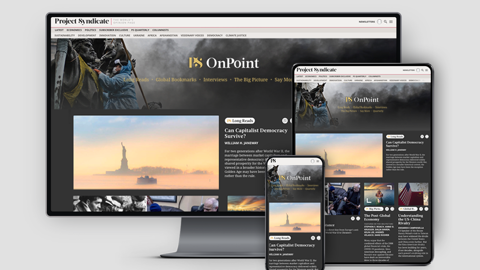 Subscribe to PS Digital
Access every new PS commentary, our entire On Point suite of subscriber-exclusive content – including Longer Reads, Insider Interviews, Big Picture/Big Question, and Say More – and the full PS archive.
Unilever zobowiązał się do stworzenia do 2023 r. łańcucha dostaw wolnego od wylesiania i w związku z tym koncentruje się na oleju palmowym, papierze i tekturze, herbacie, soi i kakao, ponieważ te produkty mają ponad 65% wpływu na grunty. Firma Nestlé sprawiła, że ponad 97% jej łańcuchów dostaw mięsa, oleju palmowego, celulozy i papieru, soi i cukru jest wolnych od wylesiania. Firma PepsiCo zamierza do 2030 r. wdrożyć rolnictwo regeneracyjne na całym swoim obszarze rolniczym oraz zaprzestać wylesiania i rozwoju na torfie.
Są to pozytywne kroki, ale stanowią one raczej wyjątki niż nową normę. Co więcej, sektor finansowy również powoli zmienia się w kierunku pozytywnym dla przyrody. Od konferencji COP26 w Glasgow w zeszłym roku, tylko 35 firm finansowych zobowiązało się do zajęcia się wylesianiem spowodowanym przez towary rolne do 2025 roku. Istnieje nadzieja, że więcej firm dołączy do zobowiązania dotyczącego wylesiania do COP27 w listopadzie tego roku. Pod parasolem Glasgow Financial Alliance for Net Zero, 500 firm finansowych (reprezentujących 135 bilionów dolarów w aktywach) zobowiązało się do zmniejszenia o połowę emisji ze swoich portfolio do 2030 roku i osiągnięcia zerowej emisji netto do 2050 roku. Teraz sojusz wydał nowe wytyczne dotyczące zerowej emisji netto, które obejmują zalecane polisy dotyczące wylesiania.
Przyroda funkcjonuje jako rodzaj globalnego kapitału, a jej ochrona powinna być oczywista dla firm, inwestorów i rządów. Światowe Forum Ekonomiczne stwierdza, że "44 biliony dolarów generowanej wartości ekonomicznej - ponad połowa światowego PKB - jest umiarkowanie lub wysoce zależna od przyrody i jej usług." Jednak to głębokie źródło wartości jest coraz bardziej zagrożone, czego dowodem jest obecny kryzys żywnościowy, który jest napędzany nie tylko przez wojnę na Ukrainie, ale także przez katastrofy związane z klimatem, takie jak susza i ekstremalna fala upałów w Indiach, szarańcza w Afryce Wschodniej czy powodzie w Chinach.
Przedsiębiorstwa w coraz większym stopniu dysponują narzędziami pozwalającymi na rozpoczęcie rozwiązywania tego typu problemów. Niedawno inicjatywa Science Based Targets opublikowała metodologię ukierunkowaną na emisje związane z żywnością, ziemią i rolnictwem. Platforma inwestycyjna rozwiązań opartych na naturze w Capital for Climate pomaga finansistom zidentyfikować możliwości inwestowania w naturę przy konkurencyjnych zyskach. Koalicja Business for Nature bada dodatkowe działania, które może podjąć sektor prywatny.
Rządy również podjęły kroki we właściwym kierunku. Podczas COP26 kraje, na które przypada ponad 90% światowych lasów, poparły deklarację przywódców o powstrzymaniu utraty lasów i degradacji ziemi do 2030 roku. Kilkanaście krajów zobowiązało się do zapewnienia 12 mld dolarów finansowania publicznego na rzecz lasów do 2025 r. oraz do podjęcia większych wysiłków w celu uzyskania prywatnych środków finansowych na ten cel. Mogą one teraz zacząć wypełniać te zobowiązania przed COP27 w Sharm El-Sheikh, wprowadzając w życie niezbędne polisy, ustanawiając właściwe zachęty i wywiązując się ze swoich obietnic finansowych.
W międzyczasie wspierane przez ONZ kampanie Race to Zero i Race to Resilience będą kontynuowane równolegle, pomagając przedsiębiorstwom, inwestorom, miastom i regionom umieścić ochronę przyrody w centrum ich działań na rzecz obniżenia emisyjności i budowania odporności. Pięć przedsiębiorstw, które osiągnęły najlepsze wyniki w zakresie wylesiania, uczestniczy w Race to Zero, a niedawno wzmocnione kryteria kampanii będą wywierać presję na innych członków, aby robili więcej w celu zrównoważonego wykorzystania różnorodności biologicznej i dostosowania swoich działań i finansowania do rozwoju odpornego na zmiany klimatu.
Świat obserwuje, czy najnowsze obietnice dotyczące działań na rzecz klimatu są solidne i wiarygodne. Inwestując teraz w przyrodę, rządy i firmy mogą pokazać, że oferują więcej niż słowa.
Z angielskiego przetłumaczyła Marz McNamer