A New Playbook for Preserving Nature
Market-based solutions can and must be harnessed to prevent the exploitation of ecosystems. But, given the unique challenges of preserving nature, as opposed to mitigating climate change, such an approach will succeed only if markets' governance principles and operating methods are designed to promote equity and sustainable prosperity.
GENEVA – The global economy is addicted to the relentless – and unsustainable – extraction of natural resources. Yet despite our complete dependence on nature, its contribution – for example, the water used to make your clothes or the soil in which your food is grown – is implicit and largely invisible. Building an equitable, nature-positive future thus requires a new generation of principles-based and well-governed markets for ecosystem assets and services.
Nature and climate stability are two sides of the same coin, and their fates are intertwined. Conserving and restoring biodiversity is essential for limiting greenhouse-gas (GHG) emissions, while uncontrolled global warming will destroy the planet's natural wealth. But efforts to decarbonize the global economy are not enough to prevent the exploitation of ecosystems. Today's climate playbook can be learned and leveraged, but not copied and pasted.
A new playbook is needed to halt and reverse biodiversity loss, and the Taskforce on Nature Markets was established in March 2022 to help write it. The taskforce's findings and recommendations on how best to shape a new generation of markets that conserve, rather than destroy, nature, will be released at the regional summit for the Amazon rainforest alliance held in Belém, Brazil.
The need for such a taskforce reflects a historic pivot toward putting a price on nature. There is a big push, for example, to quantify nature-related risks and to require nature-related corporate disclosures. Regenerative agriculture is attracting growing interest, sharing the benefits of genetic resources has sparked vigorous debate, and biodiversity-credit markets are beginning to take shape.
Advocates of market-based solutions claim that these developments, coupled with policy signals, will eventually align the global economy with nature-positive outcomes. The planet's ecosystems will be saved, they argue, by rewarding businesses and governments that offer nature-related financial products and services and channel investment into restoring biodiversity.
Policymakers and corporate leaders have relied on the same approach to mitigate global warming, with mixed results. But climate change is more amenable to a market-based paradigm for two reasons: GHG emissions are easily quantifiable and verifiable, and green technology continues to attract huge amounts of investment. The natural world, on the other hand, has neither an equivalent to GHG emissions, which makes it difficult to price, nor an investable technological landscape, aside from an emerging cluster of nature-saving commodity-production technologies such as lab-grown meat and vertical farming.
Introductory Offer: Save 30% on PS Digital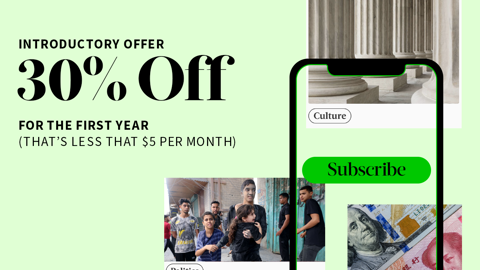 Introductory Offer: Save 30% on PS Digital
Subscribe now to gain greater access to Project Syndicate – including every commentary and our entire On Point suite of subscriber-exclusive content – starting at less than $5 per month.
Another fundamental difference concerns the role of indigenous peoples and local communities in preserving nature. Despite comprising less than 5% of the world's population, indigenous peoples protect 80% of the planet's biodiversity. Even well-intentioned market-based policies and instruments could undermine these stewards of nature, dimming the outlook for conservation efforts (and thus climate mitigation).
To be sure, market mechanisms can and must be harnessed to save nature. But, given these unique challenges, they will succeed only if their governance principles and operating methods are designed to promote equity and sustainable prosperity. The taskforce makes seven practical recommendations that could steer the global economy to a nature-positive pathway.
At the top of the list is a need for finance and economy ministers and central bankers to align economic and financial rules more closely with the goals of preserving biodiversity and supporting nature's stewards. When amending trade and investment agreements, international policy coordination through the G20 and other international fora must ensure that nature-rich low-income countries do not bear the brunt of transition costs.
Central banks and supervisors must also ensure that financial markets are aligned with nature and climate commitments. Those governing global finance need to be more proactive – addressing the intermediate goals of financial stability and market integrity is not enough.
Governance of soft commodities markets, especially for agricultural products, must be revamped, given their outsize effects on biodiversity, the climate, and society. Such targeted actions should include measures to increase transparency, including full traceability, and to overcome the current regulatory disinterest in nature.
Anti-money-laundering rules need to focus more on environmental crimes such as illegal deforestation, mining, fishing, and wildlife trafficking. Legal investments in the agricultural sector, particularly in soft commodity producers, can unintentionally finance these crimes, which destroy nature and often fuel violence.
Given the unique challenges of halting and reversing biodiversity loss, and humanity's total dependence on thriving ecosystems, we need a new playbook for preserving nature. It can draw on current climate strategies while also pushing for more ambitious measures that are fit for purpose. This is especially important when designing nature markets to deliver equitable, nature-positive outcomes for people and the planet.