A notícia mais importante que lhe escapou em 2019
SEATTLE – Segundo a contagem mais recente, o Washington Post, o New York Times, e o Wall Street Journal publicam um total conjunto de 1000 notícias todos os dias. Embora o relatório não refira quantas pessoas leram todas, pode supor-se que ninguém o conseguiu fazer.
Provavelmente, cada um de nós ignora dezenas de milhares de notícias importantes todos os anos. Mas a maior de todas que escapou às pessoas em 2019 aconteceu a 10 de Outubro, num salão de conferências em Lyon, França, onde uma assembleia de responsáveis governamentais, líderes empresariais e filantropos prometeu 14 mil milhões de dólares a uma organização denominada Fundo Mundial.
Não existem muitas pessoas que saibam o que é o Fundo Mundial até ouvirem a sua denominação completa: o Fundo Mundial para a Luta contra a SIDA, Tuberculose e Malária. O Fundo foi criado logo a seguir ao virar do milénio, quando centenas de milhares de crianças morriam de doenças evitáveis. A crise da SIDA estava no seu auge, e as agências noticiosas descreviam o vírus como uma "foice malévola" que desbastava a África Subsaariana. Houve quem previsse que a sua expansão imparável levaria países inteiros ao colapso. Tratava-se de uma crise internacional que exigia uma resposta internacional.
Nas Nações Unidas, o então Secretário-Geral Kofi Annan reuniu o mundo em torno dos Objectivos de Desenvolvimento do Milénio – um conjunto de metas específicas relacionadas com a redução da pobreza e da doença – e criou o Fundo Mundial para a sua consecução.
O Fundo foi concebido para ser um novo tipo de empreendimento multilateral, e não apenas uma coligação de governos. Também introduziu parceiros do sector empresarial e filantropos, nomeadamente a recém-formada Fundação Bill e Melinda Gates. Esta abordagem inclusiva permitiu que a iniciativa dispusesse de uma gama alargada de competências.
Durante as últimas duas décadas, o Fundo Mundial transformou o modo como lutamos contra a SIDA, a tuberculose e a malária – as três maiores causas de morte nos países pobres. Ao reunir recursos, o Fundo criou economias de escala para produtos vitais, como os mosquiteiros anti-malária e os medicamentos anti-retrovirais. Seguidamente, em colaboração com quase 100 países, o Fundo construiu uma enorme cadeia de abastecimento para distribuir as mercadorias. Neste processo, as mortes por SIDA diminuíram 50% desde a mudança do milénio. Hoje, o Fundo tem um novo financiamento de 14 mil milhões de dólares para continuar o seu trabalho.
Subscribe now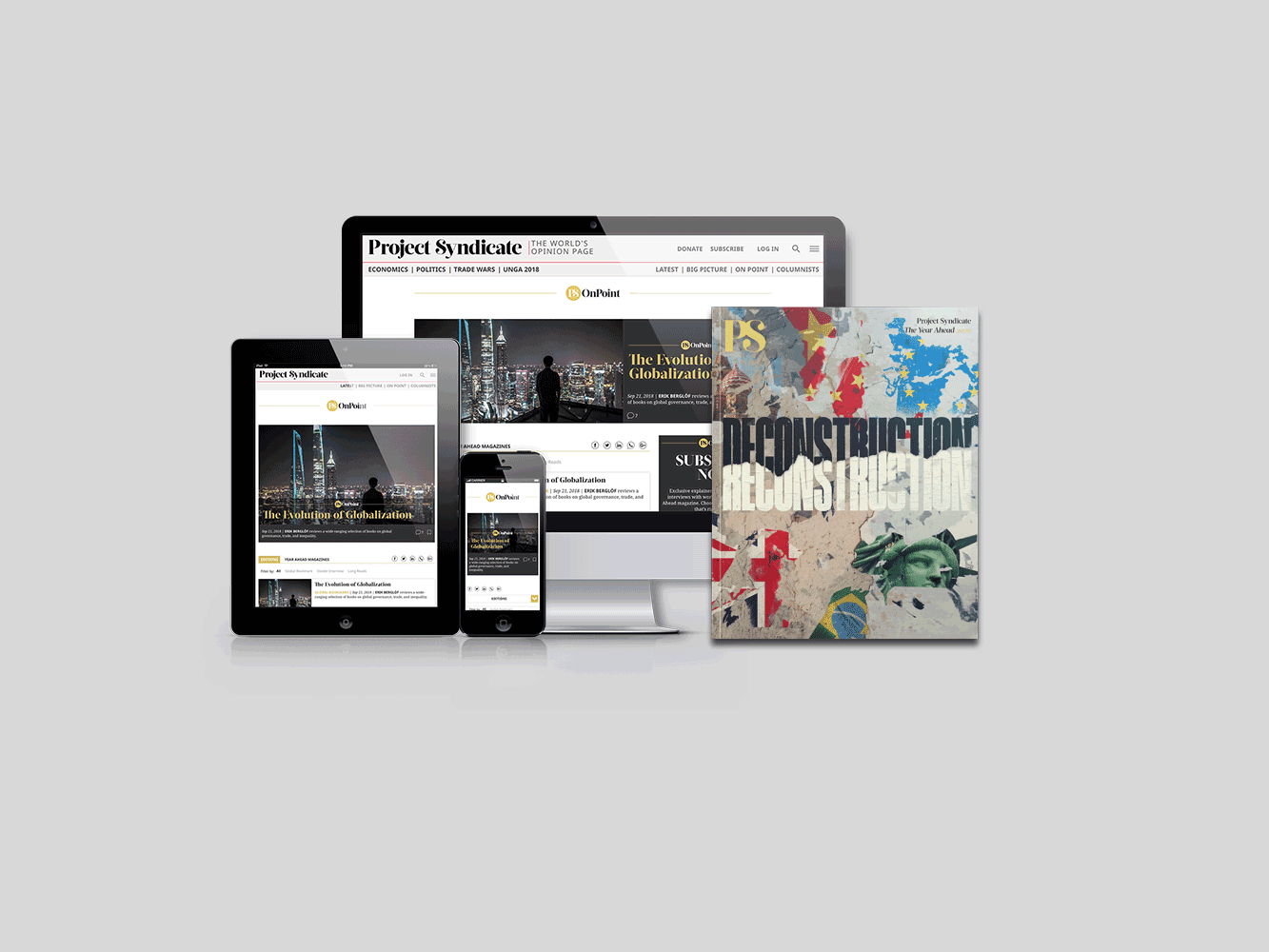 Subscribe now
Subscribe today and get unlimited access to OnPoint, the Big Picture, the PS archive of more than 14,000 commentaries, and our annual magazine, for less than $2 a week.
Este reaprovisionamento é uma notícia de importância vital, em primeiro lugar devido ao enorme número de vidas que ajudará a salvar. Os 14 mil milhões de dólares, prevê o Fundo, serão suficientes para diminuir as taxas de mortalidade das três doenças novamente quase 50% até 2023. Isto significa salvar 16 milhões de vidas.
Mas o que aconteceu em Lyon a 10 de Outubro é crítico por outro motivo: por ilustrar como estamos num ponto de viragem na história, a partir do qual o mundo pode mover-se em sentidos diferentes.
Por um lado, o bem-sucedido esforço recente de angariação de fundos foi um testemunho do modo como o mundo resolveu as crises humanitárias nos primeiros anos deste século. O multilateralismo, afinal, funcionou – e funcionou extremamente bem.
Esse mesmo período também viu nascer organizações como a Gavi, a Aliança para a Vacinação, uma aliança global de intervenientes dos sectores público e privado que visa levar a vacinação a algumas das crianças mais pobres do mundo. A Gavi já ajudou a imunizar mais de 760 milhões de crianças. E a taxa de cobertura de vacinação contra a difteria, tétano e tosse convulsa (DTP3) em países apoiados pela Gavi aumentou de 59% em 2000 para 81% em 2018 – apenas quatro pontos percentuais abaixo da média global (a Gavi também necessitará de angariar mais financiamento durante o próximo ano).
Por outro lado, o facto de nenhuma organização multilateral semelhante ter sido criada desde o início da década de 2000 – pelo menos, a uma escala comparável – deveria fazer-nos pensar.
O Fundo conseguiu angariar os 14 mil milhões de dólares numa altura em que o isolacionismo está em ascensão. Hoje, muitos governos parecem preferir agir isoladamente, em vez de se envolverem na resolução abrangente de problemas que tão bem funcionou durante os últimos 20 anos. O Brexit é um exemplo deste facto. Outros incluem a decisão do presidente dos EUA, Donald Trump, de retirar os Estados Unidos do acordo de Paris sobre o clima de 2015, e o apelo da sua administração a reduções drásticas da ajuda externa dos EUA (que, graças ao Congresso, ainda não foram concretizadas).
Pergunto-me frequentemente o que teria acontecido se a crise da SIDA tivesse aparecido 20 anos mais tarde. Conseguiríamos criar hoje o Fundo Mundial? A resposta, penso, é negativa. Seria muito difícil reunir apoios para este tipo de iniciativa no ambiente actual.
As notícias de Lyon do último mês, então, farão parte de uma história que ainda não terminou. Será que o mundo vai entender que as coligações multilaterais funcionam, e corrigirá o seu rumo? Ou estará a era do multilateralismo a terminar?
O reaprovisionamento do Fundo Global poderá ser a melhor notícia que lhe escapou em 2019. Mas a menos que interrompamos o deslize no sentido do isolacionismo e comecemos a reconstruir uma comunidade global, é o tipo de notícia de que poderá nunca mais ouvir falar.