Die wichtigste Nachricht, die Sie 2019 verpasst haben
SEATTLE – Der jüngsten Zählung zufolge veröffentlichen die Washington Post, die New York Times und das Wall Street Journaltäglich insgesamt 1.000 Artikel. Auch wenn in der Meldung nicht erwähnt wurde, wie viele Personen alle diese Zeitungsberichte gelesen haben, kann man davon ausgehen, dass es niemand geschafft hat.
Wahrscheinlich gehen jedes Jahr Zehntausende wichtige Presseberichte unbemerkt an jedem von uns vorbei. Aber die bedeutendste Meldung, die Ihnen 2019 entgangen sein dürfte, beruht auf einem Treffen vom 10. Oktober in einem Konferenzsaal in Lyon, Frankreich, wo Regierungsvertreter, Wirtschaftsführer und Philanthropen einer Organisation namens Global Fund 14 Milliarden Dollar zugesichert haben.
Nicht viele Menschen wissen, was der Global Fund ist, bis sie seinen vollständigen Namen hören: Der Globale Fonds zur Bekämpfung von AIDS, Tuberkulose und Malaria. Der Fonds wurde kurz nach der Jahrtausendwende eingerichtet, als Hunderttausende von Kindern an vermeidbaren Krankheiten starben. Die AIDS-Krise befand sich auf ihrem Höhepunkt und das Virus wurde von Nachrichtenredakteuren als "grausame Sense" bezeichnet, die die Menschen in Afrika südlich der Sahara dahinmähte. Seine unaufhaltsame Ausbreitung, so prognostizierten einige, würde zum Zusammenbruch ganzer Länder führen. Dies war eine internationale Krise, die eine internationale Reaktion erforderte.
Bei den Vereinten Nationen hat der damalige Generalsekretär Kofi Annan die Welt auf die Millenniums-Entwicklungsziele eingeschworen – eine Reihe konkreter Ziele im Zusammenhang mit Armut und Krankheitsbekämpfung – und den Globalen Fonds ins Leben gerufen, um sie zu erreichen.
Der Fonds sollte keine bloße Koalition von Regierungen sein, sondern eine neue Art multilateraler Vorstoß. Darüber hinaus wurden Partner aus den Bereichen Wirtschaft und Philanthropie hinzugezogen, darunter die neu gegründete Bill & Melinda Gates Foundation. Dieser integrative Ansatz ermöglichte es der Initiative, auf ein breiteres Spektrum an Fachwissen zurückzugreifen.
In den letzten zwei Jahrzehnten hat der Globale Fonds die Art und Weise verändert, wie wir AIDS, Tuberkulose und Malaria bekämpfen – die drei häufigsten Todesursachen in armen Ländern. Durch die Bündelung der Ressourcen erzielte der Fonds Skaleneffekte für lebensrettende Produkte wie Moskitonetze zum Schutz vor Malaria und antiretrovirale Medikamente. Dann baute der Fonds durch die Zusammenarbeit mit fast 100 Ländern eine umfassende Versorgungskette für diese Güter auf. Im Zuge dessen ist die Zahl der Todesfälle durch AIDS gegenüber ihrem Höchststand um 50 Prozent gefallen, und die Malaria-Todesfälle sind seit der Jahrtausendwende um etwa 50 Prozent zurückgegangen. Jetzt verfügt der Fonds über 14 Milliarden Dollar an neuen Mitteln, um diese Arbeit fortzusetzen.
Subscribe now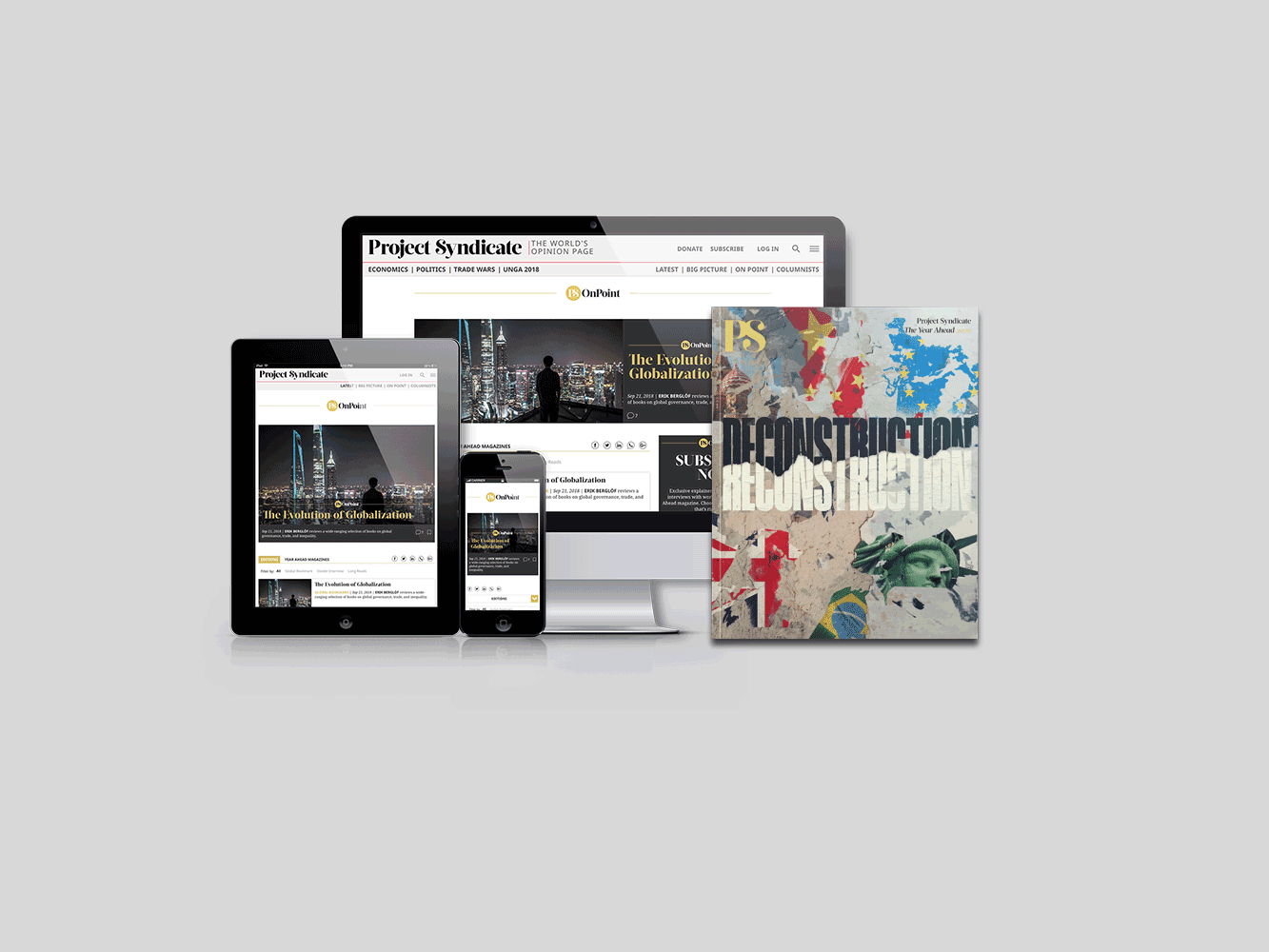 Subscribe now
Subscribe today and get unlimited access to OnPoint, the Big Picture, the PS archive of more than 14,000 commentaries, and our annual magazine, for less than $2 a week.
Die Wiederauffüllung ist eine äußerst wichtige Nachricht, vor allem wegen der Vielzahl an Menschenleben, die gerettet werden können. Die 14 Milliarden Dollar, so prognostiziert der Fonds, werden ausreichen, um die Sterblichkeitsrate der drei Krankheiten bis 2023 erneut um fast 50 Prozent zu senken. Das bedeutet 16 Millionen gerettete Leben.
Doch was sich am 10. Oktober in Lyon ereignete, ist aus einem anderen Grund ausschlaggebend: Es verdeutlicht, dass wir uns an einem Dreh- und Angelpunkt der Geschichte befinden, von dem aus sich die Welt in die eine oder andere Richtung bewegen könnte.
Einerseits zeugt die erfolgreiche jüngste Mittelbeschaffung davon, wie die Welt in den frühen Jahren dieses Jahrhunderts humanitäre Krisen gelöst hat. Es hat sich gezeigt, dass Multilateralismus funktioniert – und zwar sehr gut.
Im gleichen Zeitraum entstanden auch Organisationen wie Gavi, die Impfallianz, ein globales Bündnis von Interessengruppen des öffentlichen und privaten Sektors, das darauf abzielt, einige der ärmsten Kinder der Welt mit Impfstoffen zu versorgen. Gavi hat dazu beigetragen, dass bis dato über 760 Millionen Kinder geimpft wurden. Und die Impfrate der Diphtherie-Tetanus-Pertussis (DTP3)-Impfung in den von Gavi unterstützten Ländern stieg von 59 Prozent im Jahr 2000 auf 81 Prozent im Jahr 2018 – nur vier Prozentpunkte unter dem globalen Durchschnitt. (Auch Gavi wird im nächsten Jahr neue Mittel aufbringen müssen.)
Andererseits sollte uns die Tatsache, dass seit Anfang der 2000er Jahre keine ähnliche multilaterale Organisation mehr gegründet wurde – zumindest nicht in einer solchen Größenordnung – zu denken geben.
Dem Fonds gelang es, die 14 Milliarden Dollar in einer Zeit des zunehmenden Isolationismus aufzubringen. Heute scheinen viele Regierungen es vorzuziehen, im Alleingang zu handeln, anstatt sich an der Art von auf Koordination und Kooperation beruhender Problemlösung zu beteiligen, die in den letzten 20 Jahren so gut funktioniert hat. Der Brexit ist ein Beispiel dafür. Andere sind die Entscheidung von US-Präsident Donald Trump, die Vereinigten Staaten aus dem Pariser Klimaabkommen von 2015 austreten zu lassen, und die Forderung seiner Regierung nach drastischen Kürzungen der US-Entwicklungshilfe (die dank des Kongresses noch nicht erfolgt sind).
Ich frage mich oft, was passiert wäre, wenn die AIDS-Krise 20 Jahre später eingetreten wäre. Wären wir heute in der Lage, den Globalen Fonds einzurichten? Ich denke die Antwort ist nein. Es wäre sehr schwierig, in diesem Umfeld Unterstützung für diese Art von Initiative aufzubauen.
Die Nachricht, die im vergangenen Monat aus Lyon um die Welt ging, ist also noch nicht auserzählt. Wird die Welt erkennen, dass multilaterale Koalitionen funktionieren und den Kurs ändern? Oder ist die Ära des Multilateralismus zu Ende?
Die Aufstockung des Globalen Fonds könnte die beste Nachricht sein, von der Sie 2019 noch nichts gehört hatten. Doch wenn wir den Trend zum Isolationismus nicht stoppen und mit dem Wiederaufbau einer globalen Gemeinschaft beginnen, ist es die Art von Nachricht, die Sie vielleicht nie wieder erreichen wird.
Aus dem Englischen von Sandra Pontow