Het belangrijkste verhaal dat u heeft gemist in 2019
SEATTLE – Volgens de meest recente telling publiceren The Washington Post, The New York Times en The Wall Street Journal iedere dageen gecombineerd totaal van duizend verhalen. Hoewel het rapport niet zegt hoeveel mensen die allemaal lezen, kunnen we veilig aannemen dat niemand daar in slaagt.
Ieder van ons ziet ieder jaar waarschijnlijk tienduizenden belangrijke nieuwsverhalen over het hoofd. Maar het grootste verhaal dat mensen in 2019 misten deed zich voor in een conferentiehal in het Franse Lyon, waar overheidsfunctionarissen, leiders uit het bedrijfsleven en filantropen $14 mrd toezegden aan een organisatie die het Global Fund heet.
Niet veel mensen weten wat het Global Fund is totdat ze de volledige naam ervan horen: het Global Fund to Fight AIDS, Tuberculosis, and Malaria. Het fonds werd kort na de millenniumwende opgericht, toen honderdduizenden kinderen overleden als gevolg van vermijdbare ziekten. De AIDS-crisis was op zijn hoogtepunt, waarbij nieuwsmedia het virus omschreven als een "boosaardige zeis" die door het ten zuiden van de Sahara gelegen deel van Afrika maaide. De onstuitbare opmars ervan, zo voorspelden sommigen, zou leiden tot de ineenstorting van hele landen. Dit was een internationale crisis die een internationaal antwoord vereiste.
Bij de Verenigde Naties heeft de toenmalige secretaris-generaal Kofi Annan de wereld rond de Millennium Ontwikkelingsdoelstellingen bijeengebracht – een reeks specifieke doelstellingen gerelateerd aan de bestrijding van armoede en ziektes – en het Global Fund gelanceerd om die te verwezenlijken.
Het fonds was bedoeld als nieuw soort multilaterale onderneming, niet slechts als een coalitie van overheden. Het bracht ook partners binnen uit de zakelijke en de filantropische sector, inclusief de nieuwgevormde Bill & Melinda Gates Foundation. Deze inclusieve aanpak stelde het initiatief in staat een beroep te doen op een breder scala aan expertises.
De afgelopen twee decennia heeft het Global Fund de manier veranderd waarop we AIDS, tuberculose en malaria bestrijden – de drie belangrijkste doodsoorzaken in arme landen. Door middelen bijeen te brengen heeft het schaalvoordelen gecreëerd voor levensreddende producten als muskietennetten en anti-retrovirale geneesmiddelen. Door met bijna honderd landen samen te werken heeft het Fonds een enorme aanbodketen opgebouwd om de goederen af te kunnen leveren. Hierdoor is het aantal sterfgevallen als gevolg van AIDS vanaf het hoogtepunt met 50% gedaald, en is het aantal malariadoden sinds de millenniumwende met ongeveer 50% afgenomen. Nu heeft het fonds $14 mrd aan nieuwe middelen binnengehaald om zijn werk te kunnen voortzetten.
Subscribe now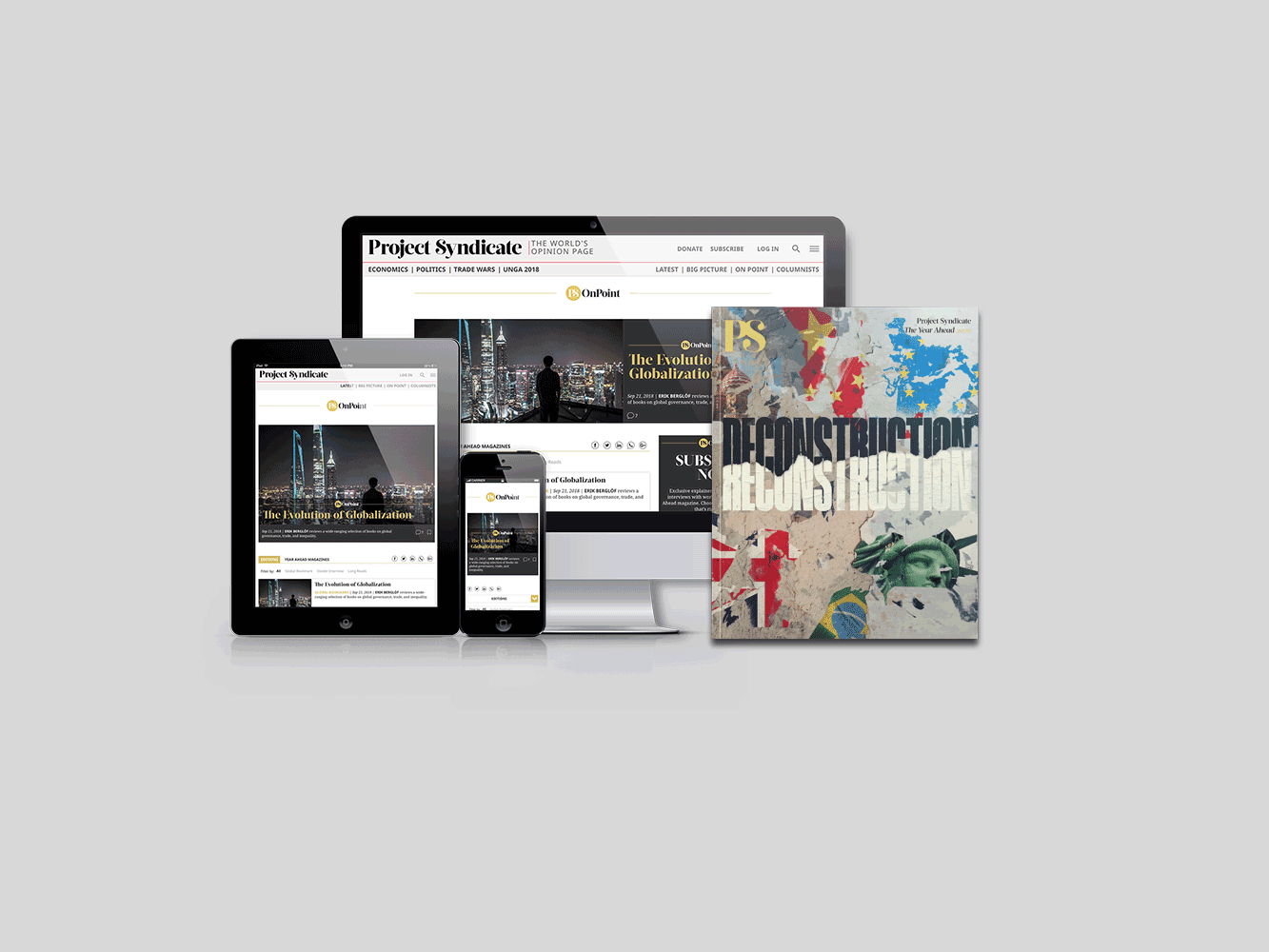 Subscribe now
Subscribe today and get unlimited access to OnPoint, the Big Picture, the PS archive of more than 14,000 commentaries, and our annual magazine, for less than $2 a week.
Die aanvulling is belangrijk nieuws, in de eerste en belangrijkste plaats door het aantal levens dat het zal helpen redden. De $14 mrd, zo voorspelt het fonds, zal genoeg zijn om het sterftecijfer als gevolg van de drie ziekten tot 2023 opnieuw met bijna 50% te laten dalen. Dat vertaalt zich in 16 miljoen geredde levens.
Maar wat op 10 oktober in Lyon is gebeurd is ook om een andere reden van cruciaal belang: het illustreert hoe we zijn aangekomen op een kruispunt in de geschiedenis, van waaruit de wereld de ene of de andere kant kan opgaan.
Enerzijds was de succesvolle recente fondsenwerving een getuigenis van de manier waarop de wereld begin deze eeuw humanitaire crises te lijf ging. Multilateralisme, zo blijkt, heeft gewerkt – zelfs buitengewoon goed.
In diezelfde periode zagen ook andere organisaties het daglicht, zoals Gavi, de vaccinatie-alliantie, een mondiaal bondgenootschap van stakeholders uit de publieke en de private sector dat erop uit is om vaccins naar de armste kinderen van de wereld te krijgen. Gavi heeft tot nu toe geholpen ruim 760 miljoen kinderen in te enten. En de dekkingsgraad van het difterie-tetanus-kinkhoest- (DTP3)-vaccin in de door Gavi gesteunde landen is toegenomen van 59% in 2000 tot 81% in 2018 – slechts vier procentpunten onder het mondiale gemiddelde. (Ook Gavi zal volgend jaar nieuw geld nodig hebben).
Anderzijds moet het feit dat er sinds begin deze eeuw geen soortgelijke multilaterale organisatie is opgericht – althans niet op deze schaal – ons te denken geven.
Het Global Fund is erin geslaagd de $14 mrd binnen te halen in een tijd van toenemend isolationisme. Vandaag de dag lijken veel overheden er de voorkeur aan te geven om "solo te gaan" in plaats van mee te doen aan de uitgebreide probleemoplossings-inspanningen die de afgelopen twintig jaar zo goed gewerkt hebben. Brexit is hier een voorbeeld van, evenals het besluit van president Donald Trump om de Verenigde Staten terug te trekken uit het Parijse klimaatakkoord van 2015, en de oproep van zijn regering om over te gaan tot grote bezuinigingen op de Amerikaanse buitenlandse hulp (die dankzij het Congres nog niet zijn doorgevoerd).
Ik vraag me vaak af wat er zou zijn gebeurd als de AIDS-crisis zich twintig jaar later had voorgedaan. Zouden we vandaag de dag in staat zijn geweest het Global Fund op te zetten? Ik denk dat het antwoord "nee" luidt. Het zou heel moeilijk zijn om in dit klimaat steun voor zo'n initiatief te verwerven.
Het nieuws van oktober uit Lyon maakt dus deel uit van een doorlopend verhaal. Zal de wereld alsnog beseffen dat multilaterale coalities werken en op haar schreden terugkeren? Of is het tijdperk van het multilateralisme ten einde gekomen?
De aanvulling van het Global Fund zou wel eens het beste nieuws kunnen zijn waar u tot nu toe in 2019 nog niet over had gehoord. Maar als we het afglijden naar het isolationisme geen halt toeroepen en de wereldgemeenschap niet gaan herbouwen, is dit het soort nieuws dat u misschien wel nooit meer zult horen.
Vertaling: Menno Grootveld