Wie die Schlichter der Weltbank Pakistan abgezockt haben
NEW YORK – Hedgefonds und Juristen von der Wall Street haben ein in internationalen Verträgen enthaltenes undurchsichtiges Verfahren in eine Gelddruckmaschine verwandelt, und zwar auf Kosten der Ärmsten der Welt. Die jüngste Abzocke ist ein Schiedsspruch von 5,9 Milliarden Dollar, der zugunsten von zwei globalen Bergbaugesellschaften – Antofagasta PLC aus Chile und Barrick Gold Corporation aus Kanada – gegen die Regierung Pakistans verhängt wurde und ein Projekt betrifft, das von Pakistan nie bewilligt und nie durchgeführt wurde.
Hier sind die Fakten.
Im Jahre 1993 schloss die Bergbaugesellschaft BHP mit Sitz in den USA ein Jointventure mit der Balochistan Development Authority (BDA), einer Gesellschaft öffentlichen Rechts in Pakistans verarmter Provinz Balochistan. Ziel des Jointventures war es, nach Gold- und Kupfervorkommen zu suchen und sich im Falle entsprechender Funde um eine Abbaulizenz zu bemühen. BHP war bezüglich der Rentabilität des Projekts nicht optimistisch und verzögerte die Exploration. Anfang der 2000er Jahre übertrug es die Explorationsrechte an ein australisches Unternehmen, das für das Projekt die Tethyan Copper Company (TCC) gründete.
Im Jahr 2006 erwarb Antofagasta TCC für 167 Millionen Dollar und verkaufte die Hälfte davon an Barrick Gold. Kurz nach dem Kauf jedoch wurde der ursprüngliche Jointventure-Vertrag mit BHP vor den pakistanischen Gerichten angefochten, und 2013 entschied der Oberste Gerichtshof Pakistans, dass die Bestimmungen des Jointventures in verschiedener Hinsicht gegen pakistanisches Bergbau- und Vertragsrecht verstießen, und erklärte den Vertrag – und damit die von TCC beanspruchten Rechte – für null und nichtig.
Konkret entschied das Gericht, dass die BDA nicht befugt war, Balochistan zu den Bestimmungen des Jointventure-Vertrags zu verpflichten, dass sie den Vertrag ohne Ausschreibung und auf intransparente Weise vergeben hatte und dass sie ihre Befugnisse weit überschritten und durch umfassende Abweichungen von den normalerweise für Bergbauprojekte geltenden Regeln gegen das Gesetz verstoßen habe. Zudem habe das Jointventure viele gesetzlich vorgeschriebene Genehmigungen der Provinz- und der Bundesregierung nicht eingeholt und sich nicht einmal darum bemüht, und die BHP habe es versäumt, die Exploration wie nach Bergbaurecht vorgeschrieben zeitnah durchzuführen.
Die Entscheidung des Obersten Gerichtshofes folgte auf einen jahrelangen, unter Berufung auf das öffentliche Interesse geführten Rechtsstreit, in dessen Rahmen die Vereinbarung wegen Verstößen gegen pakistanisches Recht und die Rechte der Bevölkerung angefochten wurde. Zwischenzeitlich kam heraus, dass seitens des Vorstandsvorsitzenden der BDA Interessenkonflikte bestanden und er schon seit Jahren über seine – durch sein staatliches Gehalt vorgegebenen – Verhältnisse gelebt hatte, was nach den Worten des Gerichts auf Korruption hinauslief.
Subscribe now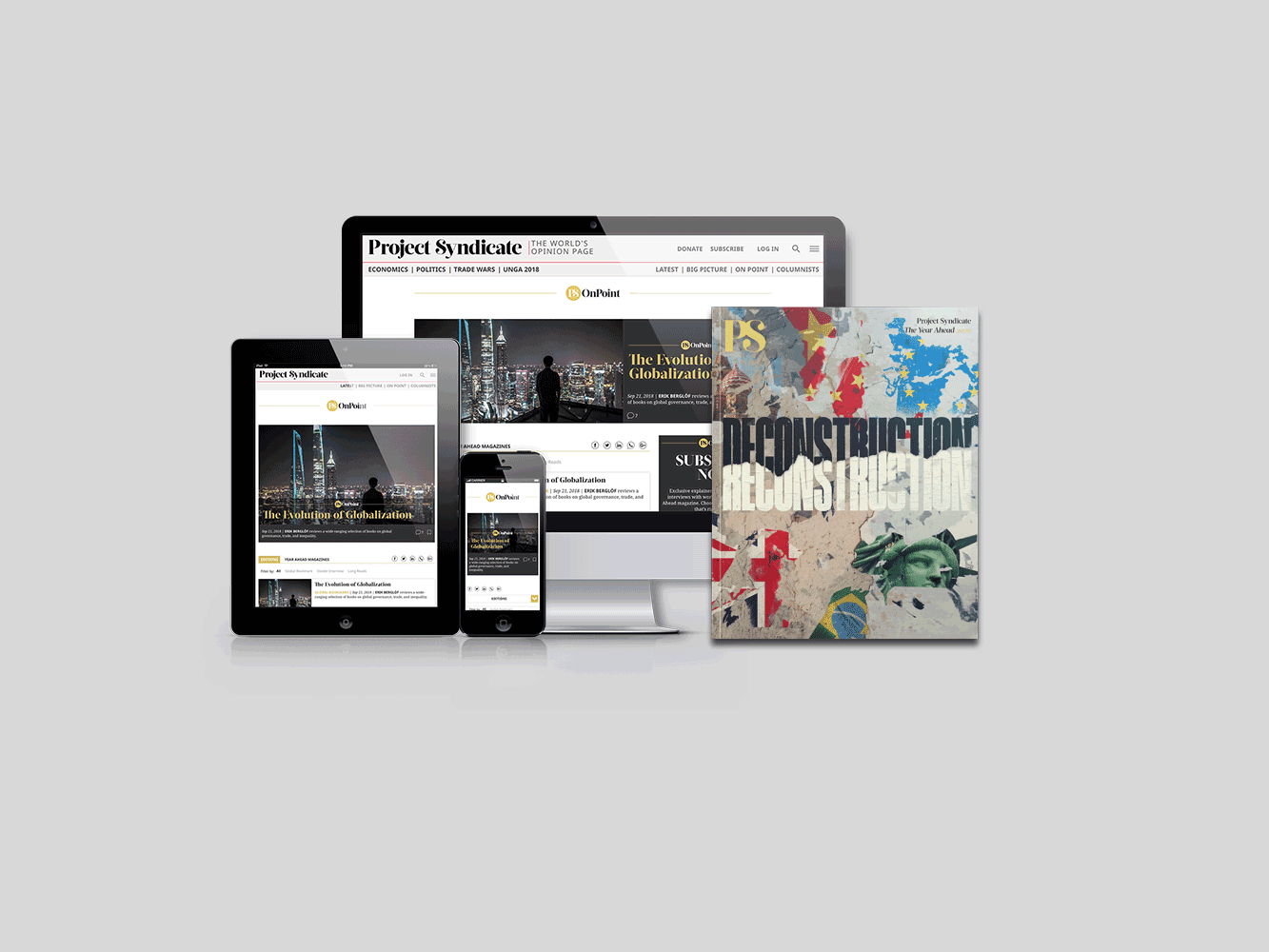 Subscribe now
Subscribe today and get unlimited access to OnPoint, the Big Picture, the PS archive of more than 14,000 commentaries, and our annual magazine, for less than $2 a week.
In einer normalen Welt hätte man das Urteil des Gerichts – vorbehaltlich nachweislicher Belege für Korruption oder sonstiges Fehlverhalten der Richter – respektiert. Doch in der Welt, in der wir heute leben, versetzt die sogenannte internationale Rechtsordnung reiche Unternehmen in die Lage, arme Länder ungestraft auszunutzen und ihre Gesetze und Gerichte zu missachten.
Nachdem TCC den Fall vor dem Obersten Gerichtshof Pakistans verloren hatte, wandte es sich unter völliger Missachtung der Gesetze und Institutionen Pakistans einfach an das Internationale Zentrum zur Beilegung von Investitionsstreitigkeiten (ICSID) der Weltbank. Ein aus drei Schlichtern ohne Kenntnisse über oder Respekt für das pakistanische Rechtssystem beschied dann, dass TCC eine Entschädigung für alle künftigen Gewinne zustand, die es angeblich erwirtschaftet hätte, wenn das nicht existente, auf einem nichtigen Vertrag beruhende Projekt umgesetzt worden wäre!
Weil es weder ein tatsächliches Projekt noch einen Vertrag über ein derartiges Projekt gab, hatten die Schlichter keine Grundlage, zu entscheiden, welche Bedingungen – in Bezug auf Lizenzgebühren, Körperschaftsteuer, Umweltstandards, Landfläche und andere grundlegende Bestimmungen – die Regierungen von Balochistan und Pakistan festgelegt hätten. Tatsächlich hatten Unstimmigkeiten über viele dieser Bedingungen die Verhandlungen jahrelang verzögert.
Trotzdem entschied das ICSID-Schiedsgericht willkürlich, dass TCC das Recht gehabt hätte, auf 1000 km² Bergbau zu betreiben, obwohl das laut pakistanischem Bergbaurecht auf einer derart enormen Fläche nicht zulässig war. Die Schlichter befanden, dass TCC eine Steuerbefreiung von 15 Jahren erhalten hätte, obwohl es keinerlei Hinweise darauf gab, dass eine derartige Steuerbefreiung zur Diskussion stand oder auch nur legal wäre. Die Schlichter entschieden außerdem, dass TCC von Lizenzgebühren profitiert hätte, die mehrere Prozentpunkte unter dem gesetzlich vorgeschriebenen Satz lagen, obwohl es keinen Grund gibt, warum Pakistan einen derart niedrigen Gebührensatz hätte festlegen sollen.
Die Schlichter befanden außerdem, dass TCC alle Umweltstandards eingehalten hätte oder dass die Regierung TCC von den einschlägigen Vorgaben befreit hätte, obwohl das Abbaugebiet in einer Wüstenregion liegt und unter extremem Wassermangel leidet und das Bergbauprojekt enorme Wassermengen benötigt hätte. Und die Schlichter befanden, dass die Regierung zur Erlangung des für TCCs Pipeline erforderlichen Landes dessen Eigentümer und Bewohner enteignet hätte.
Der Schiedsspruch ist völlig willkürlich. Ein illegales Projekt, das von Pakistans Oberstem Gerichtshof für null und nichtig erklärt wurde und nie verfolgt wurde, wurde vom Schiedsgericht der Weltbank auf einen Wert von mehr als vier Milliarden Dollar beziffert, obwohl TCCs Eigentümer 2006 nur 167 Millionen dafür bezahlt hatten. Darüber hinaus entschied das Schiedsgericht, dass Pakistan TCC vollständig und mit Zinsen entschädigen und seine Rechtskosten übernehmen muss, was den Gesamtbetrag auf 5,9 Milliarden Dollar oder rund 2% vom pakistanischen BIP erhöht. Das ist mehr als doppelt so viel wie Pakistans gesamte öffentliche Ausgaben für die Krankenversorgung von 200 Millionen Menschen – in einem Land, in dem 7% der Kinder vor ihrem fünften Geburtstag sterben. Für viele Pakistanis ist der Schiedsspruch der Weltbank ein Todesurteil.
Das ICSID ist kein ehrlicher Makler. Eines der Mitglieder des Schiedsgerichts im TCC-Fall nutzt denselben Sachverständigen, der von TCC benannt wurde, für einen anderen Fall, in dem der Schlichter als Rechtsbeistand auftritt! Als der Schlichter wegen dieses offensichtlichen Interessenkonflikts abgelehnt wurde, weigerte er sich, zurückzutreten, und das ICSID fuhr fort, als ob dies alles völlig normal wäre.
Dank den Schlichtern der Weltbank streichen die Reichen ein Vermögen auf Kosten der armen Länder ein. Multinationale Unternehmen verdienen sich an nie genehmigten, nicht existenten Projekten eine goldene Nase. Die Behebung des kaputten Schlichtungssystems sollte mit der Aufhebung dieses skandalösen Schiedsspruchs gegen Pakistan und einer gründlichen Untersuchung des fehlerbehafteten und korrupten Prozesses beginnen, der diesen möglich gemacht hat.
Aus dem Englischen von Jan Doolan