Planowanie Przyszłości Powyżej 1,5°C
GENEWA - Negocjatorzy i aktywiści przygotowujący się do udziału w zbliżającej się Konferencji Narodów Zjednoczonych w sprawie Zmian Klimatu (COP28) w Dubaju mają ponurą świadomość, że nie ma realnych szans na ograniczenie globalnego ocieplenia do 1,5° Celsjusza powyżej poziomu sprzed epoki przemysłowej. Ale to, co stało się otwartą tajemnicą w kręgach klimatycznych, musi być szerzej rozpowszechniane. Paradoksalnie, może to być jedyny sposób na zebranie woli politycznej potrzebnej do porzucenia stopniowego rozwoju na rzecz przełomowych działań współmiernych do skali wyzwania.
Oficjalny pogląd pozostaje taki, że cel 1,5°C określony w porozumieniu klimatycznym z Paryża z 2015 r. jest nadal osiągalny, ale tylko pod warunkiem podjęcia zdecydowanych i natychmiastowych działań. Chociaż w teorii może to być prawdą, niezbędne reformy są politycznie bolesne i dlatego prawie nie istnieją. Na przykład globalne zużycie węgla wzrosło do nowego rekordowego poziomu 8,3 miliarda ton w 2022 roku. Co więcej, Chevron i ExxonMobil zainwestowały ostatnio łącznie 113 miliardów dolarów w zabezpieczenie dodatkowych rezerw ropy i gazu - co stanowi jednoznaczny zakład na długoterminową rentowność paliw kopalnych.
Stało się oczywiste, że zmierzamy w kierunku globalnych temperatur o co najmniej 2°C powyżej poziomów sprzed epoki przemysłowej. Jest to zgodne z niedawnym wnioskiem Międzynarodowej Agencji Energii, że w oparciu o dzisiejszą politykę, globalne emisje mogą podnieść średnie temperatury o około 2,4°C w tym stuleciu.
Przyszłość powyżej 1,5°C będzie wyglądać zupełnie inaczej niż nasza obecna rzeczywistość, a każda dziesiąta stopnia będzie mieć poważne konsekwencje. Szacuje się, że przy ociepleniu o 2°C około 40% światowej populacji będzie narażone na poważne fale upałów, a nawet jedna trzecia doświadczy chronicznego niedoboru wody. Koszty ludzkie, w postaci przesiedleń, utraty środków do życia i przedwczesnych zgonów, będą bezprecedensowe, a najcięższe obciążenia poniosą szczególnie narażone społeczności, głównie w biedniejszych krajach.
Musimy zrobić wszystko, co w naszej mocy, aby temu zapobiec. Jednak, jak na ironię, rozbudzanie złudnych nadziei na osiągnięcie celu 1,5°C stało się przeszkodą na drodze do postępu w działaniach na rzecz klimatu. Jak podkreśla NatureFinance w publikacji wydanej w przededniu COP28, "Time to Plan for a Future Beyond 1.5 Degrees", cel ten odzwierciedla nasze ambicje, ale - przewrotnie - osadził fikcję transformacji energetycznej "win-win", w której przyszły świat wygląda podobnie do naszego, tylko bez emisji dwutlenku węgla. Narracja ta, promowana przez wielu liderów politycznych, biznesowych i społeczeństwa obywatelskiego, ogranicza naszą reakcję, zmuszając nas do działania w ramach konwencjonalnej mądrości.
Ludzie mają trudności z reagowaniem na wolno postępujące kryzysy. Wyrwanie się z tego schematu zwykle wymaga, aby "nowa prawda" stała się oczywista, często poprzez nagły wstrząs, który cementuje zmianę paradygmatu i poszerza sferę możliwości.
Introductory Offer: Save 30% on PS Digital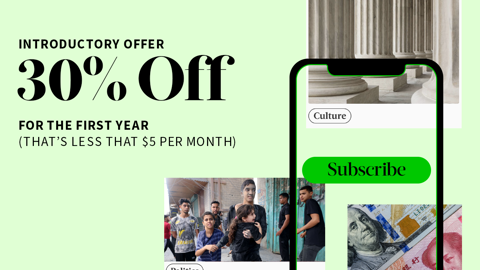 Introductory Offer: Save 30% on PS Digital
Subscribe now to gain greater access to Project Syndicate – including every commentary and our entire On Point suite of subscriber-exclusive content – starting at less than $5 per month.
Na przykład w następstwie globalnego kryzysu finansowego z 2008 r. ministrowie finansów i prezesi banków centralnych porzucili długo utrzymywane przekonanie, że ekspansji monetarnej należy unikać za wszelką cenę z obawy przed inflacją; zamiast tego przyjęli luzowanie ilościowe - w efekcie drukowanie pieniędzy - w celu stymulowania ożywienia gospodarczego. Podobnie, po wybuchu pandemii COVID-19, wiodące rządy G20 zrezygnowały ze swojego zaangażowania w uczciwość fiskalną i przyjęły kosztowne płatności o powszechnym dochodzie, wcześniej wyśmiewane jako utopijna fantazja.
Przejście do narracji "powyżej 1,5°C" może zapewnić wstrząs niezbędny do odrzucenia dotychczasowego sposobu myślenia na rzecz interwencji, które odbiegają od przyjętych norm i zakłócają status quo. Rozważmy na przykład egzystencjalną kwestię bezpieczeństwa żywnościowego. Pomaganie wrażliwym drobnym rolnikom w przejściu na praktyki regeneracyjne może działać w świecie, w którym ocieplenie jest ograniczone do 1,5 ° C. Może to jednak utrudnić im odejście od metod uprawy i źródeł utrzymania, które przestaną istnieć, jeśli temperatury przekroczą ten cel.
Jednocześnie globalne łańcuchy dostaw żywności mogą stać się mniej ważne po przekroczeniu 1,5°C ocieplenia, ponieważ kraje produkujące będą ograniczać eksport, a główni importerzy, tacy jak Chiny, skoncentrują się na osiągnięciu samowystarczalności. Takie przenoszenie produkcji prawdopodobnie przyspieszy inwestycje w kapitałochłonną produkcję żywności, która jest bardziej odporna na zmiany klimatu i mniej zależna od natury, w tym rolnictwo wertykalne i białka hodowane w laboratoriach. Sądząc po rozwoju technologii energii odnawialnej, głównym wyzwaniem może być wdrożenie tych odpornych systemów żywnościowych na dużą skalę w biedniejszych krajach.
Sektor finansowy jest również gotowy na zakłócenia. Inwestycje muszą być pilnie kierowane z dala od aktywów wysokoemisyjnych. Jednak trwające wysiłki na rzecz uwzględnienia ryzyka związanego z klimatem w wycenie i alokacji aktywów najwyraźniej zawiodły. Potrzebne są znacznie odważniejsze działania w celu dostosowania przepływów finansowych do krajowych i międzynarodowych polityk i zobowiązań klimatycznych. Banki centralne i organy nadzoru muszą na przykład wyjść poza ryzyko finansowe i odrzucić swoją cenioną niezależność polityczną, co wcześniej robiły w czasach kryzysu. W takich okolicznościach organy regulacyjne mogłyby dostosować się do krajowych celów polityki zerowego netto i międzynarodowych zobowiązań, nakładając na instytucje finansowe obowiązkowe wymogi dotyczące dostarczania portfeli zerowych netto, pozytywnych dla przyrody w określonych ramach czasowych.
Realizm w odniesieniu do celu 1,5°C jest niezbędny, aby porzucić stopniowe wysiłki i zacząć myśleć z większą perspektywą. Prawdziwie innowacyjne działania na rzecz klimatu nie są możliwe bez porzucenia tego wyczekiwanego celu i towarzyszącej mu pocieszającej wizji iluzorycznej przyszłości. Chociaż taki zwrot nie gwarantowałby sukcesu, mógłby odblokować niekonwencjonalne środki ograniczające wzrost temperatur i przygotowujące na cieplejszy świat.
Kliknij tutaj, aby pobrać broszurę NatureFinance pt.: "Time to Plan for a Future Beyond 1.5 Degrees."
Z angielskiego przetłumaczyła Marz McNamer