Ruslands gestolen toekomst
BERLIJN – De Russische president Vladimir Poetin heeft zijn keuze gemaakt. Hij heeft Oekraïne de oorlog verklaard. Dit is een keerpunt voor Europa. Voor het eerst sinds de Balkanoorlogen van de jaren negentig, die beperkt bleven tot het gebied van het uiteenvallende Joegoslavië, wordt het continent opnieuw geconfronteerd met bombardementen op steden en met rijdende tankdivisies. Alleen is het deze keer een nucleaire supermacht die de gevechten is begonnen.
Door het bevel tot een invasie te geven, geeft Poetin blijk van een schaamteloze minachting voor internationale verdragen en het volkenrecht. Er heeft zich in Europa sinds het Hitler-tijdperk geen vergelijkbare gebeurtenis meer voorgedaan. Volgens Poetins laatste uitspraken heeft Oekraïne geen recht van bestaan als soevereine staat – ook al is het land lid van de Verenigde Naties, de Organisatie voor Veiligheid en Samenwerking in Europa en de Raad van Europa; en ook al heeft Rusland zelf (onder Boris Jeltsin) de onafhankelijkheid van het land erkend.
Poetin beweert nu dat Oekraïne een onlosmakelijk deel van Rusland is. Wat de meerderheid van de Oekraïners denkt, is voor hem irrelevant; de grootheid en het internationale aanzien van Rusland zijn het enige dat telt. Maar vergist u zich niet: Poetin wil méér dan alleen Oekraïne. Zijn oorlog gaat over het hele Europese systeem, dat bovenal berust op de onschendbaarheid van grenzen. Door met geweld de kaart te willen hertekenen, hoopt hij het Europese project een halt toe te roepen en Rusland opnieuw te vestigen als de macht bij uitstek, althans in Oost-Europa. De vernederingen van de jaren negentig moeten worden uitgewist, en Rusland moet weer een wereldmacht worden, op gelijke voet met de Verenigde Staten en China.
Volgens Poetin heeft Oekraïne geen staatstraditie en is het land verworden tot een werktuig van de Amerikaanse en NAVO-expansiedrift, waardoor het een bedreiging vormt voor de veiligheid van Rusland. In een bizarre toespraak, de dag voordat zijn troepen de grens over stormden, ging Poetin zelfs zo ver te beweren dat Oekraïne probeert kernwapens te bemachtigen. Toen de Sovjet-Unie begin jaren negentig ineenstortte, stond Oekraïne – dat toen het op twee na grootste kernwapenarsenaal ter wereld bezat – zijn kernwapens af aan Rusland, met de actieve diplomatieke steun van de ʻkwaadwillende' VS.
Oekraïne deed dit omdat het ʻgaranties' had gekregen voor zijn territoriale integriteit, zoals vermeld in het Memorandum van Boedapest inzake Veiligheidsgaranties van 5 december 1994. Dat document werd ondertekend door de waarborgende mogendheden: de VS, het Verenigd Koninkrijk en Rusland, naast Oekraïne, Wit-Rusland en Kazachstan (de laatste twee deden afstand van de kleinere nucleaire arsenalen die zij van de USSR hadden geërfd).
Tegen de achtergrond van de historische feiten zijn de uitspraken van Poetin onzin. Zijn voornaamste doel is duidelijk zijn eigen bevolking een rechtvaardiging te bieden voor de invasie van Oekraïne. Poetin weet dat als de gewone Russen de keuze zouden krijgen tussen een oorlog om Oost-Europa te overheersen en een beter, welvarender leven in eigen land, zij de voorkeur zouden geven aan het laatste. Zoals zo vaak in de Russische geschiedenis wordt de toekomst van de Russische bevolking gestolen door haar heersers.
Introductory Offer: Save 30% on PS Digital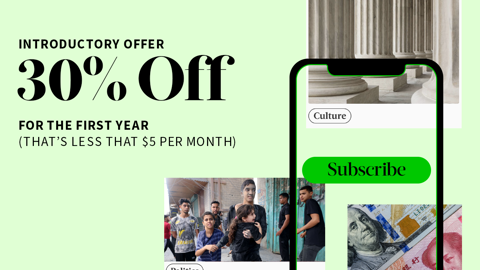 Introductory Offer: Save 30% on PS Digital
Subscribe now to gain greater access to Project Syndicate – including every commentary and our entire On Point suite of subscriber-exclusive content – starting at less than $5 per month.
De opgang van Rusland tot wereldmacht in de negentiende en twintigste eeuw heeft talrijke tragedies veroorzaakt, niet alleen voor de buurlanden die het onderwierp en geleidelijk opslokte, maar ook voor zijn eigen volk. Met name de huidige leiders van China zouden zich bewust moeten zijn van deze geschiedenis, gezien het feit dat het keizerlijke Rusland meer grondgebied van China heeft afgepakt dan van wie dan ook.
Wat Poetin niet schijnt te beseffen is dat het jarenlange Russische beleid van overheersing van vreemde volkeren in zijn invloedssfeer andere landen ertoe brengt zich te concentreren op de vraag hoe zij bij de eerste de beste gelegenheid kunnen ontsnappen aan de geopolitieke gevangenis van het Kremlin, door zich te verzekeren van bescherming door de NAVO. De oostwaartse expansie van het bondgenootschap na 1989 getuigt van deze dynamiek. Oekraïne wil lid worden van de NAVO, niet omdat de NAVO van plan is Rusland aan te vallen, maar omdat Rusland steeds meer blijk heeft gegeven van zijn voornemen Oekraïne aan te vallen. En dat heeft het nu gedaan.
Het is de moeite waard in herinnering te brengen dat de Russische propaganda het Westen er in de jaren negentig van beschuldigde allerlei kwade plannen te koesteren. Geen van deze complotten werd gerealiseerd in de tijd dat Rusland zwak was, omdat een dergelijk westers plan nooit heeft bestaan. De beschuldigingen waren angstzaaiende nonsens.
Het Russische imperiale project is altijd gekenmerkt geweest door een mengeling van binnenlandse armoede, brute onderdrukking, uitzinnige paranoia, en aspiraties om een wereldmacht te worden. En toch heeft het land bewezen uitzonderlijk goed bestand te zijn tegen modernisering – niet alleen onder de tsaren en daarna onder Lenin en Stalin, maar ook onder Poetin.
Vergelijk de economie van Rusland maar met die van China. Beide landen zijn autoritaire systemen, maar het Chinese inkomen per hoofd van de bevolking is sterk gegroeid, terwijl de levensstandaard in Rusland is gedaald. In historische termen voert Poetin Rusland terug naar de negentiende eeuw, op zoek naar de grootsheid van het verleden, terwijl China zich opmaakt om de bepalende supermacht van de eenentwintigste eeuw te worden. Terwijl China een ongekend snelle economische en technologische modernisering heeft bereikt, heeft Poetin de inkomsten van de Russische energie-export in het leger gestoken, waardoor het Russische volk opnieuw van zijn toekomst wordt beroofd.
Oekraïne heeft geprobeerd aan deze eindeloze cyclus van armoede, onderdrukking en imperiale ambitie te ontsnappen door zich steeds duidelijker op Europa te richten. Een goed functionerende liberale democratie naar Europees model in Oekraïne zou het autoritaire bewind van Poetin in gevaar brengen. Het Russische volk zou dan aan zichzelf en zijn leiders vragen: ʻWaarom wij niet?'
Poetin zou hen geen goed antwoord kunnen geven, en hij weet dat. Daarom bevindt Rusland zich nu in Oekraïne.
Vertaling: Menno Grootveld