Deciphering the Latest IPCC Report
The Intergovernmental Panel on Climate Change's latest so-called "synthesis report" warns that the world must act immediately to reduce greenhouse-gas emissions or risk catastrophic global warming. But the summary approved by member states reflects political wrangling over key passages and downplays promising, feasible solutions.
NEW YORK – In March, the Intergovernmental Panel on Climate Change (IPCC) published its so-called "synthesis report," the final section of its sixth assessment report (AR6). Based on thousands of peer-reviewed articles by hundreds of scientists from around the world, the report provides a comprehensive review of the impact of climate change and what the world must do to limit global warming to 1.5° Celsius.
The good news is that, according to the IPCC, "feasible, effective, and low-cost options for mitigation and adaptation are already available." But ensuring a "livable and sustainable future for all" also requires a far-reaching transformation and the political will to take bold action.
IPCC reports are invaluable. By bringing science to climate negotiations that are otherwise dominated by political and economic considerations, the reports both inform and promote accountability. Often totaling over 1,000 pages, each report includes a shorter summary for policymakers that member states must officially approve. This process enables government representatives and observers to comment on incoming drafts while still allowing scientists to refuse suggestions that challenge the integrity of their research. During the approval process, however, sentences may be strengthened, softened, or even removed from the final draft.
The latest report warns that extreme weather events are becoming more frequent and intense than previously predicted, while global action has been far slower than expected. Every fraction of a degree matters, and, at the current rate of greenhouse-gas emissions, the world is barreling toward a 3.5°C increase by 2100 – with devastating consequences for humanity and the planet.
Barring urgent action to halve current greenhouse-gas emissions by 2030, global warming is "more likely than not" to reach 1.5°C above pre-industrial levels within the next decade, the report warns. But if policymakers act immediately, they could still prevent ice sheets from melting, permafrost from thawing, and ecosystems from collapsing, thereby saving countless lives.
To change course, we must address the root cause of climate change: "unsustainable energy use, land use and land-use change, lifestyles and patterns of consumption and production across regions, between and within countries, and among individuals." Governments could choose many feasible and cost-effective steps to reduce emissions. The most promising are those that integrate rights-based approaches that embody meaningful public participation in decision-making, gender equity, biodiversity protection, human rights, and the rights of indigenous peoples. The IPCC report finds that policies that promote equity, fairness, and climate justice "lead to more sustainable outcomes" and "reduce trade-offs, support transformative change, and advance climate-resilient development." Simply put, fairer climate policies receive greater support and are therefore more effective.
Subscribe to PS Digital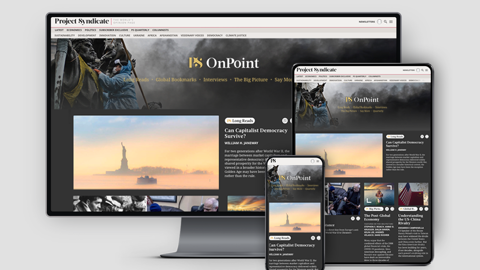 Subscribe to PS Digital
Access every new PS commentary, our entire On Point suite of subscriber-exclusive content – including Longer Reads, Insider Interviews, Big Picture/Big Question, and Say More – and the full PS archive.
The most effective way to reduce emissions is to phase out fossil fuels and rapidly shift to renewable energies, particularly solar and wind energy. But the report also identifies important economy-wide and demand-side measures, such as "sufficiency" approaches, circular material flows, energy efficiency, sustainable consumption and production, widespread public transportation, and agricultural practices grounded in "sustainable land-management approaches."
Behavioral changes, such as adopting a "sustainable healthy diet," reducing the use of appliances, and forgoing private cars in favor of walking and cycling, could also help reduce emissions. As the IPCC report notes, the top 10% of households with the highest per capita emissions account for 34-45% of consumption-based global household emissions, whereas the bottom 50% contribute just 13-15%.
Curiously, despite the documented environmental benefits of reducing meat consumption in favor of healthier diets, both the summary and the full report include no mention of meat or dairy and relegate the phrase "plant-based" to a footnote.
Likewise, the report dropped a hopeful and high-confidence sentence relating to urgent, rapid, feasible, and equitable near-term policies to address climate change and improve human well-being that are already available to scale. This caused an outcry among many observers and a range of states seeking to retain the scientific finding. However, after hours of discussion, the sentence remained out; the words "urgent," "rapid," and "available to scale" appeared too sensitive for universal approval, highlighting the tension between science and political will.
This tension was evident at the three sessions that preceded the approval of the sixth assessment report. Developing countries expressed anger at developed countries for not doing enough, despite their historical responsibility for climate change – and despite their promises to provide financing and technology transfers to facilitate adaptation efforts. Meanwhile, the language referring to fossil-fuel reduction, renewable-energy cost-efficiency, and equitable renewable-energy ownership was weakened, reflecting advocacy by those seeking to maintain fossil-fuel extraction.
As a result of insufficient global political will, the summary emphasizes net-zero terminology over the need for a rapid and real reduction of greenhouse-gas emissions. This could lead less-informed policymakers to conclude that we can just magically plant trees and carry on as we have so far. Moreover, geoengineering solutions such as carbon dioxide removal and carbon capture and storage (CCS) have been given more space than renewable energies, despite research showing that deploying these technologies carries enormous environmental risks. In addition, compared to rapid renewable-energy transitions, CCS maintains fossil-fuel dependence, is more expensive, not available to scale, and less effective in reducing emissions. While the summary mentions some of these risks, it buries them in a footnote.
The IPCC's reports remain an indispensable resource for informing people about the impact of climate change. But readers seeking a clear assessment of the current efforts to reduce global emissions and ensure that we cap global warming at 1.5°C should skip the summary and read the full report instead.