Banken en de Groene Sprong Voorwaarts
WASHINGTON, DC – Velen van ons hadden gehoopt, misschien naïef, dat de wereldleiders die afgelopen najaar in Glasgow bijeenkwamen op de VN-conferentie over klimaatverandering (COP26), de internationale en nationale inspanningen om de uitstoot van broeikasgassen te verminderen, aanzienlijk zouden versnellen. Het mocht niet zo zijn. De regeringen hebben enige vooruitgang geboekt op het gebied van methaanemissies, ontbossing en de overschakeling op elektrische voertuigen. Maar andere noodzakelijke maatregelen – vooral veel ambitieuzere nationale toezeggingen en plannen – werden met nog een jaar uitgesteld.
De wereld kan het zich niet veroorloven nog meer tijd te verliezen. Als de huidige trends doorzetten, hebben we nog tien jaar voordat ons mondiale koolstofbudget is uitgeput, we onderling verbonden ʻpoints of no return' bereiken en we de limiet van 1,5º Celsius voor de opwarming van de aarde, die volgens regeringen en wetenschappers essentieel is om onze kinderen en kleinkinderen een leefbare toekomst te bieden, doorbreken.
Dus wat moet er worden gedaan? Als topprioriteit moeten toezichthouders en centrale banken de banken een reële prijs laten betalen voor hun vervuilende fossiele brandstoffenportefeuilles, en zo permanent de prikkels verschuiven ten gunste van de financiering van de groene transitie.
Zoals het Internationaal Energieagentschap overduidelijk heeft gemaakt, moet de exploitatie en ontwikkeling van nieuwe olie- en gasvelden worden stopgezet. Het IEA waarschuwt ook dat de wereld geen nieuwe kolengestookte elektriciteitscentrales mag bouwen als zij tegen 2050 een netto-nulemissie wil bereiken en zo de stijging van de temperatuur op aarde tot een veilig niveau wil beperken.
Het aanscherpen van de kapitaalvereisten voor de financiering van projecten voor fossiele brandstoffen kan ons helpen dit doel te bereiken. Meer bepaald moeten banken verplicht worden een ʻéén-op-één'-kapitaalheffing te betalen voor iedere nieuwe lening voor fossiele brandstoffen – zoals onlangs voorgesteld door een internationale coalitie van beleggers, academici en groepen uit het maatschappelijk middenveld. Daarnaast moeten de toezichthouders een kapitaalheffing invoeren voor bestaande leningen voor fossiele brandstoffen. Deze heffing zou afhankelijk moeten zijn van de aard van de activiteit die wordt gefinancierd en mettertijd moeten toenemen.
Een dergelijke wijziging van de investeringsprikkels voor banken zou onmiddellijke en snelle gevolgen hebben voor hun strategieën en portefeuilles. Door deze eenvoudige maar belangrijke stappen te zetten, zouden de beleidsmakers de kapitaalvoorschriften op één lijn brengen met de groeiende internationale klimaatconsensus onder de centrale banken, waarvan vele nu aanvaarden dat hun mandaten een impliciete eis bevatten om op te treden tegen de klimaatverandering teneinde de financiële stabiliteit te helpen verzekeren.
Subscribe to PS Digital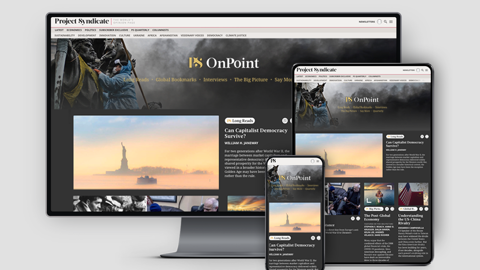 Subscribe to PS Digital
Access every new PS commentary, our entire On Point suite of subscriber-exclusive content – including Longer Reads, Insider Interviews, Big Picture/Big Question, and Say More – and the full PS archive.
Het Bazels Comité voor het bankentoezicht buigt zich momenteel over de vraag hoe de risico's van klimaatverandering in de regelgeving moeten worden behandeld. Deze technocraten moeten het initiatief nemen en de klimaatvervuilers laten betalen, om zo de absolute noodzaak van een stop op nieuwe leningen voor fossiele brandstoffen te onderstrepen.
Als banklobbyisten beweren dat zo'n stap te duur zou zijn, is de gepaste reactie: ʻVergeleken met wat?' De herverzekeraar Swiss Re, die over enkele van 's werelds beste klimaatmodelleurs beschikt, schat dat een vijfde van alle landen te maken heeft met de mogelijke ineenstorting van ecosystemen als gevolg van het verlies aan biodiversiteit, en voorspelt dat het uitblijven van maatregelen tegen klimaatverandering tegen 2050 maar liefst 18 procent van het mondiale bbp zou kunnen kosten. De Europese economie zou met 10,5 procent kunnen krimpen. Deze kosten – de biljoenen dollars kostende, harde realiteit van niets doen en uitstel – zijn te hoog om te dragen.
In vergelijking daarmee zijn de problemen van gestrande activa en onrendabele leningen, die zullen ontstaan naarmate beleggers fossiele brandstoffen meer en meer zullen mijden, veel makkelijker te beheren. De meeste banken zullen in staat zijn deze verliezen op te vangen en hun leningenportefeuilles te heroriënteren om de groene transitie te versnellen. Als sommige banken daar niet in slagen, omdat ze volledig hebben ingezet op fossiele brandstoffen, moeten de nationale toezichthouders misschien ʻbad banks' oprichten om de letterlijk giftige activa uit hun boeken te halen en te herstructureren. Zij hebben al eerder op soortgelijke manieren ingegrepen en kunnen dat nu weer doen.
Banken over de hele wereld kunnen en moeten de groene transitie versterken en versnellen. Regeringen alleen hebben niet de middelen om de verschuiving naar netto-nul te betalen. Maar regeringen en banktoezichthouders kunnen, in onderling overleg, de prikkels in de financiële sector veranderen. Dat zou helpen om een enorme geldstroom om te buigen naar projecten die nodig zijn om voldoende energievoorraden te garanderen ter vervanging van fossiele brandstoffen. Die nieuwe projecten zullen de productiviteit stimuleren, de groei bevorderen, economieën uit de seculiere stagnatie trekken en een decennialange industriële transformatie op gang brengen naar wat ik Green Globalization 2.0 noem.
Deze ʻgroene mondialisering' kan zorgen voor een duurzamere, veerkrachtigere, rechtvaardigere en leefbaardere toekomst, niet alleen voor de mens, maar voor alle soorten op de planeet. We weten wat nodig is. Banktoezichthouders moeten doortastend zijn, en banken en economieën helpen de groene sprong te maken voordat het te laat is.
Vertaling: Menno Grootveld