Banki i Zielony Krok Naprzód
WASZYNGTON, DC – Wielu z nas miało - być może naiwnie - nadzieję, że światowi przywódcy zebrani na Konferencji Narodów Zjednoczonych w sprawie Zmian Klimatu (COP26) w Glasgow zeszłej jesieni znacznie przyspieszą międzynarodowe i krajowe wysiłki na rzecz ograniczania emisji gazów cieplarnianych. Tak się nie stało. Rządy poczyniły pewne postępy w zakresie emisji metanu, wylesiania i przejścia na pojazdy elektryczne. Ale inne niezbędne działania – przede wszystkim dużo bardziej ambitne deklaracje i plany narodowe – zostały odłożone na przyszłość.
Świat nie może sobie pozwolić na dalsze marnowanie czasu. Jeśli chodzi o obecne trendy, mamy dziesięć lat, zanim wyczerpiemy nasz globalny budżet węglowy, osiągniemy punkty, od których nie ma powrotu oraz przekroczymy limit 1,5° Celsjusza na globalne ocieplenie, o którym rządy i naukowcy ostrzegają, że jest niezbędny, jeśli nasze dzieci i wnuki mają mieć znośną przyszłość.
Co więc należy zrobić? W pierwszym rzędzie organy regulacyjne i banki centralne powinny obciążać banki realną ceną za ich portfolia w zanieczyszczających paliwach kopalnych i ciągłe zmiany zachęt na rzecz finansowania zielonej transformacji.
Jak dobitnie wyjaśniła Międzynarodowa Agencja Energii (International Energy Agency - IEA), eksploatacja i rozwój nowych pól naftowych i gazowych muszą zostać wstrzymane. IEA ostrzega również, że świat nie może budować nowych elektrowni węglowych, jeśli ma osiągnąć zerową emisję netto do 2050 r., a tym samym zatrzymać wzrost globalnej temperatury na bezpiecznym poziomie.
W realizacji tego celu może nam pomóc zaostrzenie wymogów kapitałowych w zakresie finansowania projektów paliw kopalnych. W szczególności banki powinny być zobowiązane do uiszczania opłaty kapitałowej "jeden za jednego" za wszelkie nowe pożyczki na paliwa kopalne, jak ostatnio zaproponowała międzynarodowa koalicja inwestorów, naukowców i grup społeczeństwa obywatelskiego. Ponadto regulatorzy powinni wprowadzić narzut kapitałowy na istniejące kredyty na paliwa kopalne. Opłata ta zależałaby od charakteru finansowanej działalności i z czasem by się zwiększała.
Taka zmiana zachęt inwestycyjnych banków miałaby natychmiastowy wpływ na ich strategie i portfele. Podejmując te proste, ale ważne kroki, decydenci dostosowaliby regulacje kapitałowe do rosnącego międzynarodowego konsensusu klimatycznego wśród banków centralnych, z których wiele obecnie akceptuje fakt, że ich mandaty zawierają ukryty wymóg działania w zakresie zmian klimatycznych w celu zapewnienia stabilności finansowej..
Subscribe to PS Digital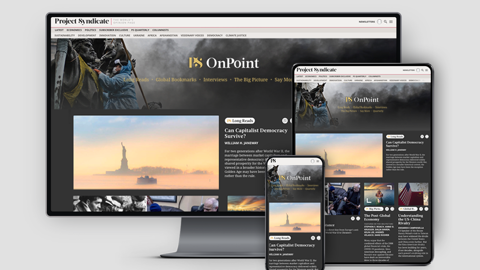 Subscribe to PS Digital
Access every new PS commentary, our entire On Point suite of subscriber-exclusive content – including Longer Reads, Insider Interviews, Big Picture/Big Question, and Say More – and the full PS archive.
Bazylejski Komitet Nadzoru Bankowego rozważa obecnie, w jaki sposób regulacje powinny traktować ryzyko związane ze zmianami klimatycznymi. Ci technokraci muszą przejąć inicjatywę i sprawić, by ci, którzy zanieczyszczają klimat płacili, podkreślając tym samym absolutną konieczność zaprzestania udzielania pożyczek na paliwa kopalne.
Kiedy lobbyści bankowi twierdzą, że taki krok byłby zbyt kosztowny, właściwą odpowiedzią jest: "W porównaniu z czym?" Reasekurator Swiss Re, który jest wśród najlepszych na świecie modelarzy klimatycznych, szacuje, że jedna piąta wszystkich krajów stoi w obliczu możliwego załamania ekosystemu z powodu utraty różnorodności biologicznej i prognozuje, że brak działań w zakresie zmian klimatu może kosztować nawet 18% światowego PKB do 2050 roku. Gospodarka europejska może skurczyć się o 10,5%. Ten koszt – warta wiele bilionów dolarów "cieplarniana" rzeczywistość bezczynności i opóźnień – jest zbyt wielki do udźwignięcia.
Dla porównania, problemy związane z aktywami osieroconymi i kredytami zagrożonymi, które pojawią się, gdy inwestorzy będą coraz bardziej unikali paliw kopalnych, są znacznie łatwiejsze do zarządzania. Większość banków będzie w stanie zaabsorbować te straty i przeorientować swoje portfolia kredytowe, aby przyspieszyć przejście na zieloną transformację. Jeśli niektórzy nie mogą dokonać zmiany, ponieważ są "całkowicie zaangażowani" w paliwa kopalne, krajowe organy regulacyjne mogą być zmuszone do ustanowienia "złych banków," aby usunąć dosłownie toksyczne aktywa z ich ksiąg i zrestrukturyzować je. Wcześniej interweniowali w podobny sposób i mogą to zrobić ponownie.
Banki na całym świecie mogą i powinny wzmacniać i przyspieszać zieloną transformację. Same rządy nie mają środków na opłacenia przejścia na zerowe netto. Jednak rządy i regulatorzy bankowi, działając wspólnie, mogą zmienić struktury zachęt w sektorze finansowym. Pomogłoby to przekierować ogromny przepływ środków na niezbędne projekty, aby zapewnić wystarczające dostawy energii, by zastąpić paliwa kopalne. Te nowe projekty zwiększą produktywność, pobudzą wzrost, wyciągną gospodarki ze stagnacji i rozpoczną trwającą dziesięciolecia transformację przemysłową do tego, co nazywam Green Globalization 2.0.
Zielona globalizacja może przynieść bardziej zrównoważoną, odporną, sprawiedliwą i znośną przyszłość nie tylko dla ludzi, ale dla wszystkich gatunków na planecie. Wiemy, co trzeba zrobić. Organy nadzoru bankowego powinny być odważne i pomagać bankom i gospodarkom dokonać "zielonego skoku," zanim będzie za późno.
Z angielskiego przetłumaczyła Marz McNamer