Banky a zelený skok vpřed
WASHINGTON – Mnozí z nás doufali, možná naivně, že globální lídři, kteří se loni na podzim sešli v Glasgowě na konferenci OSN o klimatických změnách (COP26), významně urychlí mezinárodní i národní úsilí o omezení emisí skleníkových plynů. Nestalo se. Vlády dosáhly jistého pokroku v otázkách emisí metanu, odlesňování a přechodu na elektromobily. Další nezbytné akce – především mnohem ambicióznější národní závazky a plány – se však odložily o další rok.
Svět si nemůže dovolit ztrácet další čas. Při současných trendech nám zbývá deset let, než vyčerpáme náš globální uhlíkový rozpočet, dosáhneme vzájemně provázaných zlomových bodů a prolomíme limit globálního oteplování ve výši 1,5° Celsia, který je dle varování vlád i vědců nezbytně nutné dodržet, mají-li mít naše děti a vnoučata životaschopnou budoucnost.
Co je tedy třeba udělat? Hlavní prioritou by mělo být, aby regulátoři a centrální banky účtovali bankám skutečnou cenu za portfolia založená na znečišťujících fosilních palivech, a tím natrvalo přeorientovali pobídky ve prospěch financování zeleného přechodu.
Mezinárodní energetická agentura (IEA) dala jasně najevo, že těžba nových ropných a plynových polí i jejich příprava musí přestat. IEA zároveň varuje, že svět nemůže stavět žádné nové uhelné elektrárny, pokud chce do roku 2050 dosáhnout čistých nulových emisí, a tím omezit vzestup globální teploty na bezpečnou úroveň.
Zpřísnění kapitálových požadavků týkajících se financování projektů využívajících fosilní paliva nám může pomoci tento cíl splnit. Konkrétně by se od bank mělo vyžadovat placení kapitálového poplatku "jeden za jeden" u každého nového "fosilního" úvěru – jak to nedávno navrhla mezinárodní koalice investorů, akademiků a skupin občanské společnosti. Kromě toho by měli regulátoři zavést kapitálový poplatek i za stávající úvěry na projekty využívající fosilní paliva. Výše tohoto odvodu by závisela na povaze financované činnosti a postupně by rostla.
Taková změna investičních pobídek bank by měla bezprostřední a rychlé dopady na jejich strategie a portfolia. Přijetím těchto jednoduchých, ale důležitých kroků by politici uvedli kapitálové regulace do souladu s rostoucím mezinárodním klimatickým konsensem centrálních bank, z nichž mnohé dnes akceptují, že jejich mandát obsahuje i výslovný požadavek podnikat kroky v otázce klimatických změn, a napomoci tak k zajištění finanční stability.
Subscribe to PS Digital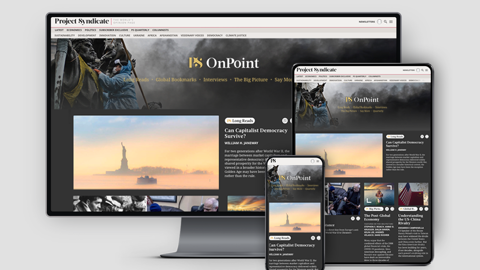 Subscribe to PS Digital
Access every new PS commentary, our entire On Point suite of subscriber-exclusive content – including Longer Reads, Insider Interviews, Big Picture/Big Question, and Say More – and the full PS archive.
Basilejský výbor pro bankovní dohled v současné době zvažuje, jak by se měly regulace uplatnit na klimatická rizika. Je zapotřebí, aby tito technokraté převzali iniciativu a přiměli znečišťovatele ovzduší platit, čímž jen podtrhnou absolutní nutnost ukončit úvěrování nových projektů fosilních paliv.
Když bankovní lobbisté tvrdí, že takový krok by byl příliš nákladný, správná reakce zní: "V porovnání s čím?" Zajišťovna Swiss Re, pro niž pracuje několik nejlepších světových expertů na klimatické modelování, odhaduje, že pětina všech zemí čelí možnému zhroucení ekosystému kvůli ztrátě biodiverzity, a zároveň předpovídá, že nečinnost v oblasti klimatických změn by nás do roku 2050 mohla stát plných 18% of globálního HDP. Evropská ekonomika by pak mohla klesnout o 10,5%. Takové náklady – mnohabilionová skleníková daň za nečinnost a oddalování – jsou příliš velké, než abychom je mohli nést.
V porovnání s nimi jsou problémy spojené s uvízlými aktivy a nesplácenými úvěry, které vyvstanou ve chvíli, kdy se investoři budou stále více vyhýbat fosilním palivům, mnohem snáze řešitelné. Většina bank dokáže tyto ztráty absorbovat a přeorientovat svá úvěrová portfolia tak, aby urychlily přechod na zelenou ekonomiku. A pokud některé tuto změnu nezvládnou, protože jsou příliš "namočené" ve fosilních palivech, možná budou muset národní regulátoři založit "špatné banky", které převezmou doslova toxická aktiva jiných bank a restrukturalizují je. Podobným způsobem intervenovali už dříve, takže to mohou udělat znovu.
Banky z celého světa mohou a měly by zelený přechod posilovat a urychlovat. Samotné vlády nemají na financování přechodu na čistou nulu dostatek prostředků. Budou-li však vlády a bankovní regulátoři postupovat ve shodě, mohou změnit pobídkové struktury ve finančním sektoru. To by pomohlo přesměrovat obrovské finanční toky do projektů nezbytných k zajištění dostatečných dodávek energie tak, aby nahradila fosilní paliva. Tyto nové projekty zvýší produktivitu, podpoří růst, vytáhnou ekonomiky ze sekulární stagnace a zahájí desítky let dlouhou průmyslovou transformaci do stavu, kterému říkám zelená globalizace 2.0.
Zelená globalizace může znamenat trvale udržitelnější, odolnou, spravedlivou a životaschopnou budoucnost nejen pro lidi, ale pro všechny biologické druhy na planetě. Víme, co je k tomu zapotřebí. Bankovní regulátoři by měli být smělí a pomoci bankám a ekonomikám učinit zelený skok vpřed dřív, než bude pozdě.
Z angličtiny přeložil Jiří Kobělka