Unia Europejska Musi Się Wykazać w Glasgow
KOPENHAGA – Premier Wielkiej Brytanii Boris Johnson może nie przemawiać do wszystkich – zwłaszcza przywódców Unii Europejskiej zniechęconych Brexitem – ale Wielka Brytania jest gospodarzem ostatniej rundy globalnych negocjacji klimatycznych tzw. COP26 w Glasgow w przyszłym miesiącu, więc UE musi odłożyć na bok swoje problemy z Johnsonem i być gotowa do współpracy.
Do tej pory historia globalnych rozmów klimatycznych prowadzonych w ramach Ramowej Konwencji Narodów Zjednoczonych w Kwestii Zmian Klimatu to opowieść o dwóch europejskich miastach: Kopenhadze i Paryżu.
W 2009 r. światowi przywódcy i ich krajowi negocjatorzy spotkali się w Kopenhadze, aby zawrzeć kompleksowy traktat, który miał zobowiązać cały świat do dalekosiężnych działań, aby zapobiec najgorszym spustoszeniom globalnego ocieplenia. Tak się nie stało. Zbyt wielu dużych graczy (i emitentów) przybyło bez żadnych realnych propozycji redukcji emisji gazów cieplarnianych (GHG), a przywódcy UE błąkali się po korytarzach, podczas gdy Stany Zjednoczone, Chiny i Indie zawarły nie wiążącą umowę, która pozostawiła wiele kwestii nierozwiązanych. Przedstawiciele najsłabszych krajów patrzyli z rozpaczą, podczas gdy ich interesy po raz kolejny zostały odsunięte na bok.
Błędna kalkulacja polityczna skazała na porażkę spotkanie w Kopenhadze: chociaż UE jest orędownikiem własnych obywateli, jest również ważnym partnerem dla krajów najbardziej dotkniętych skutkami zmian klimatycznych. Bez partnerstwa europejskiego – mam na myśli realną pomoc polityczną, praktyczną i finansową – najsłabsi nie mają żadnej roli w negocjacjach i nie mają wyboru co do źródeł i warunków dostępnego im wsparcia.
Ale UE wyciągnęła wnioski z tego doświadczenia. W 2011 r. na COP17 w Durbanie w RPA UE wytyczyła kierunek opracowując plan działania, aby zapewnić głos tym najbardziej zagrożonym. Ta inicjatywa przyniosła wynik, który utorował drogę do porozumienia klimatycznego z Paryża na COP21 cztery lata później.
W 2015 roku, kiedy światowi przywódcy przybyli do Paryża, Europejczycy ponownie odegrali wiodącą rolę. UE pomogła w stworzeniu Koalicji Wielkich Ambicji - nieformalnej grupy krajów rozwiniętych i rozwijających się, które zaangażowały się we wspieranie wspólnego celu, jakim jest rzeczywiste przejście na gospodarkę ekologiczną. Tym razem USA i Chiny zasygnalizowały, że rozumieją wspólne zainteresowanie działaniami klimatycznymi. Ustalono cel ograniczenia globalnego ocieplenia do 1,5 stopnia Celsjusza w stosunku do poziomu sprzed epoki przemysłowej, a kraje rozwinięte zobowiązały się sfinansować wysiłki najbiedniejszych krajów w celu złagodzenia wpływu zmian klimatycznych i osiągnięcia zrównoważonego wzrostu gospodarczego. Na największych gospodarkach ciążył obowiązek szybkiego działania i dzielenia się korzyściami płynącymi z ich bogactwa i wiedzy.
Introductory Offer: Save 30% on PS Digital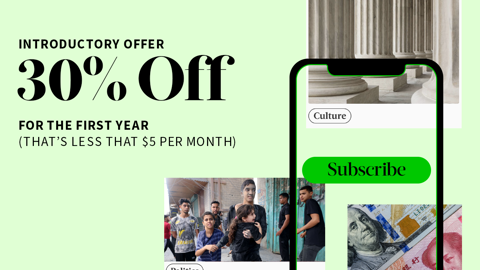 Introductory Offer: Save 30% on PS Digital
Subscribe now to gain greater access to Project Syndicate – including every commentary and our entire On Point suite of subscriber-exclusive content – starting at less than $5 per month.
Umowa paryska została podpisana i przyszłość wyglądała nieco jaśniej. Jednak w ciągu ostatnich sześciu lat roczne globalne emisje gazów cieplarnianych nadal rosły, nawet w roku 2020, gdy wybuchła pandemia. Modele klimatyczne okazały się niezwykle dokładne, ponieważ powodzie, huragany, pożary i zabójcze fale upałów zwiększają częstotliwość i intensywność. A to, jak wiemy, jest dopiero początek.
Podczas gdy dyskusje o kryzysie klimatycznym były kiedyś uważane za problem dla przyszłych pokoleń lub tych, które żyjących w ekstremalnych warunkach, teraz cierpi także Europa. Niemcy i Belgowie giną w powodziach, a ekstremalne temperatury dotykają całe społeczności w regionie Morza Śródziemnego.
I tak dotarliśmy do Glasgow. W tym roku wszyscy sygnatariusze porozumienia paryskiego, po dokonaniu oceny swoich postępów, mieli wrócić gotowi do zwiększenia ambicji do działania w swoim kraju i w przypadku bogatszych krajów do udzielenia wsparcia biedniejszym. Ale nie ma wystarczającej ilości nowych funduszy. A decyzja Wielkiej Brytanii o zmniejszeniu historycznego zaangażowania w pomoc zagraniczną w wysokości 0,7% PKB na kilka miesięcy przed przejęciem prezydentury w COP była złym sygnałem.
Tymczasem część brytyjskiego rządu wydaje się być bardziej skoncentrowana na spektaklu niż na treści, a USA i Chiny wydają się bardziej zainteresowane podżeganiem się nawzajem niż skupieniem się na własnym wkładzie w walkę z globalnym ociepleniem. Zadania dla dwóch największych emitentów na świecie - wspólnie odpowiedzialnych za prawie połowę światowych emisji - są jasne: USA muszą wywiązać się ze swojego zobowiązania do zapewnienia finansowania klimatycznego, a Chiny muszą stopniowo wycofywać się z węgla. Oba te zadania są krytyczne.
Ale gdzie są Europejczycy? Niewiele rządów UE angażuje się w poważną dyplomację w celu odtworzenia Koalicji Wysokich Ambicji, która była kluczowa dla sukcesu w Paryżu, a UE nie wywiera żadnej realnej presji na Stany Zjednoczone, aby przekazały swój udział w rocznych 100 miliardach dolarów obiecanych biednym krajów, aby pomóc im się przystosować i rozwijać.
Jeśli COP26 ma zająć należne mu miejsce w historii jako moment, w którym świat naprawdę zdecydował się współpracować, aby stawić czoła naszemu największemu w historii zagrożeniu, zaangażowanie UE musi dorównać zadaniu. UE jest najbogatszym blokiem handlowym na świecie, najbardziej ugruntowaną siłą dyplomatyczną i wiodącym przykładem siły tolerancji i sprawiedliwości. Jeśli nie odegra w Glasgow kluczowej roli, COP26 poniesie porażkę.
Wszyscy odniosą korzyści, jeśli Unia Europejska, jej przywódcy oraz jej aparat dyplomatyczny zaczną teraz zapobiegać katastrofie i zapewniać zwycięstwo globalnym, integracyjnym i ambitnym działaniom na rzecz klimatu. Konkretne pieniądze i realne redukcje emisji muszą wyłonić się ze spotkania w Glasgow. Nie stać nas na kolejną Kopenhagę.
Z angielskiego przetłumaczyła Marz McNamer