EU må trå til i Glasgow
KØBENHAVN – Lederstilen til den britiske statsministeren faller nok ikke alle i smak. EU-ledere har gått lei av Boris Johnson og Brexit. Men nå er Storbritannia vertskapsland for den siste runden med globale klimaforhandlinger — COP26 — i Glasgow. Dermed må EU legge striden med Johnson bak seg, brette opp ermene og være klare for å få ting gjort.
Fram til nå har klimaforhandlingene i regi av FN — United Nations Framework Convention on Climate Change — vært en fortelling om to europeiske byer: København og Paris.
I 2009 kom politiske ledere og nasjonale forhandlere sammen i København. Målet var å forhandle fram en avtale som ville forplikte alle land i verden til å iverksette omfattende tiltak for å forhindre de verste konsekvensene av den globale oppvarmingen. Men dette klarte de ikke.
Alt for mange av de store aktørene — og utslippslandene — møtte opp i København uten klare forslag til hvordan de skulle kutte i klimagassutslippene. EU-ledere satt på gangen mens USA, Kina og India utformet en ikke-forpliktende avtale der mange viktige spørsmål forble ubesvart. De mest sårbare landenes representanter måtte fortvilet observere det hele fra sidelinjen; nok en gang ble det ikke tatt hensyn til deres interesser.
En avgjørende politisk feilberegning gjorde at København-møtet var dømt til å mislykkes: EU kjemper for interessene til sine egne innbyggere, men unionen er også en viktig partner for landene som blir hardest rammet av klimaendringene. Uten europeisk partnerskap — og med det mener jeg reell politisk, praktisk og økonomisk støtte — står de mest sårbare landene igjen uten innflytelse i forhandlingene. De har heller ikke reelle valgmuligheter i forhold til hvem de kan motta støtte av og hvilke betingelser som må oppfylles for å få støtte.
Men EU har lært av erfaring. Under COP17 i Durban (Sør-Afrika) i 2011, la EU fram et veikart for å sikre at de mest sårbare landene fikk et ord med i laget. Dette initiativet førte til et resultat som banet veien for Parisavtalen under COP21 fire år senere.
Subscribe to PS Digital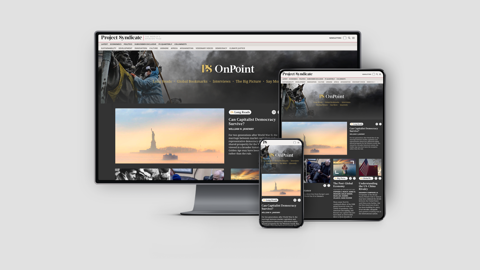 Subscribe to PS Digital
Access every new PS commentary, our entire On Point suite of subscriber-exclusive content – including Longer Reads, Insider Interviews, Big Picture/Big Question, and Say More – and the full PS archive.
Da verdens ledere møttes i Paris i 2015, spilte europeiske politikere igjen en ledende rolle. EU bidro til å opprette Høyambisjonskoalisjonen, en uformell gruppe av rike land og utviklingsland som støttet opp et felles mål — et genuint grønt skifte. Denne gangen signaliserte USA og Kina at de forsto at alle land er tjent med å bekjempe klimaendringene. Målet om å begrense den globale oppvarmingen til 1,5º celsius sammenlignet med det førindustrielle nivået ble slått fast, og utviklede land ga løfter om å hjelpe de fattigste landene med å finansiere tiltak for å dempe virkningene av klimaendringene og oppnå bærekraftig økonomisk vekst. De store økonomiene fikk ansvar for å iverksette strakstiltak og dele kunnskap og ressurser med de fattigere landene.
Parisavtalen ble underskrevet, og med ett så framtiden litt lysere ut. Men i de seks årene som har gått siden avtalen ble inngått, har de årlige klimagassutslippene fortsatt å stige, selv i pandemiåret 2020. Klimamodeller har vist seg å være skremmende presise: Naturkatastrofer som flom, sterk storm, skogbrann og hetebølger har økt i både frekvens og intensitet. Og, som vi vet, er dette bare begynnelsen.
Tidligere snakket man om klimakrisen som om den bare var et problem for framtidige generasjoner — og for de som allerede måtte leve under ekstreme forhold andre steder i verden. Men i dag har den også rammet Europa. Tyskere og belgiere har mistet livet som følge av flomkatastrofer, og ekstreme temperaturer har gått hardt utover hele lokalsamfunn langs Middelhavskysten.
Og dermed har vi kommet til møtet i Glasgow. I år var året da alle de som har skrevet under på Parisavtalen — etter å ha vurdert hvor langt de har kommet med klimatiltakene — skulle returnere til forhandlingsbordet, klare til å øke ambisjonsnivået. For de rikere landene gjelder dette både kutt i eget land og pengehjelp til de fattigere landene. Men det er langt fra nok nye penger som legges på bordet. Og britenes beslutning om å redusere landets historiske bistandsforpliktelser på 0,7 % av BNP — kun noen måneder før de tok over COP-presidentskapet — gir helt feil signaler.
Samtidig ser det ut til at deler av den britiske regjeringen er mer opptatt av sirkus enn substans. Og det virker som om USA og Kina er mer opptatt av å provosere hverandre enn å se på hva de kan bidra med i kampen mot global oppvarming. De to landene står for de største utslippene i verden — til sammen nesten halvparten av alle globale utslipp. Hva de må gjøre er åpenbart: USA må leve opp til løftet om klimafinansiering, og Kina må fase ut bruken av kull. Begge land er like viktige i klimakampen.
Men hvor er europeerne? Få, om noen, av EU-landene er engasjert i seriøst diplomati for å gjenoppbygge Høyambisjonskoalisjonen som var så avgjørende for at man lyktes i Paris. EU har heller ikke lagt noe reelt press på amerikanske myndigheter for å få dem til å stille opp med sin andel av den årlige summen på 100 milliarder dollar som har blitt lovet fattige land. Hensikten er å hjelpe disse landene med å tilpasse seg klimaendringene og styrke samfunnsutviklingen.
Hvis COP26 skal huskes som det historiske øyeblikket da verden virkelig gikk sammen for å takle vår aller største utfordring noensinne, må EU trå til. EU er verdens rikeste handelsblokk og har det mest drevne diplomatiet — og går gjerne foran som et godt eksempel på hvordan toleranse og rettferdighet bør styre det internasjonale arbeidet. Med mindre EU inntar en avgjørende rolle under klimaforhandlingene, vil COP26 mislykkes.
Alle mennesker på planeten vil tjene på at EU, unionens ledere og dens diplomatiske maskineri tar grep for å avverge katastrofe og sørge for at vi får en global, inkluderende og ambisiøs klimaplan. Forhandlingene i Glasgow må resultere i betydelige utslippskutt og betydelige pengesummer. Verden har ikke råd til nok et København.
Oversatt av Marius Gustavson