Urok Klimatycznego Autorytaryzmu
BUDAPESZT - To lato - z jego rekordowymi temperaturami, śmiertelnymi powodziami i szalejącymi pożarami, które w samej Kanadzie zniszczyły równowartość wszystkich drzew w Niemczech - mogło wydawać się ostatecznym ostrzeżeniem: bez pilnych i drastycznych działań obecny kryzys klimatyczny stanie się nieuniknioną katastrofą klimatyczną. Niektórzy mogą ulec pokusie myślenia, że osiągnęliśmy punkt, w którym naszą jedyną szansą na wystarczająco szybką i silną reakcję na zagrożenie jest przyjęcie zdecydowanej władzy państwowej, a nawet jawnego autorytaryzmu. Ale przekonanie, że ekologicznie nastawieni autorytarni przywódcy osiągną lepsze wyniki niż demokratyczni przywódcy w kwestii klimatu, jest niebezpieczną fantazją.
Obawy dotyczące zdolności demokracji do szybkiego i skutecznego działania nie są niczym nowym. Rząd, który pozwala wszystkim uczestniczyć (w teorii, jeśli nie zawsze w praktyce), tworzy niedoskonały i wolno działający system. Wpływowi gracze często mogą zawetować działania popierane przez większość. Z drugiej strony pogląd, że irracjonalne masy mają zbyt dużą władzę - od dawna wyrażany sotto voce - stał się całkowicie salonowy (salonfähig) w erze Donalda Trumpa. Na przykład wyborcy mają tendencję do karania polityków za podejmowanie działań mających na celu zapobieganie katastrofom i nagradzania ich za wykazywanie się bohaterstwem podczas katastrofy, mimo że pomoc w przypadku katastrof jest znacznie droższa niż zapobieganie im.
Oprócz dobrze znanych uprzedzeń - wielu tak starych jak pisma Platona - można argumentować, że niektóre korzyści demokracji nie mają większego znaczenia w sytuacji zagrożenia klimatycznego. Demokracje szczycą się tym, że każda decyzja może zostać poddana rewizji - że polityki mogą być aktualizowane i ulepszane, a przegrani w jednych wyborach mogą stać się zwycięzcami w następnych (a zatem mają powód, by nadal uczestniczyć w demokratycznej grze). Ale decyzje związane z klimatem mają poważne, nieodwracalne konsekwencje, więc nawet jeśli złe wybory - takie jak zrobienie zbyt mało - zostaną później zrewidowane, wyrządzone zostaną poważne szkody.
Inne współczesne krytyki są bardziej dosadne. Demokracje opierają się na kompromisie, ale umowy często okazują się niespójne, zwłaszcza w systemach wielopartyjnych, ponieważ zbyt wielu różnych graczy politycznych chce postawić na swoim. Obecna koalicja rządząca w Niemczech wydaje się być tego przykładem. Korygowanie takich niespójności wymaga czasu, który demokracje mogą mieć w normalnych okolicznościach, ale z pewnością nie mają, gdy planeta staje się coraz gorętsza i sytuacja staje się bardziej apokaliptyczna praktycznie z dnia na dzień.
Kolejna kluczowa obawa wynika z faktycznej dominacji interesów biznesowych w kapitalistycznych demokracjach. Biorąc pod uwagę, że działania na rzecz klimatu nieuchronnie zaszkodzą przynajmniej niektórym interesom kapitalistów, wydaje się, że interesy te mogą uniemożliwić podjęcie niezbędnych kroków na czas - lub być może kiedykolwiek.
Obecnie, w obliczu szybko narastającego kryzysu klimatycznego, nasilają się nieskrępowane apele o bardziej autorytarne podejmowanie decyzji. Niektórzy opowiadają się za bardziej technokratycznym podejściem i podają Chiny jako świetlany przykład. (Jak na ironię, Chiny są największym na świecie emitentem gazów cieplarnianych). Inni - zwłaszcza szwedzki myśliciel Andreas Malm - przewidują nową formę leninizmu-komunizmu wojennego.
Introductory Offer: Save 30% on PS Digital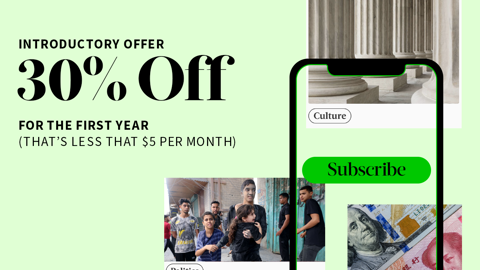 Introductory Offer: Save 30% on PS Digital
Subscribe now to gain greater access to Project Syndicate – including every commentary and our entire On Point suite of subscriber-exclusive content – starting at less than $5 per month.
Propozycje te rodzą oczywiste pytania, na które ich zwolennicy nigdy nie odpowiadają. Jeśli w imię działań na rzecz klimatu władza zostanie skoncentrowana w rękach państwa, które nie odpowiada przed obywatelami, co zapobiegnie nadużyciom tej władzy? Dlaczego, przy braku jakichkolwiek mechanizmów odpowiedzialności, autorytarny reżim miałby w ogóle zajmować się zmianami klimatu? Czy naprawdę oczekuje się, że potężne interesy, które obecnie utrudniają działania na rzecz klimatu, nie będą równie potężne, jeśli nie bardziej, w ramach autokracji klimatycznej?
Reżimy autorytarne są notorycznie skorumpowane. Tak więc pogląd, że taki system byłby wolny od "partykularnych interesów" i zarządzany przez neutralnych, racjonalnych technokratów, jest nieprawdopodobny. W rzeczywistości, zamiast wspierać działania na rzecz klimatu, zmiana w kierunku podejmowania decyzji w stylu autorytarnym prawdopodobnie pogorszyłaby sytuację.
Autorytaryzm klimatyczny może również przynieść odwrotny skutek w mniej oczywisty sposób. W państwie o dowolnym zakresie wolności sprzeciw jest nieunikniony. Jeśli władze uznają nowe ograniczenia za niezbędne do stłumienia krytyki lub oporu, mogą one doprowadzić do erozji innych podstawowych wolności, w tym wolności tworzenia i wymiany potencjalnie transformacyjnych pomysłów.
Wyobraźmy sobie następującą sytuację: Grupa naukowców zajmujących się klimatem potępia politykę dyktatora klimatycznego jako niewystarczającą i próbuje zmobilizować innych do domagania się bardziej zdecydowanych działań. Próbując przywrócić "porządek," dyktator narzuca środki ograniczające wolność akademicką i wolność zrzeszania się. Teraz eksperci nie tylko mają mniejszy wpływ na reakcję państwa na zmiany klimatyczne, ale także mogą nie mieć możliwości rozwijania lub dzielenia się pomysłami i innowacjami, które mogłyby zwiększyć naszą wspólną zdolność do sprostania wyzwaniom klimatycznym.
Nie oznacza to jednak, że systemy demokratyczne są szczególnie dobrze przygotowane do wspierania działań na rzecz klimatu. Zamiast tego można by dojść do wniosku, że w ogóle nie ma dobrych instrumentów politycznych. Pomija to jednak kluczową kwestię: przeszkody dla skutecznych działań na rzecz klimatu w dzisiejszych demokracjach nie są nieodłączne. Wręcz przeciwnie, są one niezgodne z demokratycznymi ideałami i w dobrze funkcjonującej demokracji powinny zostać usunięte.
Na przykład nieproporcjonalny wpływ przemysłu paliw kopalnych na proces polityczny jest nie tylko szkodliwy dla środowiska, ale także zasadniczo niedemokratyczny. Nawet bez pilnej potrzeby zajęcia się kryzysem klimatycznym obywatele mieliby dobry powód, by domagać się zmian. Wniosek jest jasny: jeśli nie podejdziemy poważnie do zagrożenia klimatycznego, nie uratujemy demokracji, a jeśli nie potraktujemy poważnie ideałów demokratycznych, nie uratujemy klimatu.
Z angielskiego przetłumaczyła Marz McNamer