De sirenenzang van het klimaatautoritarisme
BOEDAPEST – Deze zomer – met zijn recordtemperaturen, dodelijke overstromingen en woeste bosbranden, die alleen al in Canada het equivalent van alle bomen in Duitsland verwoestten – kan gevoeld hebben als een laatste waarschuwing: zonder dringende en drastische maatregelen zal de huidige klimaatnood een onontkoombare klimaatramp worden. Sommigen zijn misschien geneigd om te denken dat we een punt hebben bereikt waarop onze enige kans op een voldoende snelle en krachtige reactie op de dreiging bestaat uit het omarmen van beslissend staatsgezag, zelfs regelrecht autoritarisme. Maar het idee dat ecologisch ingestelde autoritairen het op klimaatgebied beter zullen doen dan democratische leiders is een gevaarlijke fantasie.
Bezorgdheid over het vermogen van democratieën om snel en efficiënt te handelen is niets nieuws. Een regering die iedereen laat meedoen (in theorie, maar niet altijd in de praktijk) zorgt voor een onvolmaakt en traag systeem. Invloedrijke spelers kunnen vaak een veto uitspreken over acties die de meerderheid steunt. Aan de andere kant is de opvatting dat irrationele massa's te veel macht hebben – lang sotto voce geuit – helemaal salonfähig geworden in het tijdperk van Donald Trump. Kiezers hebben bijvoorbeeld de neiging om politici te straffen voor het nemen van maatregelen om rampen te voorkomen, en hen te belonen voor het heldhaftig overkomen tijdens een ramp, ook al is rampenbestrijding veel duurder dan preventie.
Naast de welbekende vooroordelen – vele zo oud als de geschriften van Plato – kun je stellen dat sommige voordelen van democratie niet veel uitmaken in de klimaatnoodsituatie. Democratieën gaan er prat op dat elke beslissing kan worden herzien – dat beleid kan worden bijgewerkt en verbeterd, en dat de verliezers van de ene verkiezing winnaars kunnen worden bij de volgende (en dus reden hebben om het democratische spel te blijven spelen). Maar klimaatgerelateerde beslissingen hebben grote, onomkeerbare gevolgen, dus zelfs als slechte keuzes – zoals te weinig doen – later worden herzien, is er al ernstige schade aangericht.
Andere hedendaagse kritieken zijn uitgesprokener. Democratieën zijn gebaseerd op compromissen, maar deals blijken vaak onsamenhangend, vooral in meerpartijensystemen, omdat te veel verschillende politieke spelers hun zin willen krijgen. De huidige regeringscoalitie in Duitsland lijkt hier een goed voorbeeld van. Het corrigeren van dergelijke incoherentie kost tijd, die democratieën onder normale omstandigheden misschien wel hebben, maar zeker niet wanneer de planeet praktisch met de dag heter en apocalyptischer wordt.
Een ander belangrijk punt van zorg is de feitelijke dominantie van zakelijke belangen in kapitalistische democratieën. Gezien het feit dat klimaatmaatregelen onvermijdelijk de belangen van ten minste enkele kapitalisten zullen schaden, lijkt het waarschijnlijk dat deze belangen zullen verhinderen dat de noodzakelijke stappen op tijd – of misschien wel ooit – zullen worden genomen.
Nu de klimaatcrisis snel escaleert, neemt de roep om meer autoritaire besluitvorming ongegeneerd toe. Sommigen pleiten voor een meer technocratische aanpak en stellen China als lichtend voorbeeld. (De ironie dat China 's werelds grootste uitstoter van broeikasgassen is, gaat blijkbaar aan hen voorbij). Anderen – met name de Zweedse denker Andreas Malm – zien een nieuwe vorm van leninisme-annex-oorlogscommunismevoor zich.
Subscribe to PS Digital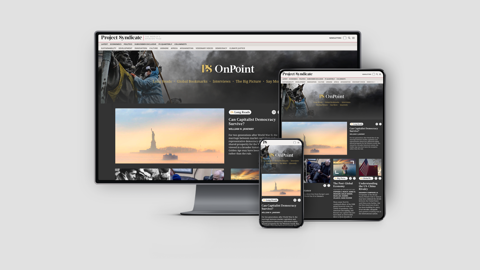 Subscribe to PS Digital
Access every new PS commentary, our entire On Point suite of subscriber-exclusive content – including Longer Reads, Insider Interviews, Big Picture/Big Question, and Say More – and the full PS archive.
Deze voorstellen roepen voor de hand liggende vragen op, waar de voorstanders nooit echt op ingaan. Als, omwille van klimaatactie, de macht wordt geconcentreerd in de handen van een staat die geen verantwoording hoeft af te leggen aan het volk, wat kan dan misbruik van die macht voorkomen? Waarom zou een autoritair regime, bij gebrek aan verantwoordingsmechanismen, de klimaatverandering überhaupt aanpakken? Verwacht je echt dat de machtige belangen die momenteel klimaatactie in de weg staan niet net zo machtig, zo niet machtiger, zouden zijn onder een klimaat-autocratie?
Autoritaire regimes zijn berucht om hun corruptie. Dus het idee dat zo'n systeem vrij zou zijn van 'speciale belangen' en geleid zou worden door neutrale, rationele technocraten is ongeloofwaardig. In plaats van de klimaatmaatregelen te versterken, zou een verschuiving naar autoritaire besluitvorming de zaken waarschijnlijk alleen maar erger maken.
Klimaatautoritarisme kan ook op minder voor de hand liggende manieren averechts werken. In een samenleving met enige vrijheid is oppositie onvermijdelijk. Als de autoriteiten nieuwe beperkingen nodig achten om kritiek of verzet de kop in te drukken, kunnen ze uiteindelijk andere basisvrijheden uithollen, waaronder de vrijheid om potentieel transformatieve ideeën te produceren en uit te wisselen.
Stel je dit eens voor. Een groep klimaatwetenschappers veroordeelt het beleid van de klimaatdictator als ontoereikend en probeert anderen te mobiliseren om krachtiger optreden te eisen. In een poging de 'orde' te herstellen legt de dictator maatregelen op die de academische vrijheid en de vrijheid van vereniging beknotten. Nu zijn de experts niet alleen minder goed in staat om de klimaataanpak van de staat te beïnvloeden; ze krijgen misschien ook niet de kans om ideeën en innovaties te ontwikkelen of te delen die ons collectieve vermogen om de klimaatuitdaging aan te gaan zouden kunnen verbeteren.
Het is waar dat niets hiervan noodzakelijkerwijs betekent dat democratische systemen bijzonder goed zijn uitgerust om klimaatmaatregelen te bevorderen. In plaats daarvan zou je kunnen concluderen dat er helemaal geen goede politieke instrumenten zijn. Maar dit gaat voorbij aan een belangrijk punt: de obstakels voor effectieve klimaatmaatregelen in de democratieën van vandaag zijn niet inherent. Integendeel, ze zijn onverenigbaar met de democratische idealen en in een goed functionerende democratie zouden ze uit de weg geruimd moeten worden.
De onevenredige invloed van de fossiele-brandstofindustrie op het politieke proces is bijvoorbeeld niet alleen schadelijk voor het milieu; het is ook fundamenteel ondemocratisch. Zelfs zonder de dringende noodzaak om de klimaatnoodtoestand aan te pakken, zouden burgers goede redenen hebben om verandering te eisen. De conclusie is duidelijk: als we de klimaatnood niet serieus nemen, zullen we de democratie niet redden en als we de democratische idealen niet serieus nemen, zullen we het klimaat niet redden.