Czy Wojna na Ukrainie Wpłynie na Agendę Zrównoważonego Rozwoju?
PARYŻ - Ofiary wojny prezydenta Rosji Władimira Putina z Ukrainą wykraczają daleko poza Ukraińców, w których bezpośrednio uderzają siły rosyjskie. Agresja Rosji zagraża także globalnemu programowi zrównoważonego rozwoju, co może mieć katastrofalne skutki dla całej planety.
Już pandemia COVID-19 spowodowała, że globalna uwaga i zasoby zostały odwrócone od celów zapisanych w porozumieniu klimatycznym z Paryża z 2015 roku, ponieważ kraje skupiły się na swoich najpilniejszych potrzebach w zakresie zdrowia publicznego. Obecnie wojna Putina nasila presję gospodarczą, społeczną i geopolityczną, z jaką borykają się poszczególne kraje, pogłębiając jednocześnie podziały między nimi. Nie wróży to dobrze wysiłkom na rzecz sprostania wspólnemu wyzwaniu, jakim jest zmiana klimatu.
Aby zwiększyć nasze szanse na uratowanie programu zrównoważonego rozwoju, musimy rozpoznać obawy i imperatywy wynikające z obecnego kryzysu i odpowiednio dostosować nasze podejście. Oznacza to, że nasze podejście do kwestii środowiskowych, społecznych i zarządzania (ESG) musi być zarówno bardziej holistyczne, jak i bardziej szczegółowe.
Po pierwsze, wszelkie dyskusje na temat polityki energetycznej muszą obecnie uwzględniać zarówno cel osiągnięcia zerowej emisji dwutlenku węgla netto do 2050 roku, jak i potrzebę zapewnienia bezpieczeństwa energetycznego i spójności społecznej. Jeżeli polityka energetyczna będzie się koncentrować wyłącznie na kwestiach bezpieczeństwa, to prawdopodobnie podważona zostanie agenda zrównoważonego rozwoju.
Przykładem są europejskie wysiłki zmierzające do zastąpienia rosyjskiego gazu skroplonym gazem ziemnym (LNG) pochodzącym ze Stanów Zjednoczonych lub Kataru. Można twierdzić, że jest to jedynie "szybkie rozwiązanie," mające na celu rozwiązanie pilnego problemu. Jednak takie systemy mogą się łatwo utrwalić - na przykład jeśli operatorzy zażądają od rządów zobowiązań długoterminowych - co zniweczyłoby wysiłki na rzecz dekarbonizacji energetyki.
Z pewnością wojna na Ukrainie wymaga pilnych działań, które mogą obejmować rozwiązania doraźne. Jednak takie środki muszą być starannie zintegrowane z szerszą strategią, obejmującą zarówno szybsze przestawienie się na energię odnawialną - co w Unii Europejskiej może wymagać zwiększenia możliwości finansowania unijnego pakietu pandemicznego Next Generation - jak i ponowne rozważenie energetyki jądrowej.
Subscribe to PS Digital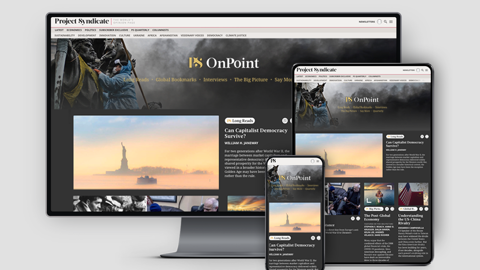 Subscribe to PS Digital
Access every new PS commentary, our entire On Point suite of subscriber-exclusive content – including Longer Reads, Insider Interviews, Big Picture/Big Question, and Say More – and the full PS archive.
Unia Europejska nie określiła jeszcze swojego stanowiska w sprawie energii jądrowej w swojej taksonomii zrównoważonego finansowania, która ma pomóc firmom, inwestorom i decydentom w prowadzeniu działań i inwestycji przyjaznych dla klimatu. Warto jednak zauważyć, że ścieżka zerowego bilansu energetycznego netto zaproponowana przez Międzynarodową Agencję Energetyczną w prognozie World Energy Outlook 2021 wzywa do zwiększenia udziału energii jądrowej w miksie energetycznym.
Nie jest to kwestia, którą powinni brać pod uwagę wyłącznie decydenci; wszyscy inwestorzy muszą przyjąć bardziej holistyczne podejście do energetyki, równoważące konieczność odejścia od paliw kopalnych z ograniczeniami geopolitycznymi poszczególnych krajów. Inwestorzy zaś muszą zwiększyć swoją zdolność do jednoczesnej oceny aspektów środowiskowych i społecznych.
Idea "sprawiedliwej transformacji klimatycznej" nie jest nowa. Nabiera ona jednak nowego znaczenia w obliczu wojny Rosji z Ukrainą, która spowodowała wzrost światowych cen nie tylko energii, ale także żywności. W rzeczywistości wojna ta, zakłócając dostawy żywności z Rosji i Ukrainy, zagraża światowemu bezpieczeństwu żywnościowemu.
Rolnictwo i przemysł spożywczy - sektory energochłonne, które wywierają daleko idący wpływ na różnorodność biologiczną - zawsze miały odgrywać kluczową rolę w procesie przejścia na system zerowej emisji netto. Wojna na Ukrainie pokazała jednak, że każda strategia ograniczania wpływu tych sektorów na środowisko musi uwzględniać także potrzebę zapewnienia bezpieczeństwa żywnościowego, np. poprzez dywersyfikację dostaw.
Potrzeba połączenia względów środowiskowych i społecznych dotyczy firm, ale także - a może przede wszystkim - rządów, dla których branża finansowa nie przyjęła jeszcze wystarczająco szczegółowej wspólnej metodologii. Wyłaniające się podejście musi uwzględniać skuteczność, z jaką rządy zarządzają skutkami dystrybucyjnymi polityki związanej z przejściem na poziom zerowy netto. Bez sprawiedliwego podziału obciążeń poparcie społeczne dla działań na rzecz klimatu będzie się zmniejszać.
Kolejnym obszarem, w którym strategie ESG będą musiały stać się bardziej szczegółowe w następstwie wojny na Ukrainie, są kryptowaluty. Dotychczas skoncentrowano się na wpływie "wydobycia" kryptowalut na środowisko, które jest niezwykle energochłonne. Wojna uwypukla jednak społeczny i geopolityczny wymiar kryptowalut, które Ukraina wykorzystała do crowdfundingu wojskowego, a Rosja może wykorzystać do uniknięcia międzynarodowych sankcji.
Wreszcie, inwestorzy muszą przyjąć bardziej zniuansowane podejście do przemysłu obronnego. Zwyczajowo inwestorzy ESG wykluczają takie firmy ze swoich portfolio. Choć nie ma powodu, by zacząć inwestować w rozwój i produkcję kontrowersyjnej broni, inwestorzy ESG mogą chcieć ponownie rozważyć swoje podejście do firm, które zwiększają zdolność państw do obrony przed agresją. Pilnie potrzebny jest solidniejszy zestaw zasad dotyczących uwzględniania praw człowieka w polityce inwestycyjnej.
Pod tymi - i prawdopodobniej wieloma innymi - względami wojna na Ukrainie skomplikowała inwestowanie ESG. Może się to okazać katastrofalne dla programu zrównoważonego rozwoju, zwłaszcza jeśli zostanie wykorzystane jako pretekst do odsunięcia na dalszy plan kwestii środowiskowych i społecznych. Milczenie świata w sprawie najnowszego raportu Międzyrządowego Zespołu ds. Zmian Klimatu pokazuje, jak poważne stało się to ryzyko.
Aby uniknąć takiego rezultatu, biznes i społeczeństwo obywatelskie muszą połączyć siły, aby wytyczyć drogę naprzód. Inwestorzy, konsumenci, pracownicy i przedsiębiorstwa ponoszą wspólną odpowiedzialność za stworzenie nowego systemu, który będzie realizował wizję paryskiego porozumienia klimatycznego i uwzględniał bardziej kompleksowe podejście do oceny ESG.
Z angielskiego przetłumaczyła Marz McNamer