Postaví válka na Ukrajině agendu trvalé udržitelnosti na hlavu?
PAŘÍŽ – Oběťmi války ruského prezidenta Vladimira Putina proti Ukrajině zdaleka nejsou jen Ukrajinci, kteří představují přímý cíl ruských jednotek. Agrese Ruska ohrožuje také agendu globální trvalé udržitelnosti s potenciálně ničivými důsledky pro celou planetu.
Už pandemie covid-19 přesunula globální pozornost a zdroje směrem od cílů zakotvených v pařížské klimatické dohodě z roku 2015, neboť se země zaměřily na své bezprostřední potřeby v oblasti veřejného zdraví. Dnes zase Putinova válka zintenzivňuje hospodářské, sociální a geopolitické tlaky, jimž země čelí, a současně prohlubuje jejich rozdělení. Pro snahu řešit společný problém klimatických změn to nevěstí nic dobrého.
Chceme-li zvýšit naději na záchranu agendy trvalé udržitelnosti, musíme si uvědomit problémy a imperativy vyvolané současnou krizí a podle toho přizpůsobit náš přístup. Znamená to zajistit, aby byl náš přístup k ekologickým a společenským otázkám a k otázkám řízení (ESG) ucelenější a zároveň rozvrstvenější.
Za prvé dnes musí jakákoliv diskuse o energetické politice zohledňovat jednak bezpodmínečný cíl dosáhnout do roku 2050 čisté nuly v oblasti emisí oxidu uhličitého, jednak potřebu udržet energetickou bezpečnost a zajistit sociální soudržnost. Pokud se energetická politika zaměří pouze na bezpečnostní ohledy, pravděpodobně podkopá agendu trvalé udržitelnosti.
Evropská snaha nahradit ruský plyn zkapalněnými zemním plynem (LNG) ze Spojených států nebo Kataru je toho ukázkovým příkladem. Někdo by mohl tvrdit, že je to jen "rychlé řešení" naléhavého problému. Takové systémy se však snadno mohou stát trvalými – například když provozovatelé požadují od vlád dlouhodobé závazky –, což by podkopalo snahu o dekarbonizaci výroby energie.
Jistě, válka na Ukrajině vyžaduje naléhavou akci, která může zahrnovat i rychlá řešení. Taková opatření je však nutné pečlivě zakomponovat do širší strategie včetně přehodnocení jaderné energetiky a rychlejšího posunu směrem k obnovitelné energii – což může v Evropské unii vyžadovat rozšíření financování balíku postpandemické obnovy s názvem Next Generation EU.
Subscribe to PS Digital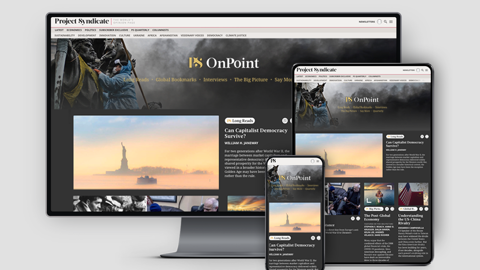 Subscribe to PS Digital
Access every new PS commentary, our entire On Point suite of subscriber-exclusive content – including Longer Reads, Insider Interviews, Big Picture/Big Question, and Say More – and the full PS archive.
Unie ještě musí finalizovat svůj postoj k jaderné energii v taxonomii trvale udržitelných financí, která se snaží vést firmy, investory a politiky ke klimaticky šetrnějším činnostem a investicím. Za zmínku však stojí, že cesta k čisté nule, jak ji ve svém Světovém energetickém výhledu 2021 navrhuje Mezinárodní energetická agentura, vyzývá ke zvýšení podílu jádra v energetickém mixu.
Touto otázkou by se neměli zabývat jen politici; všichni investoři musí zaujmout ucelenější přístup k energetice, který uvede do souladu imperativ odklonu od fosilních paliv s geopolitickými omezeními jednotlivých zemí. Stejně tak musí investoři zlepšit svou schopnost vyhodnocovat ekologické a sociální otázky v tandemu.
Myšlenka "spravedlivého klimatického přechodu" není nová. Nový náboj však získává s ruskou válkou na Ukrajině, která vyšroubovala nejen globální ceny energií. Narušila totiž dodávky potravin z Ruska a Ukrajiny, čímž ohrožuje také světovou potravinovou bezpečnost.
Zemědělství a potravinářský průmysl – energeticky náročné sektory s dalekosáhlými dopady na biodiverzitu – měly v přechodu na čistou nulu vždy hrát klíčovou roli. Válka na Ukrajině však ukázala, že jakákoliv strategie zmírňování ekologického dopadu těchto sektorů musí brát v úvahu také potřebu zajistit potravinovou bezpečnost, například diverzifikací dodávek.
Potřeba kombinovat ekologické a sociální otázky se týká firem, ale také – což je možná ještě důležitější – vlád, pro které finanční sektor zatím nepřijal dostatečně podrobnou společnou metodologii. Výsledný přístup musí zohledňovat efektivitu, se kterou vlády řídí distributivní dopady politik zajišťujících přechod na čistou nulu. Bez spravedlivého sdílení zátěže veřejná podpora klimatické akce poklesne.
Další oblast, kde se strategie ESG budou muset po válce na Ukrajině rozvrstvit, představují kryptoměny. Prozatím se diskuse zaměřuje na ekologický dopad těžby kryptoměn, která je nesmírně energeticky náročná. Válka však zvýraznila i sociální a geopolitické rozměry kryptoměn, které Ukrajina používá ke crowdfundingu své armády a Rusko by je mohlo použít k vyhýbání se mezinárodním sankcím.
A konečně musí investoři zaujmout odstíněnější pohled na obranný sektor. Stalo se zvykem, že investoři ESG vyřazují takové firmy ze svých portfolií. Neexistuje sice žádný důvod, proč začít investovat do vývoje a výroby kontroverzních zbraní, avšak investoři ESG by možná měli přehodnotit svůj přístup k firmám, které zvyšují schopnost zemí bránit se proti agresi. Naléhavě potřebujeme pevnější soubor zásad, jak do investiční politiky začlenit lidská práva.
V těchto – a s největší pravděpodobností i v mnoha dalších – směrech válka na Ukrajině investice do ESG zkomplikovala. To by mohlo mít pro agendu trvalé udržitelnosti katastrofální následky, zejména pokud se bude používat jako výmluva k odsouvání ekologických a sociálních ohledů na vedlejší kolej. Skutečnost, že svět mlčí k nejnovější zprávě Mezivládního panelu pro změnu klimatu, jen ukazuje, jak akutním se toto riziko stalo.
Chceme-li takový výsledek odvrátit, musí firmy a občanská společnost spojit síly a vytyčit cestu vpřed. Investoři, spotřebitelé, zaměstnanci i firmy mají společnou zodpovědnost koncipovat nový systém, který naplní vizi pařížské klimatické dohody a zaujme komplexnější přístup k hodnocení ESG.
Z angličtiny přeložil Jiří Kobělka