A ciência climática vence o fatalismo climático
BERLIM – O objetivo do Acordo de Paris sobre alterações climáticas de limitar o aquecimento global a 1,5 graus celsius (°C) está novamente nas manchetes dos jornais. De acordo com as últimas projeções da Organização Meteorológica Mundial, "existe uma probabilidade de 66% de que a média anual da temperatura global próxima da superfície, entre 2023 e 2027, seja superior a 1,5 °C acima dos níveis pré-industriais durante pelo menos um ano". Um ciclo El Niño intenso significa que é quase certo que as temperaturas vão bater recordes.
Mas, por muito preocupantes que sejam estes avisos, seria ainda mais preocupante se um ano acima de 1,5 °C fosse considerado como um sinal de que a meta de 1,5 °C iria fracassar. Essa conclusão errónea levar-nos-ia a abandonar o objetivo do Acordo de Paris, precisamente no momento em que deveríamos estar a persistir em atingi-lo.
A meta de 1,5 °C não será inatingível com apenas um ou alguns anos de temperaturas extremas. O objetivo de Paris refere-se a aumentos de temperatura provocados pelo homem que são medidos ao longo de décadas. Temos de ter isto bem presente para evitar o perigoso fatalismo climático que tem vindo a ganhar força nos últimos anos.
Sim, agora que o planeta aqueceu aproximadamente 1,2 °C acima dos níveis pré-industriais, as ondas de calor, os incêndios florestais e as inundações que ocorrem "uma vez a cada século" estão a tornar-se mais familiares para nós.  Em algumas regiões de baixa altitude, a subida do mar já está a obrigar as pessoas a deslocarem-se. Mas ainda há uma enorme diferença entre 1,2 °C e 1,5 °C – já para não falar entre 1,5 °C e 2 °C – e a ciência mostra que ainda é possível terminar este século com 1,5 °C ou abaixo disso.
A investigação climática confirmou a importância e a necessidade da barreira de proteção de 1,5 °C. Tal como o Painel Intergovernamental sobre Alterações Climáticas (IPCC, na sigla em inglês) alertou no ano passado, os fenómenos meteorológicos extremos, o colapso dos ecossistemas e os pontos de rutura planetários podem ocorrer com níveis de aquecimento global significativamente mais baixos do que se pensava. Desde o último ciclo de relatórios do IPCC, em 2014, reunimos muitas mais provas que demonstram que mesmo um mundo 1,5 °C mais quente seria um enorme desafio e que aumentos de temperatura acima desse nível seriam verdadeiramente devastadores.
Com cada décimo de grau adicional de aquecimento, mais pessoas ficarão expostas a ondas de calor, escassez de água e inundações potencialmente fatais. E o pior é que, vários estudos mostram que a probabilidade de atingir pontos de rutura, como o potencial colapso da camada de gelo da Antártida Ocidental, aumenta exponencialmente acima de 1,5 °C. Estes pontos representam linhas vermelhas. O mundo não iria acabar, mas haveria uma mudança fundamental em que os sistemas planetários começariam a mover-se irreversivelmente na direção de um maior derretimento do gelo, de alterações nos ecossistemas marinhos e da subida do nível do mar.
Subscribe to PS Digital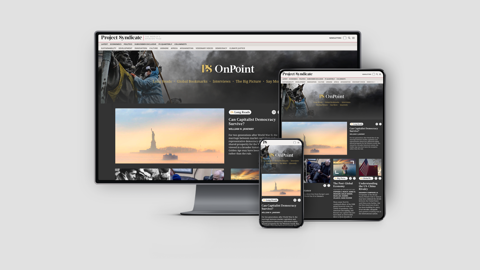 Subscribe to PS Digital
Access every new PS commentary, our entire On Point suite of subscriber-exclusive content – including Longer Reads, Insider Interviews, Big Picture/Big Question, and Say More – and the full PS archive.
A única abordagem sensata é mitigar esse risco, reduzindo as emissões de gases com efeito de estufa (GEE) o mais rapidamente possível. Embora ainda possamos ultrapassar o limite de 1,5 °C a curto prazo, podemos regressar a esse limite a longo prazo. Mas isso só será possível se tivermos reduzido para zero as emissões de combustíveis fósseis. Este é o primeiro passo crucial para atingir as zero emissões líquidas de gases com efeito de estufa.
Não é menos importante preservar e recuperar os sistemas naturais da terra e dos oceanos que absorvem e armazenam carbono. E se distorcermos o ciclo do carbono da Terra (através do derretimento do gelo permanente do subsolo, por exemplo), estaremos a comprometer a nossa capacidade de inverter o aumento da temperatura global.
Limitar o aquecimento a 1,5 °C neste século exige que reduzamos para metade as nossas emissões até 2030. Não se trata de um número arbitrário. Só se reduzirmos para metade as nossas emissões nesta década é que reduziremos para metade o ritmo do aquecimento na década de 2030 e ficará suspenso na década de 2040. Pensemos nisto como a diferença entre enfrentarmos nós próprios as alterações climáticas ou passarmos uma bomba-relógio civilizacional aos nossos filhos.
Abrandar o processo de aquecimento também nos dá um tempo precioso para a adaptação. Mesmo um país rico como os Estados Unidos estará limitado na rapidez e na plenitude da sua capacidade de adaptação às consequências das alterações climáticas. Para aqueles que vivem em locais mais vulneráveis, a situação é incomparavelmente pior. Catástrofes como as inundações no Paquistão, no ano passado, podem fazer descarrilar a economia de um país e deixá-lo numa espiral descendente de aumento da dívida e da pobreza – tudo isto será agravado por futuras catástrofes climáticas para as quais não tinham meios para se prepararem.
Além disso, muitos dos compromissos de zero emissões líquidas assumidos por governos, empresas e cidades de todo o mundo têm como premissa o limite de 1,5 °C. Os planos de eliminação progressiva do carvão (como os da Alemanha, Vietname e Reino Unido) baseiam-se em modelos alinhados com o limite de 1,5 °C, que mostram que os países da OCDE têm de deixar de utilizar carvão até 2030 e que os países que não fazem parte da OCDE devem fazê-lo até 2040. O gás tem de seguir o exemplo pouco tempo depois.
Os ponteiros do relógio não param e estes modelos baseados em 1,5 °C estão a dizer-nos como estabelecer prioridades. Em primeiro lugar, temos de descarbonizar a eletricidade e, em seguida, eletrificar o maior número possível de transportes, edifícios e indústrias, reduzindo simultaneamente a procura. Para além destas medidas mais facilmente alcançáveis, teremos também de aumentar a escala das tecnologias de eliminação de carbono.
Os investimentos estão a avançar nessa direção. Desde a celebração do Acordo de Paris, em 2015, os custos da energia solar, da energia eólica e das baterias baixaram drasticamente. Os veículos elétricos e as bombas de calor estão a tornar-se tendência dominante. São respostas impulsionadas pelo mercado aos incentivos governamentais. As políticas públicas têm sido essenciais para incutir confiança e apoiar o crescimento das energias limpas.
Desistir e começar a olhar para lá do limite de 1,5°C libertaria os grandes emissores da pressão para melhorarem. Em vez de incutir confiança, seria um sinal para todos de que devem ter menos expectativas – e seria uma traição para todos aqueles que vivem em locais que não têm os recursos e as possibilidades para se adaptarem a um mundo mais quente.
Se não continuarmos a insistir nas metas baseadas na ciência mais ambiciosas, aqueles que têm interesses particulares no estado atual irão explorar o nosso fatalismo. Depois de um ano extremamente lucrativo, devido à guerra da Rússia na Ucrânia, a BP revelou, recentemente, que irá desviar grande parte dos seus investimentos previstos na descarbonização para o petróleo e para o gás.
A melhor ciência que temos à nossa disposição diz-nos que 1,5 °C ainda é viável e diz-nos como lá chegar.  Tal como o diplomata britânico para as alterações climáticas, Pete Betts, diz: "Se ultrapassarmos o limite de 1,5 °C, a mensagem não é para desistirmos. É para duplicarmos os esforços".