Recuerdos de los setenta
CAMBRIDGE – Es demasiado pronto para predecir la evolución a largo plazo del brote de coronavirus. Pero no es pronto para reconocer que la próxima recesión global puede estar a la vuelta de la esquina, y que tal vez sea muy diferente a las que empezaron en 2001 y 2008.
En primer lugar, es probable que el origen de la próxima recesión sea China, y de hecho, puede que ya se esté produciendo. La economía china está sumamente apalancada, y su capacidad de hacer frente a una desaceleración sostenida no es mayor a la de Japón durante su auge económico de los ochenta. Personas, empresas y municipalidades necesitan fondos para pagar deudas desmesuradas. Una situación demográfica muy adversa, el hecho de que ya no queda tanto margen para la modernización tecnológica y el enorme excedente de viviendas derivado de recurrentes programas de estímulo (por no hablar de un proceso de toma de decisiones cada vez más centralizado) ya son presagio de una disminución significativa del crecimiento chino en la década venidera.
Además, a diferencia de las dos recesiones globales previas de este siglo, el nuevo coronavirus, COVID-19, implica un shock de oferta, no sólo de demanda. De hecho, para encontrar otro ejemplo de la misma magnitud hay que retrotraerse a los shocks petroleros de mediados de los setenta. Es verdad que el temor al contagio afectará la demanda en el sector de las aerolíneas y el turismo internacional y que generará un aumento del ahorro precautorio. Pero si decenas de millones de personas no pudieran ir a trabajar (por cuarentena o por miedo), se interrumpieran las cadenas de valor globales, se cerraran las fronteras y el comercio internacional se redujera porque los países no confían en las estadísticas sanitarias de los otros países, el perjuicio del lado de la oferta sería al menos igual de grande.
Los países afectados implementarán, con razón, inmensos programas deficitarios de gasto para reforzar sus sistemas sanitarios y estimular sus economías. El motivo de ahorrar para los tiempos malos es poder gastar cuando esos tiempos malos llegan; y la necesidad de estar preparados para pandemias, guerras, crisis climáticas y otros hechos extraordinarios es la razón misma por la que un gasto deficitario ilimitado en tiempos de bonanza es peligroso.
Pero las autoridades políticas (y también demasiados analistas económicos) no logran comprender de qué manera el componente ofertista puede llevar a que la próxima recesión global sea distinta a las dos anteriores. A diferencia de recesiones impulsadas ante todo por escasez de demanda, el desafío que plantea una desaceleración impulsada por la oferta es que puede dar lugar a una marcada reducción de la producción y una multiplicación de cuellos de botella. En tal caso, la escasez generalizada (algo que en algunos países no se ve desde los tiempos de las filas para cargar gasolina en los setenta) puede terminar presionando sobre la inflación al alza, no a la baja.
Es verdad que hoy las condiciones iniciales para contener una inflación generalizada son extraordinariamente favorables. Pero siendo casi seguro que cuatro décadas de globalización han sido el principal factor de los bajos niveles de inflación, un proceso sostenido de retirada al interior de las fronteras nacionales debido a una pandemia de COVID-19 (o incluso al temor permanente a tal pandemia), sumado al aumento de las fricciones comerciales, es una receta para la reaparición de presiones alcistas sobre los precios. En este escenario, el aumento de la inflación puede provocar un alza de los tipos de interés y plantear problemas a las autoridades monetarias y fiscales.
Subscribe to Project Syndicate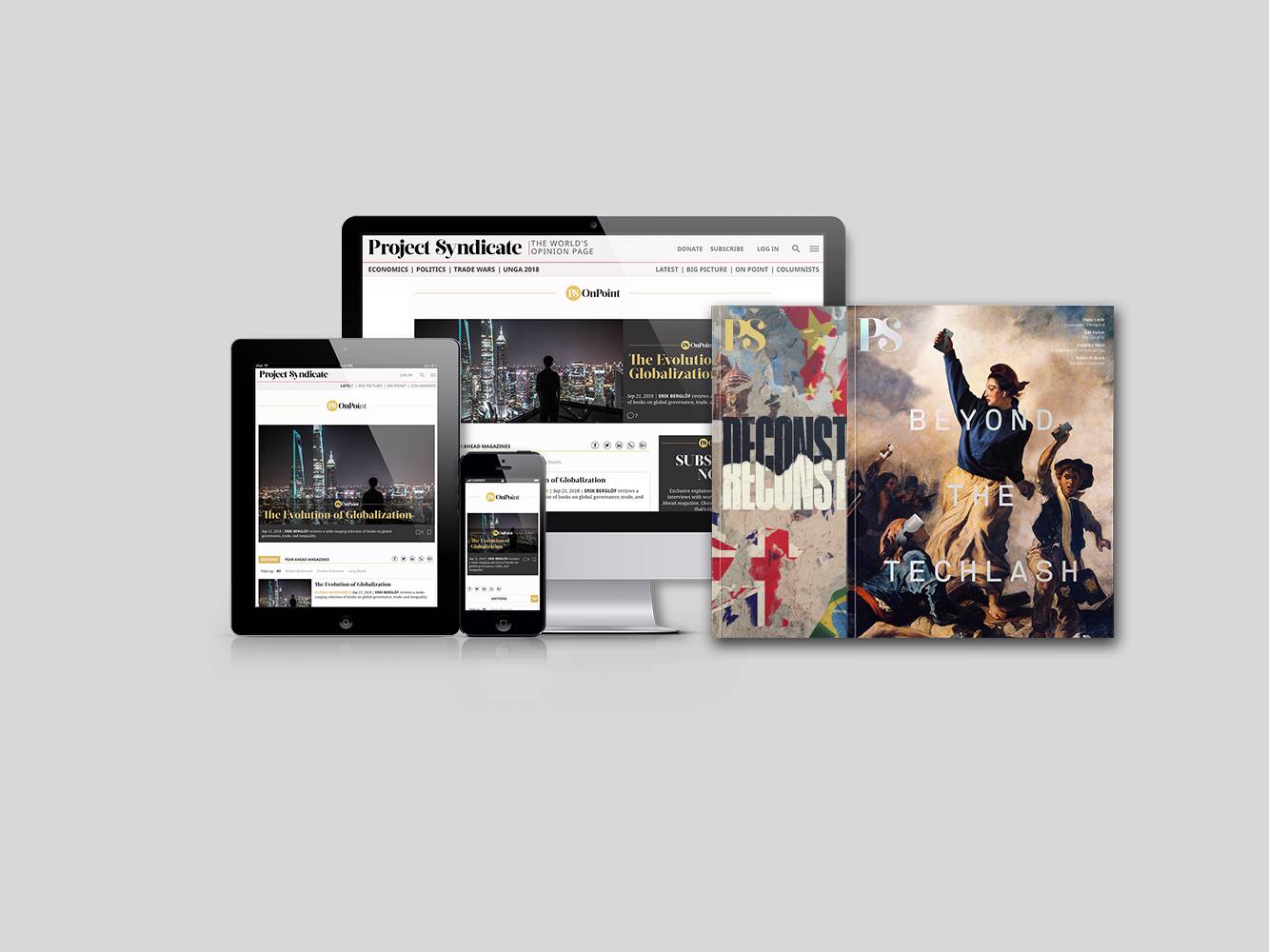 Subscribe to Project Syndicate
Enjoy unlimited access to the ideas and opinions of the world's leading thinkers, including weekly long reads, book reviews, and interviews; The Year Ahead annual print magazine; the complete PS archive; and more – all for less than $2 a week.
También hay que señalar que la crisis del COVID-19 golpea a la economía mundial en un momento en que el crecimiento ya es tenue y muchos países están demasiado apalancados. El crecimiento mundial en 2019 apenas llegó a 2,9%, no muy lejos del nivel del 2,5% que históricamente ha sido sinónimo de recesión global. La economía italiana apenas comenzaba a recuperarse cuando llegó el virus. La de Japón ya estaba entrando en recesión después de un aumento inoportuno del impuesto al valor agregado, y la de Alemania viene tambaleándose en un contexto de incertidumbre política. Estados Unidos está en su mejor forma, pero si antes se calculaba un 15% de probabilidades de que empiece una recesión antes de las elecciones presidencial y legislativa de noviembre, ahora el cálculo parece mucho mayor.
Puede parecer extraño que el nuevo coronavirus sea capaz de causar tanto daño económico incluso en países que al parecer cuentan con recursos y tecnología para combatirlo. Uno de los principales motivos es que antes la gente era mucho más pobre que ahora, de modo que muchas más personas tenían que correr el riesgo de ir a trabajar. A diferencia de ahora, una retirada radical de la economía en respuesta a una epidemia que no matara a la mayoría de la gente no era una alternativa posible.
Lo que sucedió en Wuhan (China), epicentro del brote actual, es un caso extremo pero ilustrativo. El gobierno chino básicamente puso en cuarentena la provincia de Hubei e impuso la ley marcial a sus 58 millones de habitantes, de modo que la ciudadanía ordinaria no puede salir de casa, excepto en circunstancias muy específicas. Pero al mismo tiempo, el gobierno se ha mostrado aparentemente capaz de llevar alimento y agua a la población de Hubei por más o menos seis semanas ya, algo que para un país pobre sería inimaginable.
En otras partes de China, un buen número de personas en ciudades importantes como Shanghai y Beijing se han quedado en casa la mayor parte del tiempo para reducir la exposición. Es posible que los gobiernos de países como Corea del Sur e Italia no estén tomando medidas tan extremas como las de China, pero muchas personas también se quedan en casa, lo que implica un perjuicio significativo para la actividad económica.
Las probabilidades de una recesión global han aumentado drásticamente, mucho más de lo que quieren admitir los pronósticos convencionales de inversores e instituciones internacionales. Es necesario que las autoridades se den cuenta de que, además de bajar los tipos de interés y aplicar medidas de estímulo fiscal, hay que dar respuesta al inmenso shock a las cadenas globales de suministro. La forma más inmediata de proveer alivio sería que Estados Unidos reduzca considerablemente los aranceles aplicados como parte de la guerra comercial; eso llevaría calma a los mercados, sería una muestra de estatura política en la relación con China y pondría dinero en los bolsillos de los consumidores estadounidenses. Una recesión global es un momento para la cooperación, no para el aislamiento.
Traducción: Esteban Flamini