Uma abordagem aos desafios globais centrada nos direitos humanos
DUBLIN – A pandemia da COVID-19 reformulou o mundo para milhões de pessoas. Ou, mais correctamente, a pandemia expôs e agravou desigualdades profundas entre raças, géneros e classes por todas as sociedades, e sublinhou a incapacidade de muitos sistemas políticos responderem de formas que protejam os direitos e a dignidade humana. O mundo não se reconstruirá depois da crise, nem terá qualquer hipótese de enfrentar ameaças existenciais mais vastas como as alterações climáticas, enquanto não conseguirmos instilar mais uma vez um sentimento de esperança na vida política e cívica.
Felizmente, na Declaração Universal dos Direitos Humanos já existe um roteiro para ajudar a humanidade a traçar um rumo em direcção ao futuro. A declaração, adoptada pela Assembleia Geral das Nações Unidas em 1948, é tão relevante hoje como o foi durante a devastação física e moral causada pela II Guerra Mundial.
O Artigo 1º da declaração enuncia uma verdade permanente com uma clareza estrondosa: "Todos os seres humanos nascem livres e iguais em dignidade e em direitos". Para concretizarmos hoje esta visão, temos de forçar os líderes a ir além das palavras simpáticas e a comprometer-se com acções significativas, viáveis e mensuráveis. Em especial, precisam de garantir a distribuição global equitativa de vacinas contra a COVID-19 e de fornecer apoio financeiro adequado aos países mais vulneráveis à devastação causada pelas alterações climáticas.
Para começar, os países de rendimento elevado têm de tomar medidas para atingir o objectivo do Compromisso Prévio de Comercialização COVAX da Gavi, de distribuir pelo menos mil milhões de doses da vacina aos países mais pobres do mundo antes de 1 de Setembro de 2021, e mais de dois mil milhões de doses até meados de 2022.
Para os países ricos, é simultaneamente injusto do ponto de vista moral e (em termos sanitários e económicos) míope açambarcarem vacinas contra a COVID-19 para as suas próprias populações. Quanto mais tempo o coronavírus persistir em países mais pobres e com menos recursos, mais longe estará a humanidade como um todo de ultrapassar completamente a ameaça às vidas e às subsistências.
Neste mesmo espírito, os líderes do G7 e do G20 deveriam apoiar os apelos da Organização Mundial da Saúde e da Organização Mundial do Comércio para o licenciamento voluntário e a transferência de tecnologia para a produção de vacinas. Se isso não for feito, deveriam apoiar uma isenção imediata de determinados direitos de propriedade intelectual nas regras da OMC: uma medida que o presidente dos EUA, Joe Biden, apoiou recentemente.
Subscribe to PS Digital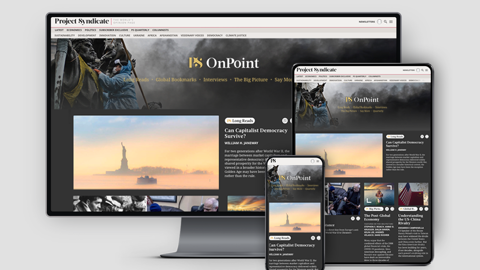 Subscribe to PS Digital
Access every new PS commentary, our entire On Point suite of subscriber-exclusive content – including Longer Reads, Insider Interviews, Big Picture/Big Question, and Say More – and the full PS archive.
Lamentavelmente, na sua recente cimeira no Reino Unido, os líderes do G7 não conseguiram demonstrar que compreendiam a escala da sua responsabilidade na abordagem às desigualdades exacerbadas pela pandemia. De forma mais genérica, a COVID-19 expôs as insuficiências do nacionalismo mesquinho e das políticas populistas que desprezam as evidências científicas e a empatia. Nenhum país, independentemente do seu poder ou dimensão, pode enfrentar eficazmente a ameaça de saúde pública sozinho.
É essencial que os líderes aprendam com os seus erros e que acatem as recomendações do Painel Independente de especialistas para a Prontidão e Resposta a Pandemias. Só os sistemas de saúde devidamente financiados, integrados e organizados conseguirão resistir a futuras pandemias e emergências sanitárias.
Na situação actual, porém, as falhas do mundo rico no combate à COVID-19 agravaram o défice de confiança entre o Norte e o Sul Globais. Isto, por sua vez, tornará ainda mais difícil alcançar um acordo durante o próximo e crítico encontro diplomático internacional: a cimeira climática COP26 de Novembro em Glasgow.
Todos os países precisam de ajustar as suas metas de redução de emissões para o curto prazo antes da COP26, e ainda estamos à espera que os maiores emissores o façam. Além disso, os países ricos têm de desenvolver a confiança, demonstrando como vão incrementar as suas contribuições para o financiamento climático, nomeadamente, mais recursos para a adaptação, para reunir os há muito prometidos 100 mil milhões de dólares anuais que ajudariam os países em desenvolvimento a combater o aquecimento global e os seus efeitos.
Existem duas tendências comuns nos desafios partilhados que enfrentamos para a defesa dos direitos humanos, a superação da pandemia e o combate às alterações climáticas: a necessidade da vigilância contra a complacência e a responsabilidade de agir em prol do bem comum. Nestes tempos difíceis, podemos todos inspirar-nos num líder que nunca vacilou no seu compromisso com os direitos humanos e a justiça: Nelson Mandela.
É uma ironia histórica que a Declaração Universal dos Direitos Humanos tenha sido adoptada no mesmo ano em que a África do Sul implementou o seu regime de apartheid. Mas Mandela viu imediatamente o poder e o potencial da declaração. Num discurso de 1997 enquanto presidente da África do Sul, reflectiu: "para todos os opositores deste sistema nefasto, as palavras simples e nobres da Declaração Universal foram um súbito raio de esperança num dos nossos momentos mais sombrios".
Hoje, mais do que nunca, precisamos de redescobrir e de reafirmar os princípios de solidariedade e de compromisso comum da declaração que Mandela expressou de forma tão convincente durante toda a sua vida. A nossa tarefa actual não é "reconstruir melhor", porque não podemos reconstruir a partir de um status quo anterior que produziu sistemas desiguais e disfuncionais. Em vez disso, temos de "construir um futuro melhor", e de reforçar os nossos esforços com esperança, disciplina e determinação, para construirmos um mundo sustentável, pacífico e justo para as gerações futuras.