Podejście do Globalnych Wyzwań Oparte na Prawach Człowieka
DUBLIN – Pandemia COVID-19 zmieniła świat dla milionów ludzi. A konkretnie: pandemia ujawniła i pogłębiła głębokie nierówności rasowe, płciowe i klasowe w społeczeństwach oraz uwydatniła niezdolność wielu systemów politycznych do reagowania w sposób, który chroni prawa i godność jednostki. Świat nie odbuduje się po tym kryzysie, ani nie będzie miał szans na stawienie czoła szerszym zagrożeniom egzystencjalnym, takim jak zmiana klimatu, dopóki nie będziemy mogli ponownie zaszczepić poczucianadziei w życiu politycznym i obywatelskim.
Na szczęście w PowszechnejDeklaracjiPrawCzłowieka istnieje już mapa drogowa, która ma pomóc ludzkości wytyczyć drogę naprzód. Deklaracja, przyjęta przez Zgromadzenie Ogólne Narodów Zjednoczonych w 1948 roku, jest dziś równie aktualna, jak w momencie jej uchwalenia, pośród fizycznych i moralnych zniszczeń spowodowanych przez II wojnę światową.
Artykuł 1 deklaracji stwierdza niezmienną prawdę z dobitną jasnością: "Wszyscy ludzie rodzą się wolni i równi w godności i prawach." Aby zrealizować tę wizję dzisiaj, musimy zachęcać liderów do wyjścia poza miłe słowa i zaangażowania się w znaczące, wykonalne i wymierne działania. W szczególności muszą zapewnić sprawiedliwą globalną dystrybucję szczepionek COVID-19 i zapewnić odpowiednie wsparcie finansowe krajom najbardziej narażonym na skutki zmian klimatycznych.
Kraje o wysokich dochodach muszą podjąć kroki w celu osiągnięcia celu Gavi COVAX Advance Market Commitment polegającego na dostarczeniu co najmniej miliarda dawek szczepionek do najbiedniejszych krajów świata nie później niż 1 września 2021 roku i ponad dwóch miliardów dawek do połowy 2022 r.
Gromadzenie szczepionek przeciw COVID-19 dla własnych populacji jest zarówno moralnie niesprawiedliwe, jak i – pod względem zdrowotnym i ekonomicznym – krótkowzroczne. Im dłużej koronawirus się utrzymuje i mutuje w biedniejszych krajach o mniejszych zasobach, tym dalej ludzkość jako całość będzie oddalać się od całkowitego pokonania zagrożenia dla życia i źródeł utrzymania.
W tym samym duchu przywódcy G7 i G20 powinni poprzeć apele Światowej Organizacji Zdrowia i Światowej Organizacji Handlu o dobrowolne licencjonowanie i transfer technologii do produkcji szczepionek. W przeciwnym razie powinni poprzeć natychmiastowe zrzeczenie się niektórych praw własności intelektualnej zgodnie z zasadami WTO – ruch ostatnio poparty przez prezydenta USA Joe Bidena.
Subscribe to PS Digital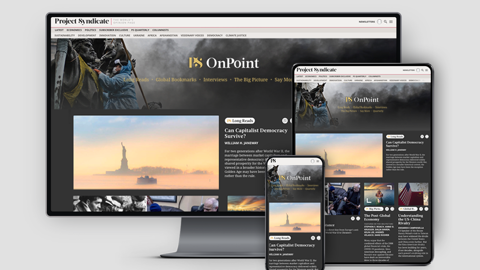 Subscribe to PS Digital
Access every new PS commentary, our entire On Point suite of subscriber-exclusive content – including Longer Reads, Insider Interviews, Big Picture/Big Question, and Say More – and the full PS archive.
Niestety, podczas ostatniego szczytu w Wielkiej Brytanii przywódcy G7 nie wykazali zrozumienia skali swojej odpowiedzialności za przeciwdziałanie nierównościom zaostrzonym przez pandemię. Mówiąc szerzej, COVID-19 ujawnił niedociągnięcia wąskiego nacjonalizmu i populistycznej polityki, które lekceważą dowody naukowe i empatię. Żaden kraj, niezależnie od jego potęgi czy wielkości, nie jest w stanie samodzielnie skutecznie poradzić sobie z zagrożeniem dla zdrowia publicznego.
Istotne jest, aby przywódcy uczyli się na swoich błędach i stosowali się do zaleceń niezależnego panelu ekspertów ds. gotowości i reakcji na pandemię. Tylko właściwie finansowane, zintegrowane i zorganizowane systemy opieki zdrowotnej będą w stanie wytrzymać przyszłe pandemie i nagłe wypadki zdrowotne.
Jednak w obecnej sytuacji niepowodzenia bogatego świata w walce z COVID-19 zwiększyły deficyt zaufania między globalną Północą a Południem. To z kolei utrudni osiągnięcie porozumienia na następnym krytycznym międzynarodowym spotkaniu dyplomatycznym: szczycie klimatycznym COP26 w Glasgow w listopadzie.
Wszystkie kraje muszą zwiększyć swoje krótkoterminowe cele redukcji emisji przed COP26, a my wciąż czekamy, aż główni emitenci to zrobią. Ponadto bogate kraje muszą odbudować zaufanie, pokazując, w jaki sposób zwiększą swoje wkłady finansowe na rzecz klimatu – w tym większy udział na rzecz adaptacji – aby zapewnić od dawna obiecane 100 miliardów dolarów rocznie, aby pomóc krajom rozwijającym się w walce z globalnym ociepleniem i jego skutkami.
We wspólnych wyzwaniach, przed którymi stoimy w obronie praw człowieka, przezwyciężaniu pandemii i kryzysie klimatycznym, przebiegają dwa wspólne wątki: potrzeba czujności wobec samozadowolenia oraz odpowiedzialność za działanie dla większego dobra. W tych czasach próby wszyscy możemy czerpać inspirację od przywódcy, który nigdy nie zachwiał się w swoim zaangażowaniu na rzecz praw człowieka i sprawiedliwości: Nelsona Mandeli.
To ironia historyczna, że Powszechna Deklaracja Praw Człowieka została przyjęta w tym samym roku, w którym Republika Południowej Afryki ustanowiła swój reżim apartheidu. Jednak Mandela natychmiast dostrzegł siłę i potencjał deklaracji. Przemawiając w 1997 roku jako prezydent RPA stwierdził, że "Dla wszystkich przeciwników tego zgubnego systemu proste i szlachetne słowa Powszechnej Deklaracji były promykiem nadziei w jednym z naszych najgorszych momentów."
Dziś bardziej niż kiedykolwiek musimy na nowo odkryć i potwierdzić zasady solidarności i wspólnego wysiłku zawarte w deklaracji, które Mandela z taką mocą wyrażał przez całe swoje życie. Naszym zadaniem nie jest teraz "lepsze odbudowanie," ponieważ nie możemy odbudować się od status quo ante, który stworzył niesprawiedliwe i dysfunkcjonalne systemy. Musimy raczej "lepiej budować naprzód," kierując nasze wysiłki z nadzieją, dyscypliną i determinacją, aby zbudować zrównoważony, pokojowy i sprawiedliwy świat dla przyszłych pokoleń.
Z angielskiego przetłumaczyła Marz McNamer