Europa auf der geopolitischen Bruchlinie
MADRID – Vor zwei Monaten äußerte UN-Generalsekretär António Guterres in seiner Ansprache vor der Generalversammlung der Vereinten Nationen seine Befürchtung, dass ein "großer Bruch" die internationale Ordnung in zwei "getrennte und konkurrierende Welten" spalten könnte, von denen eine von den Vereinigten Staaten und die andere von China dominiert wird. Seine Angst ist mehr als berechtigt: Die Kluft, die er fürchtet, ist bereits entstanden, und sie wird immer größer.
Nachdem Deng Xiaoping 1978 seine "Reform- und Öffnungspolitik" eingeleitet hatte, war die gängige Meinung im Westen, dass Chinas Integration in die Weltwirtschaft von selbst einen gesellschaftlichen und politischen Wandel im Inland bewirken würde. Das Ende des Kalten Krieges – ein offenkundiger Sieg für die von den USA angeführte freiheitliche internationale Ordnung – bekräftigte diesen Glauben, und der Westen verfolgte weitgehend eine Politik des Engagements gegenüber China. Nachdem China 2001 Mitglied der Welthandelsorganisation wurde, beschleunigte sich dieser Prozess und westliche Unternehmen und Investitionen strömten ins Land, während billig hergestellte Produkte aus dem Land herausflossen.
Als Chinas Rolle in den globalen Wertschöpfungsketten größer wurde, führten seine problematischen Handelspraktiken – von Waren, die zu Dumpingpreisen auf westliche Märkte geworfen wurden bis hin zum fehlenden Schutz geistiger Eigentumsrechte – zunehmend zu Verzerrungen. Doch kaum jemand hat auch nur mit der Wimper gezuckt. Niemand, so schien es, wollte die Gewinne aufs Spiel setzen, die sich aus der billigen chinesischen Fertigung ergaben oder das Versprechen des Zugangs zum riesigen chinesischen Markt gefährden. Auf jeden Fall, so die Überlegung, würden sich die Probleme von selbst lösen, denn wirtschaftliches Engagement und Wachstum würden bald eine prosperierende chinesische Mittelschicht hervorbringen, die die innenpolitische Liberalisierung voranbringen würde.
Inzwischen steht fest, dass es sich um Wunschdenken gehandelt hat. Tatsächlich hat China das internationale System viel mehr verändert als das System China.
Heute ist die Kommunistische Partei Chinas mächtiger denn je, flankiert von einem weitreichenden, von künstlicher Intelligenz gesteuerten Überwachungsapparat und der anhaltenden Dominanz staatlicher Unternehmen. Präsident Xi Jinping hat sich auf eine längere – wenn nicht sogar lebenslange – Amtszeit eingestellt. Und wie US-Präsident Donald Trump während seines unglückseligen Handelskrieges erfahren musste, ist es schwieriger denn je, China Zugeständnisse abzuringen.
Die auf Regeln basierende internationale Ordnung schleppt sich derweil nur mühsam dahin, ohne Tatkraft und ohne Ziel. Die Schwellen- und Entwicklungsländer sind enttäuscht von mangelnden Bemühungen, institutionelle Vereinbarungen mit den neuen wirtschaftlichen Gegebenheiten in Einklang zu bringen. Die entwickelten Volkswirtschaften ihrerseits kämpfen mit einer Gegenreaktion auf die Globalisierung, die nicht nur ihre Unterstützung für die Liberalisierung des Handels und die internationale Zusammenarbeit geschwächt, sondern auch ihre Demokratien erschüttert hat. Die USA haben sich nach und nach aus der globalen Führung zurückgezogen.
Subscribe now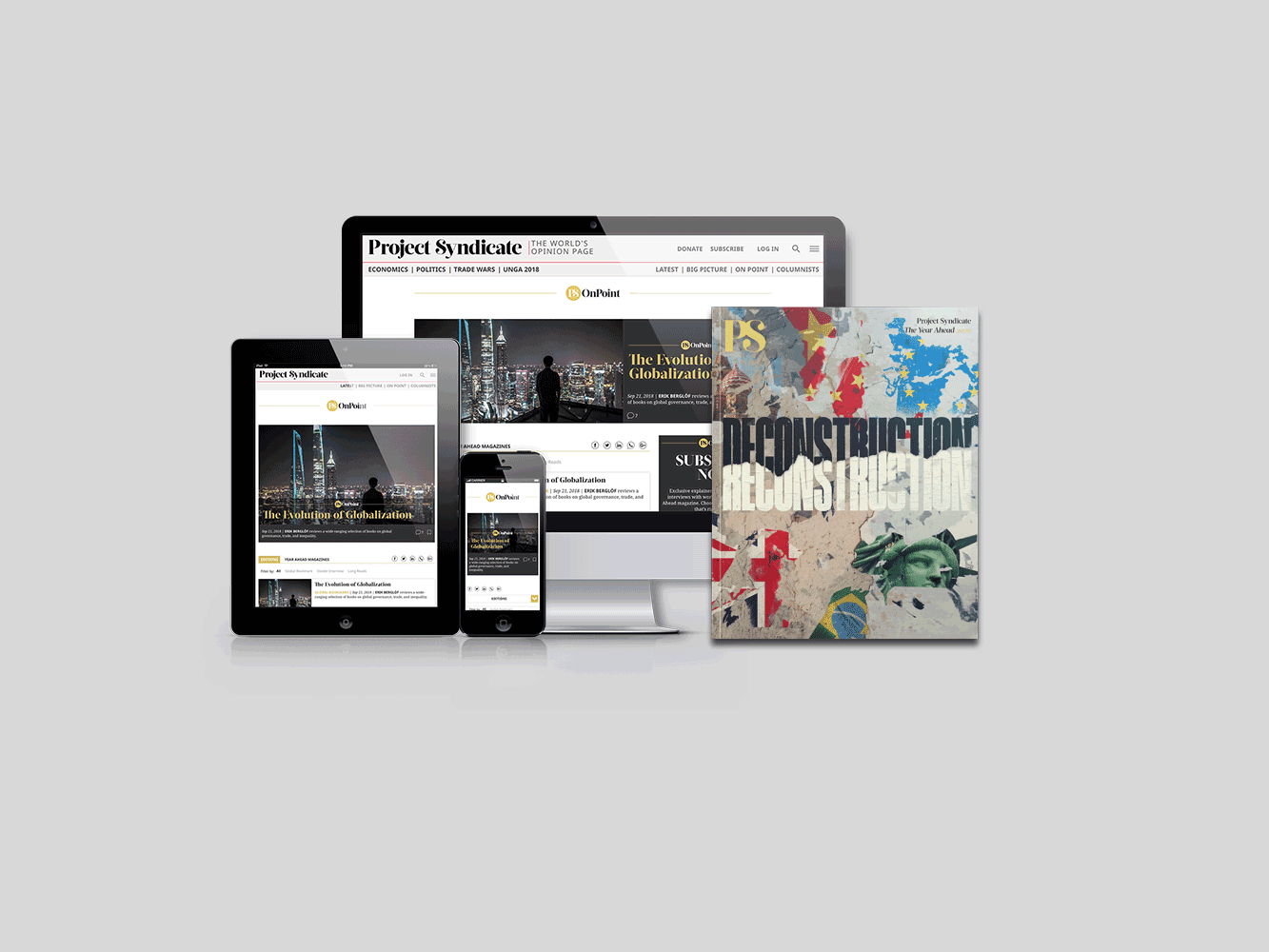 Subscribe now
Subscribe today and get unlimited access to OnPoint, the Big Picture, the PS archive of more than 14,000 commentaries, and our annual magazine, for less than $2 a week.
Infolgedessen haben die internationalen Beziehungen einen weitgehend transaktionalen Charakter angenommen, wobei von Fall zu Fall getroffene Abmachungen an die Stelle von ganzheitlichen, kooperativen Lösungen treten. Institutionen und Vereinbarungen werden oberflächlicher und informeller. Werte, Regeln und Normen werden zunehmend als unnütze Folklore abgetan.
Auf diese Weise hat sich für China die einmalige Gelegenheit ergeben, mit der Errichtung eines Parallelsystems zu beginnen, in dem es selbst im Mittelpunkt steht. Zu diesem Zweck hat es Institutionen wie die Asian Infrastructure Investment Bank und die New Development Bank geschaffen, die beide den bereits existierenden internationalen Strukturen nachempfunden sind. Und sie setzt die großangelegte "Belt and Road Initiative" zum Auf- und Ausbau interkontinentaler Handels- und Infrastrukturnetze fort – ein unübersehbarer Versuch, sich als neues Reich der Mitte zu positionieren.
Trotzdem sind viele, auch in Europa, nicht besonders besorgt angesichts der Entstehung dieses parallelen Systems. Solange es den Zugang zu Projektfinanzierungen erleichtert, ist es für sie in Ordnung. Da sich Europa zunehmend von den USA entfremdet, glauben viele Europäer zudem, dass sie ihre strategische Position verbessern können, indem sie sich im Grenzraum zwischen den beiden Welten positionieren.
Diese Strategie kann einige Vorteile bieten, einschließlich Möglichkeiten der Arbitrage. Aber wie jeder, der auf einer Bruchlinie lebt, weiß, gibt es auch gewaltige Risiken: Reibung zwischen den beiden Seiten wird die Fundamente dessen erschüttern, was sich oberhalb der Bruchlinie befindet.
Dies gilt insbesondere für die Europäische Union, die auf einem Bekenntnis zur Zusammenarbeit, gemeinsamen Werten und Rechtsstaatlichkeit beruht. Wenn die EU dabei hilft, eine parallele Struktur zu errichten, die im Widerspruch zu ihren Grundwerten steht, insbesondere der zentralen Bedeutung der Rechte des Einzelnen, besteht die Gefahr, dass sie ihre metapolitischen Verankerungen kappt – die Überzeugungen, die ihre Weltanschauung begründen. Ein Europa, das den Wellen überlassen ist, wird irgendwann untergehen.
Die Lösung besteht nicht darin, dass sich Europa einfach auf die "Seite" Amerikas schlägt und China den Rücken kehrt. (Auch das würde den europäischen Werten zuwiderlaufen.) Vielmehr muss die EU dem Aufruf Guterres' folgen, "alles zu tun, was möglich ist, um ein allgemeingültiges System aufrechtzuerhalten", in dem alle Akteure, einschließlich China und der USA, die gleichen Regeln befolgen.
In diesem Sinne ist die jüngste gemeinsame Erklärung von Xi und dem französischen Präsidenten Emmanuel Macron, in der sie ihre starke Unterstützung für das Pariser Klimaabkommen bekräftigen, ebenso vielversprechend wie Europas wachsende Erkenntnis, dass China nicht nur ein Partner oder wirtschaftlicher Konkurrent ist, sondern auch ein "Systemrivale". Aber das ist nur ein Anfang. Europa braucht eine robuste China-Strategie, die die tiefgreifenden, oft subtilen Herausforderungen, die der Aufstieg des Landes mit sich bringt, erkennt, die damit verbundenen Risiken mindert und die entscheidenden Chancen nutzt.
Um dies zu erreichen, bedarf es einer Perspektive und Disziplin, die für die EU beide nicht selbstverständlich sind. Aber es gibt keine andere Wahl. Sobald Europa aufhört, die Rechtsstaatlichkeit und die demokratischen Werte zu verteidigen, wird der Zerfall seiner Identität – und seiner Zukunft – einsetzen.
Aus dem Englischen von Sandra Pontow