Unijny Podatek Graniczny od Emisji Dwutlenku Węgla Może Zaszkodzić Krajom Rozwijającym się
STANFORD - W lipcu 2021 roku Komisja Europejska zrobiła coś, czego nie próbował wcześniej żaden inny duży organ władzy: Powiązała politykę handlową z polityką klimatyczną. Osiągnięcie celu Unii Europejskiej, jakim jest ograniczenie emisji gazów cieplarnianych netto o 55% do 2030 r., będzie wymagało od UE zmniejszenia emisji zarówno w kraju, jak i poza jego granicami. W tym celu, inicjatywa Komisji "Fit for 55" - pakiet propozycji mających na celu osiągnięcie celu redukcji emisji we Wspólnocie - obejmuje mechanizm dostosowania emisji dwutlenku węgla na granicach (CBAM - ang.: carbon border adjustment mechanism) - podatek importowy mający na celu nakłonienie innych krajów do zajęcia się zmianami klimatycznymi.
W ramach CBAM importowane towary sprzedawane na rynkach UE byłyby opodatkowane na podstawie zawartości węgla (emisji potrzebnych do ich wyprodukowania), która zależy od nakładów materiałowych i energetycznych. Proponowana opłata ma na celu przeciwdziałanie tzw. wycieku emisji, która ma miejsce, gdy przedsiębiorstwa w UE przenoszą produkcję do krajów, które nie są członkami Unii i w których obowiązują mniej rygorystyczne przepisy dotyczące emisji.
Innymi słowy, Europa nie będzie już ignorować wpływu zagranicznych towarów na klimat. Jednak, choć środek ten może przyczynić się do ograniczenia emisji i wyrównania szans konkurencyjnych firm z UE, protekcjonizm handlowy, który się z nim wiąże, może zaszkodzić krajom rozwijającym się.
CBAM będzie początkowo dotyczył najbardziej narażonych na ryzyko ucieczki emisji branż: hutnictwa żelaza i stali, cementu, nawozów, aluminium i wytwarzania energii elektrycznej, a w najbliższych latach zostanie prawdopodobnie rozszerzony na inne sektory. Obecnie produkty wytwarzane w tych gałęziach przemysłu w UE są opodatkowane krajową ceną emisji dwutlenku węgla, natomiast produkty pochodzące spoza bloku nie są opodatkowane. Jeśli w danym kraju obowiązuje już krajowa cena emisji dwutlenku węgla, podatek graniczny zostanie obniżony lub zniesiony; ma to zachęcić kraje do opodatkowania emisji dwutlenku węgla na ich własnych rynkach. Państwa, które nie mogą lub nie chcą wprowadzić podatku węglowego, będą musiały zapłacić pełną opłatę.
Unijny podatek będzie wprowadzany stopniowo w ciągu najbliższych czterech lat. Do 2023 r. importerzy będą zobowiązani do raportowania emisji zawartych w importowanych przez nich towarach, choć podatek od tych emisji zostanie nałożony dopiero w 2026 r. Roczne dochody z CBAM w wysokości 1 mld euro (1,1 mld dolarów), jak również 9 mld euro rocznie z unijnego systemu handlu uprawnieniami do emisji w latach 2023-2030 oraz z podatków od korporacji międzynarodowych, wesprą unijny fundusz na rzecz odbudowy po pandemii COVID-19 o wartości 750 mld euro. Te nowe źródła dochodów po raz pierwszy uwzględnią w budżecie Unii priorytety UE - w tym ekologiczną transformację.
Choć proponowany podatek nie został jeszcze zatwierdzony, już teraz wpływa na decyzje decydentów i przedsiębiorstw w krajach będących partnerami handlowymi UE. Na przykład Turcja i Indonezja planują wprowadzenie podatków od emisji dwutlenku węgla, aby złagodzić skutki CBAM dla ich gospodarek. Turcja jest bardzo narażona, ponieważ 41% jej eksportu pochodzi z UE. Indonezja eksportuje do UE olej palmowy i chemikalia o wartości miliardów euro - towary, które mogłyby zostać objęte szerszym podatkiem granicznym. Przyjęcie krajowej ceny emisji dwutlenku węgla pozwoli im uniknąć części lub całości podatku CBAM i zachować dochody z podatków zamiast przekazywać je do UE.
Introductory Offer: Save 30% on PS Digital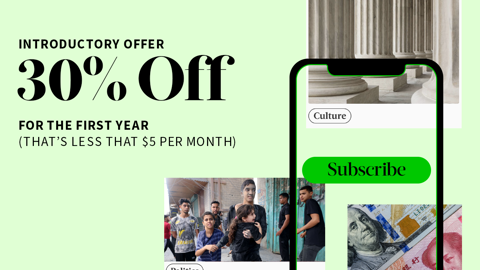 Introductory Offer: Save 30% on PS Digital
Subscribe now to gain greater access to Project Syndicate – including every commentary and our entire On Point suite of subscriber-exclusive content – starting at less than $5 per month.
Tymczasem niektóre firmy z siedzibą w UE, działające w takich branżach jak na przykład sprzęt komputerowy, szukają możliwości przeniesienia produkcji do innych krajów przed wprowadzeniem CBAM. Ich głównym motywem nie jest koszt podatku, lecz prawdopodobna złożoność, biurokracja i nieprzewidywalność systemu. Łatwiej i taniej dla firm jest przenieść produkcję do UE i uniknąć przeszkód administracyjnych, które może stworzyć CBAM.
Zmiany te będą korzystne dla unijnej gospodarki i środowiska. A inwazja Rosji na Ukrainę może przyspieszyć wysiłki UE na rzecz osiągnięcia większej samowystarczalności gospodarczej, między innymi poprzez zmniejszenie uzależnienia od energochłonnego importu rosyjskiego żelaza i stali.
Jednak gospodarki rozwijające się, które często są uzależnione od produktów przemysłowych, prawdopodobnie doświadczą odpływu działalności, ponieważ firmy będą przenosić się do UE. Zamiast zajmować się wyłącznie kwestią wycieku emisji i pozostawiać krajom rozwijającym się możliwość dostosowania się do zmian w najlepszy możliwy sposób, UE powinna przeznaczyć część przychodów z proponowanego mechanizmu CBAM na pomoc we wspieraniu sprawiedliwej transformacji ekologicznej w biedniejszych krajach.
Dekarbonizacja energochłonnych towarów, takich jak cement i stal, nie jest łatwa ani tania. UE może jednak zapobiec negatywnemu efektowi domina dla gospodarek rozwijających się - nie tylko czekając, aż kraje o niższych dochodach wprowadzą własne podatki od emisji dwutlenku węgla (co będzie wyzwaniem, biorąc pod uwagę ich ograniczone możliwości administracyjne w tej dziedzinie), ale także wspierając te kraje, które najbardziej potrzebują pomocy w ograniczaniu emisji.
Takie wsparcie można zapewnić poprzez przeznaczenie środków i technologii na poprawę efektywności procesów przemysłowych, finansowanie projektów związanych z energią odnawialną oraz, w razie potrzeby, zwolnienie najbiedniejszych krajów z CBAM. UE powinna również przeznaczyć część przychodów z CBAM na pomoc krajom rozwijającym się we wdrażaniu czystszych technologii - na przykład w produkcji bardziej ekologicznego cementu w Wietnamie lub chemikaliów w Indonezji - a tym samym w długoterminowym ograniczaniu emisji.
Europa postrzega siebie jako światowego lidera w wyścigu do zerowej emisji netto. Pomagając w finansowaniu ekologicznych przemian w krajach rozwijających się, UE mogłaby złagodzić zagrożenie protekcjonizmem w swoim własnym programie działań na rzecz klimatu.
Z angielskiego przetłumaczyła Marz McNamer