Uhlíková daň na hranicích EU by mohla poškodit rozvojové země
STANFORD – V červenci 2021 učinila Evropská komise něco, o co se žádný velký orgán nikdy dříve nepokusil: navázala obchodní politiku na politiku klimatickou. Dosažení unijního cíle snížit do roku 2030 čisté emise skleníkových plynů o 55% bude vyžadovat, aby EU omezovala emise nejen doma, ale i v zahraničí. Z tohoto důvodu komise do své iniciativy Fit for 55, balíku návrhů zaměřených na splnění cíle v podobě snížení emisí v unijním bloku, zahrnula také takzvaný mechanismus uhlíkového vyrovnání na hranicích (CBAM) – jakousi dovozní daň mající přimět další země k řešení otázky klimatických změn.
CBAM by zdaňoval dovezené zboží prodávané na trzích v EU na základě jejich uhlíkového obsahu (emisí potřebných k jeho výrobě), který závisí na jeho materiálových a energetických vstupech. Cílem navrhovaného poplatku je vyřešit takzvané uhlíkové úniky, k nimž dochází v případech, kdy firmy v EU přesunou výrobu do nečlenských zemí s méně přísnými emisními pravidly.
Jinými slovy by Evropa přestala ignorovat klimatické dopady zahraničního zboží. Takové opatření by sice mohlo přispět ke snížení emisí a srovnat konkurenční podmínky pro firmy sídlící v EU, avšak hrozí riziko, že obchodní protekcionismus spojený s tímto opatřením poškodí rozvojové země.
CBAM se zpočátku bude týkat oborů s nejvyššími emisemi a s nejvyšším rizikem úniku – výroby železa a oceli, cementu, hnojiv, hliníku a elektrické energie – a v nadcházejících letech se pravděpodobně rozšíří i do dalších sektorů. Produkty vyrobené v těchto sektorech v EU se v současné době zdaňují podle domácí ceny uhlíku, avšak výrobky s původem mimo unii nikoliv. Pokud už určitá země domácí cenu uhlíku má, pak se hraniční daň sníží nebo zruší; tento krok má povzbudit státy, aby zdaňovaly uhlík už na vlastních trzích. Země, které uhlíkovou daň nezavedou nebo zavést nemohou, budou muset platit plný poplatek.
Unijní daň se bude postupně zavádět během následujících čtyř let. Dovozcům vznikne do roku 2023 povinnost hlásit emise obsažené v dováženém zboží, přičemž však daň z těchto emisí se zavede až od roku 2026. Očekávané roční příjmy CBAM ve výši jedné miliardy eur se stejně jako 9 miliard eur v ročních očekávaných výnosech ze systému obchodování s emisemi v EU v letech 2023-2030 a stejně jako výnosy ze zdanění nadnárodních korporací použijí na podporu unijního fondu pandemického zotavení Covid-19 v objemu 750 miliard eur. Tyto nové zdroje příjmu budou v unijním rozpočtu vůbec poprvé odrážet priority EU – včetně přechodu na zelenou energii.
Navržená daň sice ještě nebyla schválena, ale už dnes ovlivňuje rozhodování politiků a firem v partnerských zemích EU. Například Turecko a Indonésie plánují zavedení uhlíkové daně, aby zmírnily dopady CBAM na vlastní ekonomiku. Turecko je vůči nové dani silně exponované, protože EU představuje 41% jeho vývozu. Indonésie vyváží do EU palmový olej a chemické produkty v hodnotě několika miliard eur a tohoto zboží by se širší hraniční daň mohla dotknout. Schválení domácí ceny uhlíku umožní oběma zemím vyhnout se částečně nebo i zcela CBAM a udržet si daňové výnosy doma, místo aby je převáděly do EU.
Introductory Offer: Save 30% on PS Digital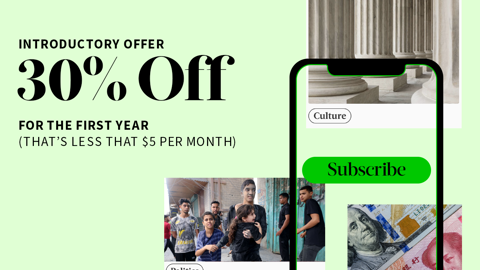 Introductory Offer: Save 30% on PS Digital
Subscribe now to gain greater access to Project Syndicate – including every commentary and our entire On Point suite of subscriber-exclusive content – starting at less than $5 per month.
Některé firmy sídlící v EU a podnikající v oborech, jako je počítačový hardware, zase uvažují o převedení výrobních provozů zpět do unie před zavedením CBAM. Jejich hlavním motivem přitom není daň samotná, ale spíše komplikovanost, byrokracie a nepředvídatelnost spojené s novým systémem. Pro firmy je jednodušší a levnější přesunout výrobu do EU a vyhnout se administrativním překážkám, které by CBAM mohla vytvořit.
Takové přesuny budou výhrou pro ekonomiku EU i pro životní prostředí. A ruská invaze na Ukrajinu by mohla urychlit snahu EU o dosažení větší ekonomické soběstačnosti, mimo jiné i snížením vlastní závislosti na energeticky intenzivním dovozu ruského železa a oceli.
Naopak rozvojové země, které jsou často na výrobním zboží závislé, pravděpodobně zažijí odliv ekonomické aktivity, neboť firmy se budou přesouvat do EU. Místo aby tedy unie řešila pouze uhlíkové úniky a nechávala na rozvojových státech, ať se samy adaptují, jak nejlépe dovedou, měla by vyhradit část příjmů z navrhovaného CBAM na podporu spravedlivého přechodu na zelenou energii v chudších zemích.
Dekarbonizovat energeticky náročné obory, jako je výroba cementu a oceli, není snadné ani levné. EU by však mohla zabránit negativním řetězovým dopadům na rozvojové země – nejen čekáním na to, až státy s nižšími příjmy zavedou vlastní uhlíkové daně (což bude vzhledem k jejich omezené administrativní kapacitě v oboru problém), ale i podporou těch, kdo se snižováním emisí potřebují nejvíce pomoci.
Taková podpora by se dala poskytnout vyhrazením prostředků a technologií vedoucích ke zlepšení účinnosti průmyslových procesů, financováním projektů obnovitelné energie nebo vyjmutím nejchudších zemí z CBAM všude tam, kde to bude nezbytné. EU by také měla vyčlenit část výnosů z CBAM na pomoc rozvojovým zemím při zavádění čistších technologií – například při výrobě zelenějšího cementu ve Vietnamu nebo chemických produktů v Indonésii –, a tím dlouhodobě snížit emise.
Evropa v sobě vidí globálního lídra v honbě za nulovými čistými emisemi. Kdyby však EU pomohla financovat přechod na zelenou energii v rozvojovém světě, mohla by zmírnit protekcionistickou hrozbu ve vlastní klimatické agendě.
Z angličtiny přeložil Jiří Kobělka