Klucz do Zrównoważonych Systemów Żywnościowych
SAN FRANCISCO/ADDIS ABABA - Struktura naszego globalnego systemu żywnościowego pęka pod naporem zmian klimatycznych i stale rosnącej populacji. Aby zapobiec jego rozpadowi, musimy przyjąć rozproszone rozwiązania w zakresie energii odnawialnej, które mają kluczowe znaczenie dla ograniczenia emisji gazów cieplarnianych (GHG), zwiększenia odporności i produktywności oraz obniżenia kosztów. Zaniechanie tego zagroziłoby wysiłkom na rzecz osiągnięcia Celów Zrównoważonego Rozwoju ONZ (SDGs) i zagroziłoby naszemu przetrwaniu.
W połowie drogi do terminu wyznaczonego na rok 2030, postępy w realizacji celów zrównoważonego rozwoju SDGs - pomyślanych jako "wspólny plan na rzecz pokoju i dobrobytu dla ludzi i planety" - są znacznie opóźnione. W lipcu na Forum Politycznym Wysokiego Szczebla ONZ w sprawie Zrównoważonego Rozwoju w Nowym Jorku oraz na Szczycie Systemów Żywnościowych ONZ +2 Moment Podsumowujący w Rzymie podkreślono znaczenie zapewnienia dostępu do nowoczesnej energii (SDG 7) i osiągnięcia zerowego głodu (SDG 2).
Jeśli chodzi o wzmocnienie długoterminowej odporności i zdolności adaptacyjnych globalnego systemu żywnościowego, te dwa cele są ze sobą powiązane. Przełożenie tego na politykę publiczną nabrało nowej pilności, biorąc pod uwagę, że szybkie globalne ocieplenie, wzrost liczby ludności, kryzysy zdrowia publicznego, niestabilne rynki energii i konflikty ujawniły wyjątkowe słabości i niedociągnięcia systemu żywnościowego.
Wcześniejsze rozwiązania i podejścia nie będą już działać, a wręcz przeciwnie - przyczyniły się do obecnych problemów. Wcześniejsze obawy o podaż żywności - w tym wysokie ceny podczas globalnego kryzysu finansowego z 2008 roku - niezmiennie prowadziły do intensyfikacji i mechanizacji rolnictwa, a także do zwiększenia użytkowania gruntów. W rezultacie agrobiznes (w tym produkcja, transport i przechowywanie żywności) odpowiada dziś za około jedną trzecią wszystkich emisji gazów cieplarnianych, co z kolei zagraża przyszłości rolnictwa.
Podczas gdy skutki zmian klimatycznych są odczuwalne w całym globalnym systemie żywnościowym, są one nieproporcjonalnie ponoszone przez tych, którzy są najmniej odpowiedzialni za ten problem: drobnych rolników na Globalnym Południu. Na przykład Afryka Subsaharyjska, która opiera się na rolnictwie deszczowym, już doświadcza jednej trzeciej susz na świecie i jest narażona na wyższe temperatury i inne ekstremalne warunki pogodowe. Międzynarodowy Fundusz Walutowy stwierdził, że pojedyncza susza może obniżyć średnioterminowy potencjał wzrostu gospodarczego kraju afrykańskiego o jeden punkt procentowy.
Wniosek ten odzwierciedla kluczową rolę rolnictwa w krajach rozwijających się: w niektórych najsłabiej rozwiniętych krajach odpowiada ono za ponad 25% PKB, podczas gdy 52% zatrudnionych w Afryce Subsaharyjskiej jest aktywnych w tym sektorze. Biorąc to pod uwagę, osiągnięcie zrównoważonej i przyjaznej dla klimatu produkcji żywności w krajach Globalnego Południa może prowadzić do znacznej poprawy dobrobytu. Będzie to wymagało przejścia na rozproszoną energię odnawialną, która może być wykorzystywana w produkcji podstawowej, przetwarzaniu po zbiorach, przechowywaniu i gotowaniu - działalności rolniczej, która zwykle zużywa najwięcej energii w krajach rozwijających się.
Introductory Offer: Save 30% on PS Digital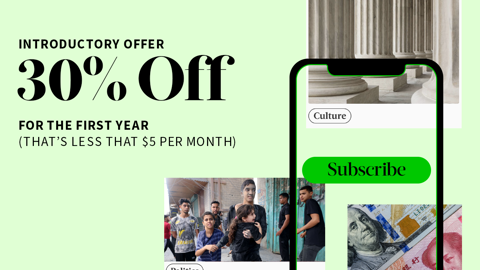 Introductory Offer: Save 30% on PS Digital
Subscribe now to gain greater access to Project Syndicate – including every commentary and our entire On Point suite of subscriber-exclusive content – starting at less than $5 per month.
Z pewnością zdecentralizowana energia odnawialna nie jest panaceum. Może jednak znacząco przyczynić się do stabilizacji globalnego systemu żywnościowego poprzez obniżenie kosztów energii, co jest kluczowym czynnikiem zwiększającym produktywność; poprzez ułatwienie finansowania zastosowań produkcyjnych, co może zdemokratyzować dostęp do technologii zwiększających wydajność; oraz poprzez zmniejszenie emisji gazów cieplarnianych i promowanie adaptacji do zmian klimatu. Zmniejszenie zależności od paliw kopalnych i decentralizacja produkcji energii może także pomóc zmienić globalną dynamikę władzy w systemie żywnościowym.
Na przykład nawadnianie zasilane energią słoneczną znacznie poprawiło dostęp do wody i umożliwiło wielokrotne cykle upraw, zwiększając produktywność i zmniejszając emisje gazów cieplarnianych. Pompy zasilane energią słoneczną zwiększyły dochody rolników o ponad 50% w Indiach i doprowadziły do znacznego wzrostu plonów w Rwandzie. Etiopskie Ministerstwo Nawadniania i Nizin - którym kieruje jedna z autorek - niedawno zakazało importu pomp irygacyjnych z silnikiem wysokoprężnym, aby wesprzeć szybkie przejście na rozwiązania wykorzystujące energię odnawialną.
W Afryce Subsaharyjskiej młynki słoneczne mogą sprawić, że mielenie ziarna na mąkę będzie bardziej wydajne, przystępne cenowo i zrównoważone. Ponadto rozbudowa mini-sieci w celu zasilania procesów po zbiorach może przynieść więcej korzyści ekonomicznych i środowiskowych, umożliwiając społecznościom lokalne przechowywanie swoich produktów.
Przechowywanie w chłodni i chłodzenie mają kluczowe znaczenie dla wydłużenia okresu przydatności do spożycia, ograniczenia strat żywności i utrzymania jakości produktów. Zdecentralizowane rozwiązania chłodnicze zasilane energią odnawialną mogą poprawić dostęp do rynku i ograniczyć psucie się żywności dla drobnych rolników i odległych społeczności. Przekształcając istniejącą infrastrukturę w odnawialne źródła energii, możemy zmniejszyć emisję gazów cieplarnianych i sprawić, że łańcuchy chłodnicze będą bardziej przyjazne dla środowiska i przystępne cenowo.
Wszystkie powyższe przykłady pokazują różnorodne zastosowania rozproszonej energii odnawialnej, a każde rozwiązanie przyczynia się do bardziej odpornego, zrównoważonego i przyjaznego dla klimatu systemu żywnościowego. Zwiększając skalę tych innowacji, możemy sprostać wyzwaniom energetycznym, przed którymi stoją drobni rolnicy, przetwórcy i konsumenci, jednocześnie zmniejszając nasz ślad węglowy.
Wzmocnienie struktury naszego globalnego systemu żywnościowego wymaga nowych ram zaprojektowanych w celu ograniczenia użytkowania gruntów, zwiększenia produktywności, zminimalizowania strat żywności i ograniczenia emisji gazów cieplarnianych. Jego podstawą musi być energia odnawialna. W przeciwnym razie kraje rozwijające się nie będą w stanie zwiększyć plonów rolnych i położyć kresu głodowi, zatrzymać i odwrócić degradacji środowiska ani zdemokratyzować dostępu do energii.
Z angielskiego przetłumaczyła Marz McNamer