Krach klimatické bezpečnosti
GABORONE – Vedoucí světoví představitelé, diplomaté, zpravodajští činitelé a akademici se v únoru sjeli do Německa na každoroční Mnichovskou bezpečnostní konferenci, která se odehrála v atmosféře běsnící války v Evropě a zvýšených geopolitických napětí. V důsledku toho byly těžištěm konference tradiční bezpečnostní hrozby. To je sice pochopitelné, ale zároveň je to zklamání.
Diskusím na konferenci dominovaly první výročí ruské invaze na Ukrajinu spolu s hromadnou migrací a příchodem nové studené války, přičemž o otázky typu adaptace na klimatické změny nebo zelených financí nebyl valný zájem. Vzhledem k tomu, že organizátoři definovali jako jedno z letošních témat transformaci vztahů mezi globálním Severem a Jihem, představuje nedostatek zájmu o zmírnění nejhorších následků globálního oteplování promeškanou příležitost. A co je ještě důležitější, odráží hluboké nepochopení největší hrozby, jaké dnes naše planeta čelí.
Není to poprvé, co zpravodajská komunita podceňuje závažnou (byť netradiční) hrozbu. Stejně jako konference v roce 2019 ignorovala riziko pandemie, také letošní konference do značné míry opominula systémová rizika spojená s klimatickými změnami – včetně hospodářského úpadku, nízké potravinové bezpečnosti či nuceného přesídlování.
Na rozdíl od hypotetické hrozby pandemie v roce 2019 však klimatické změny už dnes ničí svět. Čtyřicet procent firem z žebříčku S&P 500 zažilo v roce 2021 narušení dodavatelských řetězců a očekává se, že loňské ničivé záplavy v Pákistánu sníží v letošním roce produkci rýže v zemi o 7%. To ještě prohloubí potravinovou nejistotu a přiživí politickou nestabilitu v zemích, které jsou odkázané na dovoz pákistánské rýže, jako jsou Afghánistán, Kazachstán nebo Keňa.
Extrémní meteorologické jevy jsou stále častější a intenzivnější a nejtvrději jimi pravděpodobně budou postiženy rozvojové země. Loni záplavy zpustošily jihoafrický přístav Durban a přerušily globální dodávky kobaltu a dalších komodit. Supertajfun v Tchaj-wanu nebo v průmyslovém srdci Číny by ochromil globální produkci polovodičů, stejně jako ničivé záplavy v Thajsku v roce 2011 narušily dodávky počítačových disků a způsobily prudký růst cen automobilů, fotoaparátů a telefonů.
Chceme-li zvýšit globální bezpečnost a odolnost, musíme si uvědomit, že finance na adaptaci jsou "nevyhnutelnou nezbytností", jak stojí v nedávné zprávě zajišťovny Swiss Re (a jak loni v Egyptě potvrdila Konference OSN o změně klimatu, když přijala Šarm-aš-šajšskou adaptační agendu). Podle OSN je objem mezinárodních financí putujících do rozvojových zemí na programy klimatické adaptace 5-10krát nižší, než jaký by byl zapotřebí. A tato propast se rozšiřuje: očekává se, že potřeby klimatické adaptace v rozvojových zemích se do roku 2030 zvýší na 160-340 miliard dolarů ročně a do roku 2050 na 315-565 miliard dolarů ročně.
Subscribe to PS Digital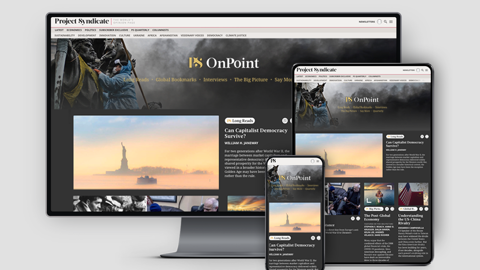 Subscribe to PS Digital
Access every new PS commentary, our entire On Point suite of subscriber-exclusive content – including Longer Reads, Insider Interviews, Big Picture/Big Question, and Say More – and the full PS archive.
Naštěstí si vlády stále více uvědomují naléhavou potřebu navýšení financí na zmírňování následků klimatických změn a adaptaci na ně. Nepostupují však natolik rychle, aby dokázaly ochránit své dodavatelské řetězce před zákonitými disrupcemi. Například Komise pro klimatické změny, která radí britské vládě, loni v listopadu doporučila, aby Velká Británie nabídla finanční podporu zemím, na nichž je závislá v oblasti dovozu klíčových potravin. Komise v nedávné zprávě varovala, že téměř 20% britského obchodu se opírá o klimaticky zranitelné země, a konstatovala, že prudký vzestup cen dovezených potravin by nejvíce zasáhl nejchudší obyvatele v zemi.
Tato analýza odráží podobné studie provedené v Německu a ve Švédsku, které vyzvaly rozvinuté země, aby snížily svou exponovanost vůči klimatickým rizikům, místo aby se soustředily na reakci na katastrofy. V době, kdy vlády vynakládají miliardy dolarů na posílení obranných rozpočtů, je však pokrok na této frontě přinejlepším loudavý, přestože zanedbání této existenční hrozby by mohlo mít katastrofální následky.
Chceme-li přežít naši éru "polykrize" – zrychlujících se klimatických změn, války, inflace a probíhající pandemie –, musíme výrazně investovat do zmírňování a adaptace. Rozvinuté země zároveň musí zvýšit úsilí a zasadit se o to, aby státy s nižšími příjmy, které stojí na frontové linii klimatických změn, dokázaly posílit vlastní odolnost. Financováním iniciativ, jako jsou Adaptační fond Africké rozvojové banky nebo fond Africa Climate Risk Facility, by mezinárodní společenství mohlo zajistit nejzranitelnějším populacím světa tolik potřebnou ochranu.
Tyto iniciativy jsou sice klíčové, avšak samy o sobě nestačí. Pro zacelení propasti klimatického financování v rozvojovém světě jsou nezbytné reformy úvěrové praxe v multilaterálních rozvojových bankách. Podpora inkluzivní zelené finanční infrastruktury, která by si dokázala poradit s blížící se globální krizí a připomínala by vznik brettonwoodských institucí po druhé světové válce, by nám pomohla odvrátit ekologickou a humanitární katastrofu.
A konečně klimatické změny představují obrovské riziko pro globální stabilitu. Máme-li dosáhnout dlouhodobé hospodářské odolnosti, je v národně-bezpečnostním zájmu každé země včetně těch nejbohatších podpořit zmírňovací a adaptační úsilí na globálním Jihu. Jak už jsme zjistili během pandemie covid-19, dokud nejsou v bezpečí všichni, není v bezpečí nikdo.
Z angličtiny přeložil Jiří Kobělka