Le monde arabe a besoin d'un débat du Brexit
BARCELONE – Depuis les trois dernières années, un monde confus assiste au compte à rebours du rebours de la sortie du Royaume-Uni de l'Union européenne, mieux connu sous le nom de Brexit. La sortie de l'UE va probablement avoir une grave incidence sur l'économie britannique. Pourtant, d'un point de vue arabe, le débat prolongé sur le Brexit n'est pas un signe d'échec politique. En revanche, seul un pays ayant une maturité politique aux racines aussi profondes que le Royaume-Uni peut espérer résister à une telle rupture dans les domaines juridique, commercial, voire même dans celui des relations sociales mises en place au cours du dernier demi-siècle.
Le monde arabe, en revanche, a été témoin d'au moins un grand événement comparable au Brexit chaque décennie depuis 1948 - et ces ruptures politiques, économiques et sociales ne semblent jamais guérir. Le premier épisode a été la création d'Israël et le « Brexit » du peuple palestinien hors du territoire qui est devenu l'État juif. Une grande partie de la Palestine historique a été abandonnée et ses habitants ont été destinés à vivre dans des camps pour les décennies à venir. Tout une économie arabe a disparu et Israël a été boycotté par ses voisins arabes.
Puis de 1952 à 1970, l'Égypte sous le président Gamal Abdel Nasser s'est lancée dans une expérience de nationalisation de son économie, qui défendait la substitution des importations et qui a considérablement affaibli les liens commerciaux du pays avec le reste de la région. Lorsque Anouar el-Sadate, le successeur de Nasser, a conclu un traité de paix avec Israël en 1979, les pays arabes ont puni l'Égypte par un boycott politique et économique.
Au cours de la même période, plusieurs autres grands États arabes, notamment l'Irak, la Syrie, la Libye et l'Algérie, se sont inspirés du modèle économique soviétique et ont restreint le commerce et les investissements du secteur privé. Contrairement aux 15 républiques qui composaient l'Union soviétique, les régimes du monde arabe, inspirés par les régimes soviétiques, n'ont pas développé le commerce entre eux : en fait, certains comme l'Irak et la Syrie se sont boycottés les uns les autres.
Lorsque l'économie politique du monde arabe n'est pas tombée en panne, sans pour autant prendre le chemin de l'autarcie, la géopolitique a infligé d'autres dommages. En 1990, les troupes irakiennes ont envahi et occupé le Koweït, qui était à l'époque l'économie la plus dynamique du monde arabe, privant ainsi ce pays de sa souveraineté. Suite à cela, l'Irak a subi des sanctions internationales et des forces armées sous commandement américain ont libéré le Koweït. Bien évidemment, en 2003, une coalition dirigée par les États-Unis a envahi et occupé l'Irak : une décision qui a entraîné l'ordre régional d'alors dans la tourmente et qui continue de l'affecter jusqu'à présent.
Durant le Printemps arabe de 2010 à 2016, la région a connu un processus accéléré de Brexit en chaîne, lorsque des manifestants dans plusieurs pays (Tunisie, Égypte, Libye, Syrie, Yémen et finalement Irak) ont recherché une liberté que de nombreux régimes considéraient comme illégitime. Pendant ce temps, les tensions politiques dans le reste du monde ont fermé la frontière entre l'Algérie et le Maroc aux affaires, ont rompu les liens commerciaux entre le Qatar et plusieurs pays du Golfe et ont isolé l'Iran sur le plan économique.
Subscribe now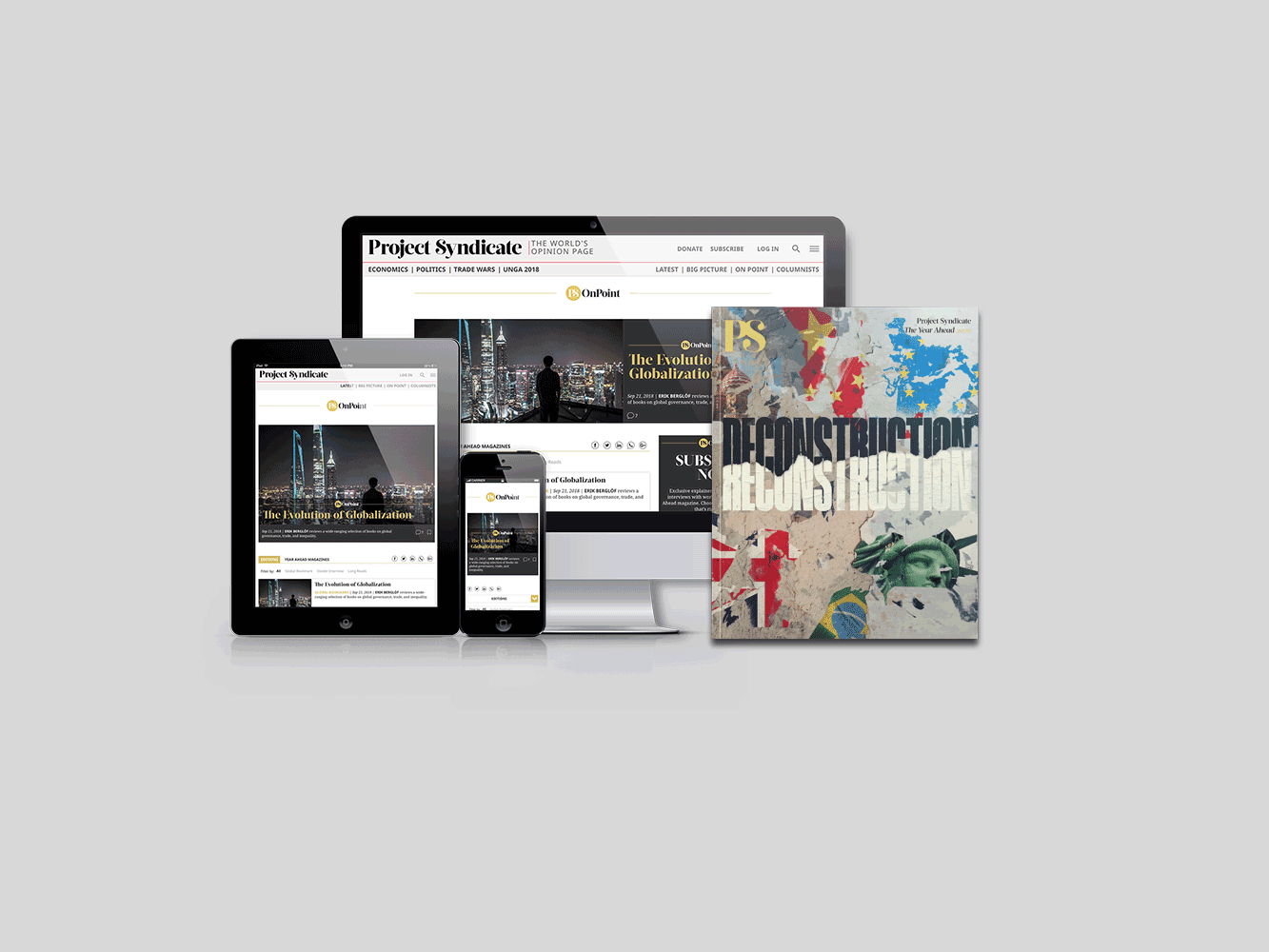 Subscribe now
Subscribe today and get unlimited access to OnPoint, the Big Picture, the PS archive of more than 14,000 commentaries, and our annual magazine, for less than $2 a week.
Les « Brexits » arabes surviennent sans mise en garde, sans négociation, sans délibération parlementaire ni débat médiatique et persistent habituellement des décennies durant. Mais à présent, l'incidence de ces catastrophes économiques auto-infligées saute douloureusement aux yeux.
En fait, les manifestations actuelles, les grèves et la violence dans plusieurs pays arabes semblent indiquer l'heure d'une prise de conscience. Ces troubles pourraient provoquer un Printemps arabe 2.0, centré cette fois, nous l'espérons, sur la prospérité plutôt que sur le pouvoir.
C'est le message qui semble se faire entendre à Bagdad, à Beyrouth et dans d'autres villes dans la région, où les manifestants réclament que les politiciens prennent du recul et laissent les technocrates prendre la direction des opérations. Bien qu'il puisse sembler naïf de s'attendre à ce que des experts en politique se comportent mieux que des politiciens professionnels, les Arabes en ont assez des systèmes politiques opaques dans lesquels ils ont peu sinon aucune influence sur les décisions qui affectent leur vie.
Un Printemps arabe 2.0 devrait donc déclencher un débat sur le genre d'avenir économique que veulent les citoyens, sur leur mode d'interaction avec leurs propres gouvernements et sur leurs relations avec les pays voisins. Bref, après des décennies d'impasse de type Brexit, les Arabes doivent débattre des mêmes questions que celles auxquelles les électeurs britanniques sont confrontés depuis le référendum de juin 2016.
Cela implique l'ouverture du processus de prise de décision politique vers un débat et une prise de position à l'échelle de la société. Un engagement plus large auprès des talents technocratiques peut permettre d'y distinguer ces innovateurs politiques dont la région a si cruellement besoin. Bien que le monde arabe manque actuellement d'institutions fortes et actives du type des groupes de réflexion qui galvanisent la prise de position des experts (comme ceux qui ont façonné le destin d'autres pays au cours de crises graves), cela n'est pas toujours le cas. Après tout, l'engagement politique n'est pas seulement une affaire d'élections et de représentation, mais concerne également une analyse attentive et informée des activités de prise de position.
Dans LaRépublique, Platon a écrit : « il n'y a pas de bon gouvernement tant que les philosophes ne sont pas rois et les rois, philosophes. » En même temps, il n'y a bien sûr aucune garantie que des technocrates arabes ne deviennent pas eux-mêmes des politiciens sans scrupules. Hitler et Staline, par exemple, ont manipulé la science pour justifier de grands projets d'ingénierie sociale qui ont tué des millions de personnes.
Mais sans un certain effort visant à dépolitiser les politiques publiques et à placer l'engagement social avant la garantie de l'application de mesures politiques, de nouveaux Brexits arabes, ainsi que le maintien du malaise économique, sont une certitude. Des manifestants à Bagdad, à Beyrouth et ailleurs appellent à une politique participative et à un débat ouvert. Leur appel ne doit pas rester sans réponse.