Realisme in het buitenlands beleid
CAMBRIDGE – Is de huidige crisis in Oekraïne veroorzaakt door een gebrek aan realisme in het buitenlands beleid van de VS? Volgens sommige analisten is de liberale wens om democratie te verspreiden de drijvende kracht achter de uitbreiding van de NAVO tot aan de grenzen van Rusland, waardoor de Russische president Vladimir Poetin zich steeds meer bedreigd voelt. Vanuit dit perspectief is het niet verwonderlijk dat hij reageert met het opeisen van een invloedssfeer naar analogie van wat de Verenigde Staten ooit in Latijns-Amerika claimden met hun Monroe Doctrine.
Maar er is een probleem met dit op realisme gebaseerde betoog: het besluit van de NAVO uit 2008 (zwaar gepromoot door de regering van George W. Bush) om Georgië en Oekraïne uiteindelijk uit te nodigen om lid te worden van het bondgenootschap kan nauwelijks liberaal genoemd worden, en werd ook niet door liberalen gedreven. Realisten wijzen in dit verband op de nasleep van de Eerste Wereldoorlog, toen het liberalisme van de Amerikaanse president Woodrow Wilson bijdroeg aan een legalistisch en idealistisch buitenlands beleid dat er uiteindelijk niet in is geslaagd de Tweede Wereldoorlog te voorkomen.
In de jaren veertig waarschuwden wetenschappers als Hans Morgenthau en diplomaten als George Kennan de Amerikanen dan ook dat zij hun buitenlands beleid voortaan op realisme moesten baseren. Zoals Morgenthau in 1948 verklaarde, heeft een ʻstaat niet het recht om zijn morele afkeuring van een inbreuk op de vrijheid in de weg te laten staan van succesvolle politieke actie.' Of, in de recentere woorden van politicoloog John Mearsheimer van de Universiteit van Chicago: ʻStaten opereren in een zelfhulpwereld waarin de beste manier om te overleven is om zo machtig mogelijk te zijn, zelfs als dat vereist dat je een meedogenloos beleid voert. Dat is geen mooi verhaal, maar er is geen beter alternatief als overleven het hoogste doel van een land is.'
In een beroemd historisch voorbeeld van deze benadering gaf Winston Churchill in 1940 opdracht tot een aanval op Franse marineschepen, waarbij zo'n dertienhonderd Britse bondgenoten omkwamen, liever dan de vloot in handen van Hitler te laten vallen. Churchill gaf ook toestemming voor het bombarderen van Duitse burgerdoelen.
Maar hoewel veel waarnemers deze beslissingen rechtvaardigden toen het voortbestaan van Groot-Brittannië op het spel stond, veroordeelden zij het brandbombardement op Dresden in februari 1945, omdat de overwinning in Europa op dat moment al zeker was. Churchill kon zich beroepen op de noodzaak van overleven om het terzijde schuiven van morele regels in de begindagen van de oorlog te rechtvaardigen, maar hij had ongelijk om dit ook later te blijven doen, toen overleven niet meer in twijfel getrokken hoefde te worden.
In het algemeen zijn dergelijke noodsituaties zeldzaam, en de meeste leiders zijn eclectisch in het kiezen van de mentale kaarten waarmee zij de wereld navigeren. Toen Donald Trump werd gevraagd zijn milde reactie op de moord op de Saoedische journalist Jamal Khashoggi te verklaren, zei hij: ʻAmerica first! De wereld is een zeer gevaarlijke plek!'
Subscribe to PS Digital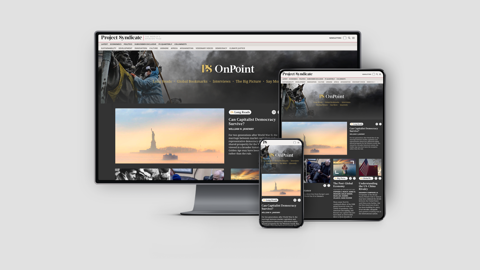 Subscribe to PS Digital
Access every new PS commentary, our entire On Point suite of subscriber-exclusive content – including Longer Reads, Insider Interviews, Big Picture/Big Question, and Say More – and the full PS archive.
Wanneer realisten de wereld beschrijven alsof morele keuzes niet bestaan, verhullen zij slechts hun eigen keuze. Overleven komt misschien op de eerste plaats, maar het is niet de enige waarde die het waard is om hoog te houden. Het grootste deel van de internationale politiek gaat tegenwoordig helemaal niet over overleven. De slimme realist zal er misschien niet op aandringen dat de NAVO het lidmaatschap tot Oekraïne uitbreidt, maar hij zal er ook niet voor pleiten om dat land helemaal in de steek te laten.
Een slimme realist kent immers de verschillende soorten macht. Geen president kan in binnen- of buitenland leiding geven zonder macht; maar macht is meer dan bommen, kogels of geld. Er zijn drie manieren om anderen te laten doen wat je wilt: dwang (stokken), betaling (wortelen), en aantrekkingskracht (zachte macht). Een volledig begrip van macht omvat alle drie deze aspecten.
Als anderen in de wereld een land associëren met bepaalde morele standpunten, verleent die erkenning zachte macht. Maar omdat zachte macht traag werkt en op zichzelf zelden voldoende is, zullen leiders altijd in de verleiding komen om de harde macht van dwang of betaling in te zetten. Zij moeten in gedachten houden dat harde macht, wanneer deze uitsluitend wordt uitgeoefend, hogere kosten met zich mee kan brengen dan wanneer deze wordt gecombineerd met de zachte macht van het aantrekken. Het Romeinse Rijk steunde niet alleen op zijn legioenen, maar ook op de aantrekkingskracht van de Romeinse cultuur.
In de begindagen van de Koude Oorlog had de Sovjet-Unie veel zachte macht in Europa, omdat zij zich tegen Hitler had verzet. Maar zij verkwanselde deze goodwill toen zij met harde militaire middelen de vrijheidsbewegingen in Hongarije in 1956 en in Tsjecho-Slowakije in 1968 onderdrukte. De VS daarentegen combineerden hun militaire aanwezigheid in Europa na de Tweede Wereldoorlog met hulp om het Europese herstel te ondersteunen in het kader van het Marshallplan.
De zachte macht van een land berust op zijn cultuur, zijn waarden en zijn beleid (wanneer dat door anderen als legitiem wordt beschouwd). In het geval van Amerika wordt zachte macht vaak versterkt door de verhalen die Amerikaanse presidenten gebruiken om hun buitenlands beleid uit te leggen. John F. Kennedy, Ronald Reagan en Barack Obama hebben bijvoorbeeld hun beleid zó geformuleerd dat ze zowel in eigen land als daarbuiten steun kregen, terwijl Richard Nixon en Trump er minder goed in slaagden om mensen buiten de VS voor zich te winnen.
In een wereld van soevereine staten is realisme bij het opstellen van het buitenlands beleid onvermijdelijk. Maar te veel realisten laten het daarbij, in plaats van te erkennen dat kosmopolitisme en liberalisme vaak iets belangrijks in te brengen hebben. Realisme is dus een noodzakelijke maar ontoereikende basis voor buitenlands beleid.
De vraag is er een van de mate waarin. Aangezien er nooit volmaakte veiligheid is, moet een regering beslissen in welke mate de veiligheid verzekerd zal moeten zijn alvorens zij andere waarden zoals vrijheid, identiteit of rechten in haar buitenlands beleid opneemt. In keuzes op het gebied van het buitenlands beleid worden waarden vaak afgewogen tegen praktische of commerciële belangen, zoals wanneer de VS besluiten om wapens te verkopen aan autoritaire bondgenoten, of om China te veroordelen vanwege zijn staat van dienst op het gebied van de mensenrechten. Wanneer realisten dergelijke afwegingen vergelijken met Churchills beslissing om de Franse vloot aan te vallen, ontwijken zij eenvoudigweg de harde morele vragen.
Maar president Joe Biden kan de kwestie niet negeren. Zijn diplomatieke uitdaging van vandaag is een manier te vinden om oorlog te vermijden zonder Oekraïne of de waarden die Amerika's zachte macht en netwerk van bondgenootschappen ondersteunen, op te geven.
Vertaling: Menno Grootveld