O próximo governo de Itália tem de procurar resolver a segurança climática
ROMA – Quando os italianos forem às urnas no dia 25 de setembro, votarão num contexto de crise energética e climática sem precedentes. O inverno está à aproximar-se rapidamente e o próximo governo enfrentará a difícil tarefa de proteger os cidadãos e as empresas e, ao mesmo tempo, colocará Itália no caminho para fortalecer a resiliência climática e cumprir a sua percentagem justa de reduções de emissões.
As condições meteorológicas extremas que se fizeram sentir neste verão foram apenas uma amostra da instabilidade climática que nos espera. Temperaturas fora do normal, secas e inundações catastróficas mataram várias pessoas e causaram enormes perdas económicas e danos. Os italianos deveriam lembrar-se que residem num lugar ao que os cientistas do clima chamam de "zona de intensa atividade" das alterações climáticas. Com as temperaturas a aumentar 20% mais rápido do que a taxa média global, o Mediterrâneo é uma das regiões mais afetadas pelo clima do mundo.
A própria Itália já sentiu um aquecimento de 1,5 °C acima dos níveis pré-industriais, e os custos económicos e humanos das suas emissões anteriores e escolhas em matéria de infraestrutura a curto prazo estão a aumentar. Entre 1980 e 2020, Itália registou mais de 21 mil mortes devido a eventos climáticos extremos – atrás apenas da Alemanha e França na Europa. E nos últimos 50 anos, deslizamentos de terra e inundações forçaram mais de 320 mil pessoas a abandonar as suas casas e cerca de 40 milhões de metros quadrados de terra à beira das praias sofreram erosão. Atualmente, 91% das cidades italianas e 12 mil bens culturais correm o risco de deslizamento de terra e inundações.
O futuro parece sinistro. Entre agora e 2100, as temperaturas de verão em Itália podem aumentar em até 6 °C e as chuvas de verão podem diminuir em até 40%. Sem uma mitigação urgente, espera-se que os dias de ondas de calor por ano aumentem em média 400% até 2050 e até 1100%, até 2080. Para uma cidade como Roma, isso pode significar vivenciar até 28 dias de calor extremo todos os anos.
Os custos económicos aumentarão exponencialmente à medida que a temperatura for subindo, afetando principalmente os segmentos mais frágeis da população. De acordo com algumas estimativas, as alterações climáticas podem reduzir o PIB per capita de Itália em 8% até 2100. As perdas de infraestrutura podem exceder os 15 mil milhões de euros (14,8 mil milhões de dólares); os custos do aumento do nível do mar e das inundações costeiras podem chegar aos quase 6 mil milhões de euros; o valor das terras agrícolas pode cair mais de 160 mil milhões de euros; e a contração da procura no setor de turismo pode custar 52 mil milhões de euros (em parte porque apenas 18% das estâncias turísticas nos Alpes italianos ainda terão um manto de neve natural adequado para o inverno).
Tragédias recentes como a derrocada do glaciar Marmolada e as inundações catastróficas na região de Marche são representativas do novo ambiente de risco. Elas mostram de que forma as consequências socioeconómicas e políticas das alterações climáticas podem desencadear a migração em massa e novas tensões associadas aos recursos hídricos, alimentares e energéticos.
Subscribe to PS Digital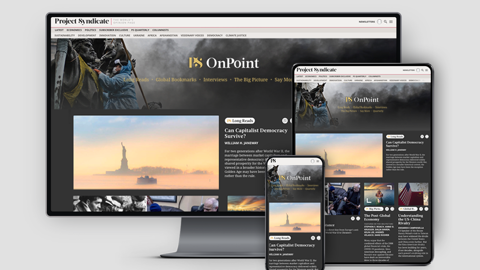 Subscribe to PS Digital
Access every new PS commentary, our entire On Point suite of subscriber-exclusive content – including Longer Reads, Insider Interviews, Big Picture/Big Question, and Say More – and the full PS archive.
É óbvio que as alterações climáticas são uma grande ameaça para a segurança nacional de Itália. Mas ninguém diria, tendo em conta a política italiana. Embora os eleitores italianos estejam a tornar-se mais conscientes do problema e a exigir medidas, poucas opções nos boletins de voto canalizam essas opiniões. Durante décadas, governos e partidos políticos italianos negligenciaram amplamente a ameaça que as alterações climáticas representam para a segurança e prosperidade do país.
O fracasso em formular planos viáveis para a transição energética reflete uma rejeição mais ampla até mesmo em reconhecer as implicações climáticas das atuais fontes de energia de Itália. Num país há muito dominado pela indústria de gás natural, tanto o poder político como os principais meios de comunicação social continuam relutantes em questionar as empresas de gás controladas pelo Estado. Como resultado, apenas um terço dos italianos reconhece o gás natural como uma fonte de poluição de gases com efeito de estufa, embora seja a maior fonte de emissões do país.
Um novo governo oferece uma oportunidade para mudar de rumo; mas a janela para a ação está a fechar-se rapidamente. Para evitar percursos de aquecimento que eventualmente tornarão grandes partes do país inseguras para habitação ou turismo, o próximo governo tem de reconhecer que não há segurança climática sem a União Europeia.
Quanto mais depressa as principais economias do mundo se descarbonizarem, melhor ficará Itália. O próximo governo tem de apoiar a agenda climática da UE e fazer a sua parte para torná-la um sucesso. Tem também de apoiar investimentos em resiliência climática em todo o mundo, particularmente em África e na região do Mediterrâneo, onde os eventos climáticos estão prestes a se tornar uma das principais causas da migração em massa.
Além disso, Itália precisa de grandes novos investimentos públicos na descarbonização; mas como tem de respeitar os princípios de sustentabilidade da dívida, também precisará de políticas inovadoras para mobilizar o setor privado em apoio à ação climática.
Simultaneamente, o próximo governo deve reconhecer que tentar alcançar a segurança climática através de simples ajustes tecnológicos ou de uma abordagem descendente e  de comando e controlo provocaria, inevitavelmente, uma reação negativa política. A democracia prospera na sua capacidade de inovação, responsabilidade, transparência e inclusão. Os governantes italianos já não podem deixar a estratégia energética do país nas mãos de apenas algumas empresas, mesmo que sejam controladas pelo Estado.
Por último, o próximo governo tem de valorizar a miríade de interdependências entre a economia e o ambiente. Não pode haver uma economia segura sem segurança climática, mas também não pode haver estabilidade climática sem uma economia forte e justa. Afinal de contas, não pode haver escolha entre objetivos económicos e ambientais.
Resta saber que rumo tomará o próximo governo. Embora as sondagens de opinião apontem para uma vitória dos partidos de extrema-direita, os italianos de todas as convicções políticas apoiariam um programa para preservar a segurança e a prosperidade de Itália num mundo com aumento de temperatura.