Příští italská vláda musí řešit klimatickou bezpečnost
ŘÍM – Až se Italové vydají 25. září k volebním urnám, budou hlasovat na pozadí bezpříkladné energetické a klimatické krize. Zima se rychle blíží a příští vláda se bude potýkat s nelehkým úkolem ochránit občany i firmy a zároveň nasměrovat Itálii na dráhu posílení klimatické odolnosti a snižování emisí v objemu, jaký této zemi přísluší.
Extrémní počasí letos v létě bylo jen ochutnávkou klimaticky podmíněného chaosu, který nás ještě čeká. Abnormálně vysoké teploty, sucho a katastrofální záplavy si vyžádaly životy několika lidí a způsobily obrovské ekonomické ztráty a škody. Bylo by dobré, kdyby měli Italové na paměti, že obývají oblast, kterou klimatologové označují za "hotspot klimatických změn". V oblasti Středozemního moře rostou teploty o 20% rychleji, než činí celosvětový průměr, a celý region tak patří k nejvíce zasaženým klimatickými změnami.
Samotná Itálie už zakouší oteplení o 1,5° Celsia oproti předindustriální úrovni a lidské i ekonomické náklady předešlých emisí i krátkodobých infrastrukturálních rozhodnutí se vrší. V letech 1980 až 2020 zaznamenala Itálie více než 21 000 úmrtí v důsledku extrémních meteorologických jevů – vyšší čísla mají v Evropě jen Německo a Francie. A sesuvy půdy a záplavy v posledních 50 letech donutily více než 320 000 lidí k opuštění svých domovů a způsobily erozi přibližně 40 milionů čtverečních metrů pláže. Jednadevadesáti procentům měst a 12 000 kulturním statkům v Itálii dnes hrozí sesuvy půdy a záplavy.
Budoucnost vypadá zlověstně. Ode dneška do roku 2100 by letní teploty v Itálii mohly stoupnout až o 6°C a letní srážky klesnout až o 40%. Očekává se, že bez naléhavého zásahu se vlny veder prodlouží v průměru o 400% do roku 2050 a až o 1100% do roku 2080. Pro velkoměsto jako Řím by to mohlo znamenat, že každoročně zažije až 28 dní extrémního horka.
Ekonomické náklady se s růstem teplot budou exponenciálně zvyšovat, což bude mít dopad převážně na nejzranitelnější segmenty populace. Podle některých odhadů by klimatické změny mohly do roku 2100 snížit italský HDP na obyvatele o 8%. Ztráty na infrastruktuře by mohly přesáhnout 15 miliard eur; náklady vyplývající z rostoucí hladiny moře a pobřežních záplav by mohly dosáhnout téměř 6 miliard eur, hodnota zemědělské půdy by mohla klesnout o více než 160 miliard eur a pokles poptávky v cestovním ruchu by mohl stát 52 miliard eur (zčásti i proto, že pouhých 18% letovisek v italských Alpách má stále přirozenou sněhovou pokrývku vhodnou pro zimní sezonu).
Nedávné tragédie, jako byly sesuv ledovce na Marmoladě a extrémní záplavy v regionu Marche, jsou pro toto nové rizikové prostředí příznačné. Ukazují, jak by společensko-ekonomické a politické důsledky klimatických změn mohly vyvolat masovou migraci a nová napětí kvůli vodě, potravinám a zdrojům energie.
Subscribe to PS Digital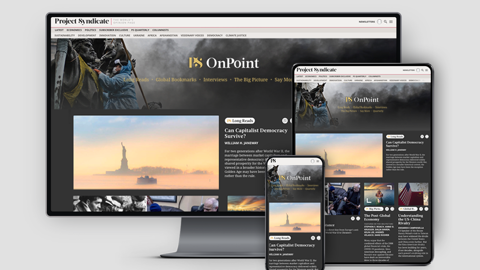 Subscribe to PS Digital
Access every new PS commentary, our entire On Point suite of subscriber-exclusive content – including Longer Reads, Insider Interviews, Big Picture/Big Question, and Say More – and the full PS archive.
Je zjevné, že klimatické změny představují pro Itálii významné ohrožení národní bezpečnosti. Podle italské politiky by to však člověk nepoznal. Zatímco italští voliči si tento problém stále naléhavěji uvědomují a vyžadují akci, na kandidátkách figuruje velmi málo osobností, které by tyto názory reprezentovaly. Italské vlády a politické strany už desítky let do značné míry zanedbávají hrozbu, kterou klimatické změny představují pro bezpečnost a prosperitu země.
Neschopnost formulovat důvěryhodné plány energetické reformy je odrazem obecnějšího odmítání byť i jen připustit klimatické dopady energetických zdrojů, které Itálie používá v současnosti. V zemi, kde už dlouho dominuje plynárenský průmysl, nejeví politický establishment ani média hlavního proudu žádnou ochotu zpochybňovat činnost státem kontrolovaných plynárenských společností. V důsledku toho pouhá třetina Italů vnímá zemní plyn jako zdroj znečištění způsobující skleníkový efekt, přestože jde o největší zdroj emisí v zemi.
Nová vláda nabízí příležitost ke změně kurzu; vhodná doba k akci však rychle pomíjí. Chce-li se příští kabinet vyhnout cestě vedoucí k takovému oteplení, že velké části země budou nakonec nebezpečné pro bydlení i cestovní ruch, musí si uvědomit, že klimatickou bezpečnost nelze zajistit bez Evropské unie.
Čím rychleji se největší světové ekonomiky dekarbonizují, tím lépe na tom bude i Itálie. Příští vláda musí podpořit klimatickou agendu EU a sama přispět svým dílem k jejímu úspěchu. Zároveň musí podpořit investice do klimatické odolnosti po celém světě, zejména v Africe a oblasti Středozemního moře, kde hrozí, že se klimatické jevy stanou významnou příčinou masové migrace.
Itálie navíc potřebuje významné nové veřejné investice do dekarbonizace; protože se však zároveň musí řídit principy dluhové udržitelnosti, bude potřebovat inovativní politiku, která pro klimatickou akci získá a zmobilizuje soukromý sektor.
Současně s tím by si měla příští vláda uvědomit, že snaha o dosažení klimatické bezpečnosti prostřednictvím jednoduchých technologických záplat nebo direktivním přístupem shora zákonitě vyvolá politický odpor. Demokracie těží ze své schopnosti inovovat, ze zodpovědnosti, průhlednosti a inkluze. Italští politici už si nemohou dovolit ponechat energetickou strategii země v rukou pouhé hrstky firem, i kdyby byly státem ovládané.
A konečně si příští vláda musí uvědomit, že mezi ekonomikou a životním prostředím existuje nespočet vzájemných závislostí. Bez bezpečného klimatu nemůže být bezpečná ekonomika, ale stejně tak nelze bez silné a spravedlivé ekonomiky dosáhnout klimatické stability. V konečném důsledku není možné, abychom museli volit mezi ekonomickými a ekologickými cíli.
Uvidíme, jakou cestou se příští vláda vydá. Průzkumy veřejného mínění sice ukazují na vítězství krajně pravicových stran, avšak Italové bez ohledu na politické přesvědčení by podpořili program, který zachová bezpečnost a prosperitu Itálie v oteplujícím se světě.
Z angličtiny přeložil Jiří Kobělka