Następny Rząd Włoch Musi Skupić się na Bezpieczeństwie Klimatycznym
RZYM - Kiedy Włosi będą głosować 25-tego września, oddadzą oni swoje głosy w obliczu bezprecedensowego kryzysu energetycznego i klimatycznego. Zima zbliża się szybkimi krokami, więc następny rząd stanie przed trudnym zadaniem ochrony obywateli i przedsiębiorstw, a jednocześnie wprowadzenia Włoch na ścieżkę wzmacniającą odporność na zmiany klimatu i zapewnienia sprawiedliwego udziału w redukcji emisji.
Ekstremalna pogoda tego lata była tylko zapowiedzią czekającego nas zamieszania spowodowanego zmianami klimatycznymi. Nienormalne temperatury, susza i katastrofalne powodzie zabiły kilka osób oraz spowodowały ogromne straty ekonomiczne i zniszczenia. Włosi powinni pamiętać, że mieszkają w miejscu, które klimatolodzy nazywają "gorącym punktem" zmian klimatycznych. Przy temperaturze rosnącej o 20% szybciej niż średnia światowa, region śródziemnomorski jest jednym z najbardziej dotkniętych zmianami klimatycznymi regionów świata.
Włochy doświadczyły już ocieplenia o 1,5° Celsjusza powyżej poziomu sprzed epoki przemysłowej, a ludzkie i gospodarcze koszty przeszłych emisji i krótkoterminowych wyborów infrastrukturalnych są coraz większe. W latach 1980-2020 we Włoszech odnotowano ponad 21 tysięcy zgonów spowodowanych ekstremalnymi zjawiskami pogodowymi - najwięcej po Niemczech i Francji w całej Europie. W ciągu ostatnich 50 lat osunięcia ziemi i powodzie zmusiły ponad 320 000 osób do ewakuacji swoich domów i spowodowały erozję około 40 milionów metrów kwadratowych plaży. Obecnie 91% włoskich miast i 12 000 dóbr kultury jest zagrożonych osuwiskami i powodziami.
Przyszłość wygląda niepokojąco. Od chwili obecnej do 2100 roku letnie temperatury we Włoszech mogą wzrosnąć nawet o 6°C, a letnie opady deszczu mogą spaść nawet o 40%. Oczekuje się, że bez pilnego złagodzenia skutków, liczba dni z falami upałów w roku wzrośnie średnio o 400% do 2050 roku, a do 2080 roku nawet o 100%. Dla miasta takiego jak Rzym może to oznaczać doświadczanie nawet do 28 dni ekstremalnych upałów rocznie.
Koszty gospodarcze będą rosły wraz ze wzrostem temperatury, dotykając przede wszystkim najbardziej wrażliwej grupy ludności. Według niektórych szacunków, zmiany klimatyczne mogą zmniejszyć PKB Włoch na głowę mieszkańca o 8% do 2100 roku. Straty w infrastrukturze mogą przekroczyć 15 mld EUR (14,8 mld USD); koszty związane z podnoszeniem się poziomu mórz i zalewaniem wybrzeży mogą sięgnąć prawie 6 mld EUR; wartość gruntów rolnych może spaść o ponad 160 mld EUR; a zmniejszenie popytu w sektorze turystycznym może kosztować 52 mld EUR (częściowo dlatego, że tylko 18% kurortów we włoskich Alpach będzie nadal posiadało naturalną pokrywę śnieżną odpowiednią do sezonu zimowego).
Niedawne tragedie, takie jak upadek lodowca Marmolada i ekstremalne powodzie w Marche, są emblematyczne dla nowego środowiska ryzyka. Pokazują one, w jaki sposób społeczno-gospodarcze i polityczne konsekwencje zmian klimatu mogą wywołać masową migrację i nowe napięcia związane z zasobami wody, żywności i energii.
Subscribe to PS Digital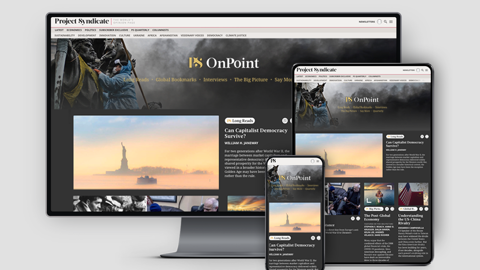 Subscribe to PS Digital
Access every new PS commentary, our entire On Point suite of subscriber-exclusive content – including Longer Reads, Insider Interviews, Big Picture/Big Question, and Say More – and the full PS archive.
Oczywiście, zmiany klimatyczne są dla Włoch poważnym zagrożeniem bezpieczeństwa narodowego. Ale nie można by tego zobaczyć śledząc włoską politykę. Podczas gdy włoscy wyborcy stają się coraz bardziej świadomi problemu i domagają się działań, bardzo niewiele opcji na kartach wyborczych wskazuje na te poglądy. Przez dziesięciolecia włoskie rządy i partie polityczne w dużej mierze lekceważyły zagrożenie, jakie zmiany klimatyczne stanowią dla bezpieczeństwa i dobrobytu kraju.
Brak wiarygodnych planów transformacji energetycznej odzwierciedla szerszą odmowę uznania konsekwencji klimatycznych obecnych źródeł energii we Włoszech. W kraju, który od dawna jest zdominowany przez przemysł gazu ziemnego, zarówno polityczne elity, jak i media głównego nurtu pozostają niechętne do kwestionowania kontrolowanych przez państwo firm gazowych. W rezultacie tylko jedna trzecia Włochów uznaje gaz ziemny za źródło zanieczyszczeń gazów cieplarnianych, mimo że jest to największe źródło emisji w kraju.
Nowy rząd daje szansę na zmianę kursu, ale czas na działanie szybko się kończy. Aby uniknąć ścieżek ocieplenia, które ostatecznie sprawią, że duże części kraju nie będą nadawały się do zamieszkania lub turystyki, kolejny rząd musi uznać, że nie ma bezpieczeństwa klimatycznego bez Unii Europejskiej.
Im szybciej główne gospodarki świata zmniejszą emisję dwutlenku węgla, tym lepiej będzie we Włoszech. Następny rząd musi poprzeć unijną agendę klimatyczną i zrobić wszystko, by okazała się sukcesem. Musi również wspierać inwestycje w odporność na zmiany klimatu na całym świecie, zwłaszcza w Afryce i regionie śródziemnomorskim, gdzie wydarzenia spowodowane zmianami klimatu mogą stać się główną przyczyną masowej migracji.
Ponadto Włochy potrzebują nowych inwestycji publicznych w dekarbonizację na dużą skalę, ale ponieważ muszą również przestrzegać zasad zdolności do obsługi zadłużenia, będą również potrzebować innowacyjnej polityki, aby zmobilizować sektor prywatny do działań na rzecz klimatu.
Jednocześnie nowy rząd powinien zdawać sobie sprawę, że próba osiągnięcia bezpieczeństwa klimatycznego poprzez proste rozwiązania technologiczne lub odgórne, nakazowo-kontrolne podejście nieuchronnie wywołuje polityczny sprzeciw. Demokracja rozwija się dzięki swojej zdolności do innowacji, odpowiedzialności, przejrzystości i integracji. Włoscy decydenci nie mogą sobie pozwolić na pozostawienie strategii energetycznej kraju w rękach kilku firm, nawet jeśli są one kontrolowane przez państwo.
Wreszcie, następny rząd musi docenić niezliczone współzależności między gospodarką a środowiskiem. Nie może być bezpiecznej gospodarki bez bezpiecznego klimatu, ale nie można też osiągnąć stabilności klimatu bez silnej, sprawiedliwej gospodarki. W końcu nie może być wyboru między celami gospodarczymi a środowiskowymi.
Nie wiadomo jeszcze, jaką drogę obierze kolejny rząd. Choć badania opinii publicznej wskazują na zwycięstwo partii skrajnie prawicowych, Włosi o różnych przekonaniach politycznych poparliby program mający na celu zachowanie bezpieczeństwa i dobrobytu Włoch w ocieplającym się świecie.
Z angielskiego przetłumaczyła Marz McNamer