Comment la santé publique mondiale pourrait relancer le multilatéralisme
MADRID – Alors que le monde s'efforce de contenir le COVID-19 et s'atténuer son impact sur nos vies et nos moyens de subsistance, il devrait être clair pour tous que seule la coopération internationale nous permettra de remporter la bataille une fois pour toutes. Les réponses nationales sont essentielles, mais à moyen terme, le multilatéralisme sera notre meilleure arme dans cette lutte – et notre meilleure défense contre de futures menaces mondiales.
Mon pays, l'Espagne, est en première ligne de la pandémie. Le coronavirus nous a frappés plus tôt et plus durement que la plupart des autres pays. Nous pleurons des milliers de morts. Notre système de santé a été mis à rude épreuve. La population supporte un long confinement, en faisant preuve d'une responsabilité citoyenne exemplaire. Nous avons dû prendre des mesures sans précédent pour sauvegarder notre économie.
En tant que gouvernements, nous sommes avant tout responsables de nos ressortissants. Mais nous savons qu'aucun pays ne sera complètement en sécurité avant que tous ne jugulent la pandémie, puis finissent par l'éradiquer. Notre désunion internationale des premiers jours n'a fait que renforcer notre ennemi, en nous éloignant davantage de notre objectif commun.
Alors que nous tirons les leçons de faits que nous continuons d'apprendre, nous devons d'urgence concevoir une approche de santé publique mondiale plus efficace, qui intègre de nouvelles mesures et initiatives internationales, européennes et nationales.
Premièrement, au niveau international, il nous faut un cadre plus efficace pour prévenir, détecter et répondre aux maladies et aux pandémies, qui se fonde sur des institutions renforcées et de nouveaux mécanismes conçus pour prévenir certains des échecs que nous avons observés. Les nouveaux arrangements institutionnels doivent se fonder sur une Organisation mondiale de la santé revitalisée et réformée, disposant de mandats plus larges et d'une autorité renforcée. L'OMS doit avoir la capacité de concevoir et d'imposer de meilleurs protocoles pour la préparation et la réaction, d'exiger le partage des données et de mobiliser les ressources nécessaires.
Un cadre de santé mondial ayant les moyens de se faire obéir doit également être suffisamment souple pour couvrir toute la chaîne des interventions de santé publique, allant de la recherche scientifique à l'alerte rapide à la formulation, à la mise en œuvre et à l'évaluation des mesures. C'est pourquoi, outre les réformes nécessaires du processus décisionnel de l'OMS et de son Comité d'urgence, il ne faut pas négliger le potentiel d'autres plates-formes et organisations internationales à même de contribuer au système de santé mondial dont nous avons besoin.
Subscribe to PS Digital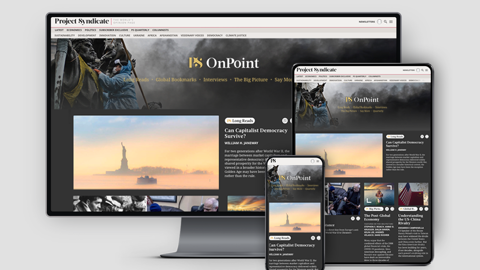 Subscribe to PS Digital
Access every new PS commentary, our entire On Point suite of subscriber-exclusive content – including Longer Reads, Insider Interviews, Big Picture/Big Question, and Say More – and the full PS archive.
Par exemple, le G-20 et le G-7 peuvent aider à mobiliser la volonté politique nécessaire. La Banque mondiale et les autres banques régionales de développement sont idéalement placées pour mobiliser des ressources en faveur de la réforme des services de santé. Et des organisations comme l'OCDE ont la puissance de feu analytique pour distiller les meilleures politiques et pratiques en matière de santé. Globalement, nous devons faire progresser une « approche de santé unique » qui fédère les dimensions environnementales, économiques, sociales et sécuritaires de santé publique.
Deuxièmement, l'Union européenne doit fournir un modèle de préparation et de gestion des crises que d'autres régions pourraient imiter, en mettant en commun des ressources et en élaborant de nouveaux mécanismes d'action commune. Non contente de mener à bien la mise en place d'un nouveau cadre de santé mondial plus solide, l'UE peut et doit en outre améliorer sa propre coordination interne. Après tout, c'est la collaboration sectorielle sur le charbon et l'acier qui a donné naissance à l'UE, le mécanisme de gouvernance mondial le plus innovant que le monde ait connu. Un niveau d'ambition similaire est à présent nécessaire pour lutter contre les défis que nous partageons en matière de santé.
Une intégration européenne plus profonde dans ce domaine aurait plusieurs avantages importants. Le Centre européen de prévention et de contrôle des maladies devrait bénéficier d'une plus grande autonomie et de davantage de ressources. Une véritable unité européenne de gestion des crises pourrait être créée, avec les moyens d'assurer une réponse rapide à une urgence. Des tests de résistance systématiques sur les systèmes de santé nationaux devraient également être effectués pour évaluer la résilience des États membres de l'UE face aux chocs. À l'instar des tests de résistance rigoureux effectués sur nos secteurs financiers, le processus devrait permettre de combler les lacunes, de partager les meilleures pratiques et d'élaborer des outils de coordination.
En outre, l'UE devrait investir dans des bases de données communes, des réserves médicales et des stocks communs. De même, elle devrait harmoniser les protocoles et favoriser la collaboration scientifique sur le développement de traitements et de vaccins. Dans l'immédiat, les pays européens devraient coopérer à une stratégie de transition coordonnée pour relancer l'économie sans déclencher une nouvelle épidémie.
Enfin, au niveau national, nous avons tous beaucoup à faire – en tant que devoir non seulement envers nous-mêmes et envers les habitants de nos pays, mais également envers nos voisins et la communauté internationale dans son ensemble. En Espagne, nous établirons une commission chargée d'évaluer l'état de notre système de santé et de corriger ses faiblesses et ses lacunes. Mais parce que nous savons que les pandémies frappent le plus durement les populations les plus vulnérables du monde, nous renforcerons également notre diplomatie en matière de santé. Le renforcement des systèmes nationaux de santé exige de partager notre expérience avec d'autres pays et de tirer les leçons de leur expérience, ainsi que d'accorder une priorité plus élevée aux réformes du secteur de la santé dans notre coopération au développement.
Si nous prenons des mesures comme celles que nous préconisons ici, cette pandémie aura pour effet de mieux nous préparer à la prochaine. Mais si cette catastrophe a un côté positif, ce dernier devrait la surpasser. La coopération internationale sur les questions de santé devrait être étendue à d'autres « maux publics » mondiaux que nous n'avons pas réussi à traiter efficacement : changement climatique, conflits armés, pauvreté, inégalités croissantes, migrations internationales, prolifération nucléaire, terrorisme, etc. L'urgence de ces défis peut sembler moins pressante en ce moment, mais les menaces qu'ils font peser sur nous tous persistent.
Dans notre monde interconnecté, nous devons relancer le multilatéralisme en le rendant plus cohérent et mieux adapté à nos besoins. Cela signifie renforcer les institutions et les mécanismes qui fonctionnent, réformer ou éliminer ceux qui ne fonctionnent pas et créer ceux dont nous avons besoin. Cette crise nous rappelle notre fragilité et l'importance de l'unité internationale. Il ne fait aucun doute que nous sommes tous concernés par cette crise. Elle nous montre clairement que nous devrions considérer une coopération plus étroite en matière de santé publique mondiale comme un catalyseur en faveur d'un multilatéralisme dont nous avons besoin.