The Big Picture brings together a range of PS commentaries to give readers a comprehensive understanding of topics in the news – and the deeper issues driving the news. The Big Question features concise contributor analysis and predictions on timely topics.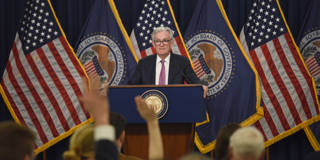 The Flight of the Inflation Hawks
The US Federal Reserve's quarter-point interest-rate hike is the smallest since last year, when it implemented four consecutive 0.75 percentage-point rises. But lingering fears that inflation will persist mean that US policymakers – like their counterparts in the United Kingdom and the eurozone – remain under pressure to maintain a tough stance.
As former Reserve Bank of India Governor Raghuram G. Rajan explains, the consensus is that the Fed will "err on the side of doing too much," because then it could "keep any downturn mild by cutting rates." But as we enter a "period of maximum danger," he warns, the Fed would do well to "remain acutely sensitive to incoming data."
Nobel laureate Joseph E. Stiglitz is less convinced by the Fed's approach. Pointing to evidence that inflation has been caused by "pandemic-related supply shocks and shifts in the pattern of demand," not excess aggregate demand, he expects rate hikes to do little to limit price growth. They could, however, push a "fragile global economy" into recession, "precipitating more debt crises."
And yet, according to James K. Galbraith of the University of Texas at Austin, the "hawkishness of the past year" may have been "just a warm-up." Given the "striking partisan political bias" that has shaped past monetary decisions, he believes that the Fed may well "ease up and claim a victory over inflationary pressures that were always temporary," only to launch its "real crusade against 'inflation'" when the US presidential race gets underway late this year – "just in time to do maximum economic and political damage."
The risks are not limited to the United States. The London Business School's Lucrezia Reichlin argues that the risk that policymakers are going "too far too fast" is particularly acute in Europe, where energy-price inflation is easing after "taking a large toll on real disposable incomes." Unless central banks know something we do not, they should "proceed with caution," lest continued monetary tightening bring "huge economic costs" and trigger a backlash that could threaten central-bank independence.
Featured in this Big Picture
https://prosyn.org/WLATXd9;