The Big Picture brings together a range of PS commentaries to give readers a comprehensive understanding of topics in the news – and the deeper issues driving the news. The Big Question features concise contributor analysis and predictions on timely topics.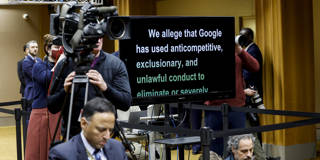 PS Commentators Respond: Can the US Rein in Big Tech?
US lawmakers have spent years declaring their commitment to bringing technology giants like Google and Meta to heel, and US President Joe Biden's appointment of tough-minded reformers to leading antitrust-enforcement positions in 2021 raised hopes that progress was imminent. But progress never arrived.
In this Big Question, we ask Anu Bradford, Tim O'Reilly, Ilan Strauss, and Mariana Mazzucato, and Tommaso Valletti whether and how the US government can translate regulatory ambition into effective action.
Featured in this Big Question
https://prosyn.org/Z0pS24U;