De gevolgen van kunstmatige intelligentie voor de economische theorie
NEW YORK – Tot voor kort wierpen twee grote hindernissen beperkingen op aan wat onderzoekseconomen konden leren over de wereld met de krachtige methoden die wiskundigen en statistici, vanaf begin negentiende eeuw, hebben ontwikkeld om patronen in rommelige data te herkennen en te interpreteren: datasets waren klein en kostbaar, en computers waren traag en duur. Het is dus begrijpelijk dat nu de vooruitgang in de computerkracht deze hindernissen dramatisch heeft gereduceerd, economen zich haasten om big data en kunstmatige intelligentie te gebruiken teneinde hen te helpen patronen te ontwaren in allerlei soorten activiteiten en uitkomsten.
Patroonherkenning en het samenvatten van data zijn ook belangrijke ingrediënten van de natuurwetenschappen. De fysicus Richard Feynman heeft de natuurlijke wereld ooit  vergeleken met een spel dat door de goden wordt gespeeld: "Je kent de spelregels niet, maar je mag zo nu en dan naar het bord kijken, in een klein hoekje misschien. En uit deze waarnemingen probeer je af te leiden wat de regels zijn."
Feynmans metafoor is een letterlijke beschrijving van wat veel economen doen. Net als astrofysici verkrijgen we doorgaans niet-experimentele data die worden gegenereerd door processen die we willen begrijpen. De wiskundige John von Neumann heeft een spel gedefinieerd als (1) een lijst met spelers; (2) een lijst met acties die iedere speler ter beschikking staan; (3) een lijst die aangeeft hoe betalingen die iedere speler ten goede komen afhangen van de acties van alle spelers; en (4) een timing-protocol dat zegt wie wat wanneer kiest. Deze elegante definitie omvat wat we bedoelen met een "constitutie" of een "economisch systeem": een sociale afspraak over wie wat wanneer kiest.
Net als voor Feynmans metaforische natuurkundige is het onze taak om een "spel" – dat voor economen bestaat uit de structuur van een markt of een systeem van markten – af te leiden uit de waargenomen gegevens. Maar vervolgens willen we iets doen dat natuurkundigen niet doen: nadenken over hoe andere "spellen" kunnen leiden tot betere resultaten. Dat wil zeggen: we willen experimenten uitvoeren om te onderzoeken hoe een hypothetische verandering in de spelregels of in een patroon van waargenomen gedrag van sommige "spelers" (bijvoorbeeld toezichthouders van de overheid of een centrale bank) de gedragspatronen van de overgebleven spelers kan beïnvloeden.
"Bouwers van structurele modellen" in de economie proberen aldus uit historische gedragspatronen  een reeks invariante parameters af te leiden voor hypothetische situaties (dikwijls zonder historisch precedent) waarin een regering of een toezichthouder een nieuwe reeks regels volgt. Volgens een Chinees gezegde heeft de overheid strategieën en het volk tegenstrategieën. "Structurele modellen" zijn op zoek naar zulke invariante parameters om toezichthouders en marktontwerpers te helpen datapatronen te begrijpen en te voorspellen onder historisch ongekende situaties.
De uitdagende opdracht van het bouwen van structurele modellen zal profiteren van de zich snel ontwikkelende takken van kunstmatige intelligentie die niets méér om het lijf hebben dan patroonherkenning. Een goed voorbeeld is AlphaGo. Het team computerwetenschappers dat het algoritme ontwierp om het Chinese spel Go te spelen combineerde op slimme wijze een reeks hulpmiddelen die waren ontwikkeld door specialisten in statistiek, simulaties, besluitvormingstheorie en speltheorie-gemeenschappen. De meeste hulpmiddelen die in precies de juiste verhoudingen werden gebruikt om een uitmuntende artificiële Go-speler te creëren zijn ook de voor de hand liggende hulpmiddelen voor economen om structurele modellen te bouwen waarmee de macro-economie en de industriële organisatie onderzocht kunnen worden.
Subscribe now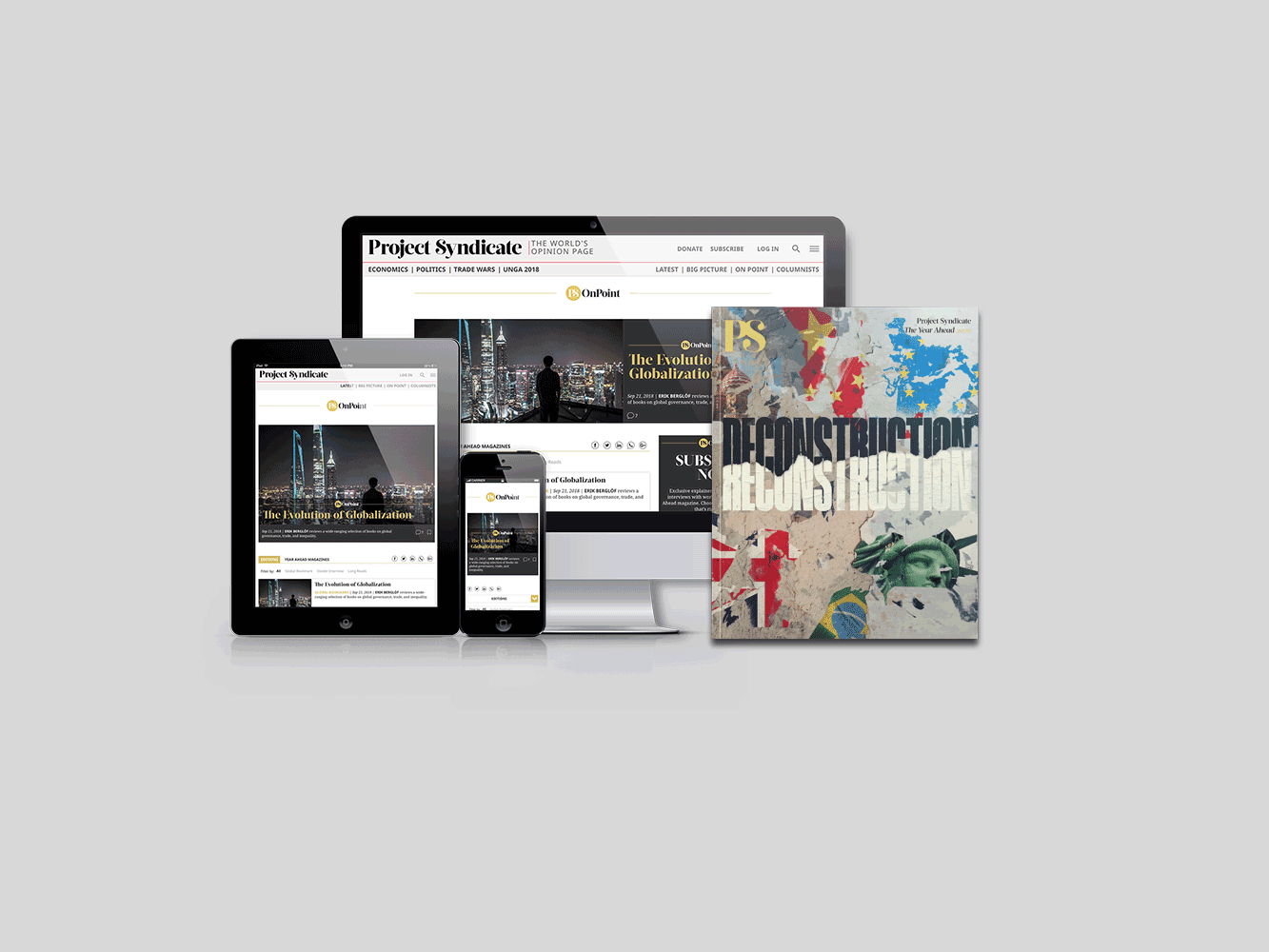 Subscribe now
Subscribe today and get unlimited access to OnPoint, the Big Picture, the PS archive of more than 14,000 commentaries, and our annual magazine, for less than $2 a week.
Uiteraard verschilt de economie in een cruciaal opzicht van de natuurkunde. Terwijl Pierre-Simon Laplace "de huidige staat van het universum als het gevolg van zijn verleden en de oorzaak van zijn toekomst" zag, is in de economie het omgekeerde waar: wat we verwachten dat andere mensen later zullen doen, ligt ten grondslag aan wat wij nu doen. We gebruiken doorgaans persoonlijke theorieën over wat andere mensen willen om te voorspellen wat zij zullen doen. Als we goede theorieën over andere mensen hebben, zal wat zij waarschijnlijk zullen doen bepalen wat we verwachten dat ze zullen doen. Deze manier van denken, die soms "rationele verwachtingen" wordt genoemd, weerspiegelt het idee dat "de toekomst het heden veroorzaakt" in economische systemen. Het rekening houden hiermee vormt de kern van het bouwen van "structurele" economische modellen.
Ik zal bijvoorbeeld meedoen aan een bankrun als ik verwacht dat andere mensen dat ook zullen doen. Zonder depositoverzekering hebben klanten prikkels om banken te vermijden die kwetsbaar zijn voor runs. Mét depositoverzkering zal het de klanten niet kunnen schelen en zal zich geen bankrun voordoen. Aan de andere kant: als overheden de deposito's verzekeren, zullen bankeigenaren willen dat hun bezittingen zo groot en riskant worden als maar mogelijk is, terwijl het de depositohouders nog steeds niets zal kunnen schelen. Er doen zich soortgelijke trade-offs voor bij werkloosheid en arbeidsongeschiktheidsverzekeringen – als het verzekeren van mensen tegen pech hun motivatie ondermijnt om voor zichzelf te zorgen – en bij financiële reddingsoperaties voor overheden en bedrijven.
In bredere zin is mijn reputatie gebaseerd op wat anderen verwachten dat ik zal doen. Ik sta voor de keuze om die verwachtingen waar te maken of niet. Die keuzes zullen invloed hebben op hoe anderen zich in de toekomst zullen gedragen. Centrale bankiers denken daar veel over na.
Net als natuurkundigen gebruiken wij economen modellen en data om te leren. We leren geen nieuwe dingen totdat we begrijpen dat onze oude modellen nieuwe data niet meer kunnen verklaren. We bouwen dan nieuwe modellen in het licht van hoe hun voorgangers faalden. Dit verklaart hoe we hebben geleerd van vroegere depressies en financiële crises. En met big data, snellere computers en betere algoritmen kunnen we misschien patronen gaan zien waar we ooit alleen maar ruis hoorden.
Vertaling: Menno Grootveld