Mělo by Německo opustit euro?
MNICHOV – Finančník George Soros loni v létě naléhavě vyzval Německo, aby souhlasilo se zřízením Evropského stabilizačního mechanismu, přičemž Němce vybídl, aby "vedli nebo odešli". Dnes tvrdí, že Německo by mělo euro opustit, pokud bude dál blokovat zavedení eurobondů.
Soros si zahrává s ohněm. Odchod z eurozóny je přesně tím, co požaduje nově založená strana "Alternativa pro Německo", která se těší podpoře širokých vrstev obyvatelstva.
Okamžik "křupnutí" se rychle blíží. Kypr je už téměř mimo eurozónu, kolaps jeho bank oddálilo pouze poskytnutí naléhavé likvidní pomoci Evropskou centrální bankou a v posledních parlamentních volbách v Itálii získaly euroskeptické strany vedené Beppem Grillem a Silviem Berlusconim dohromady 55% hlasů.
Navíc je nepravděpodobné, že Řekové a Španělé budou schopni nést ještě dlouho břemeno úsporných hospodářských opatření, když se nezaměstnanost mladých lidí šplhá k 60%. Hnutí za nezávislost v Katalánsku už získalo takovou dynamiku, že jeden přední španělský generál přísahal, že vyšle vojáky do Barcelony, pokud tato autonomní oblast uspořádá referendum o odtržení.
Také Francie má problémy s konkurenceschopností a nedokáže plnit své závazky v souladu s fiskálním kompaktem Evropské unie. Portugalsko potřebuje nový záchranný program a rovněž Slovinsko by mohlo už brzy žádat o záchranu.
Mnoho investorů Sorosovi přizvukuje. Chtějí odhodit zátěž a letět dál – přehrát své toxické cenné papíry na mezivládní záchranné instituce, které by za ně zaplatily z výtěžku z prodeje eurobondů, a vložit peníze do bezpečnějších přístavů. Veřejnost je přitom už dnes zneužívána snahou vyčistit prašivé cenné papíry a podpořit chabé banky: nástroje financované z peněz daňových poplatníků, jako jsou ECB nebo sanační programy, do dnešního dne poskytly mezinárodní úvěry v objemu 1,2 bilionu eur.
Subscribe to PS Digital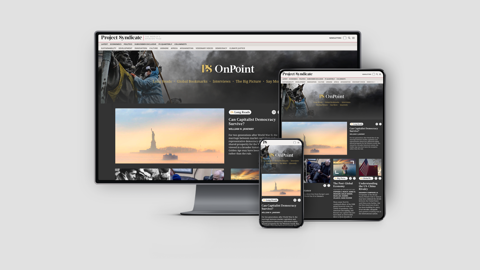 Subscribe to PS Digital
Access every new PS commentary, our entire On Point suite of subscriber-exclusive content – including Longer Reads, Insider Interviews, Big Picture/Big Question, and Say More – and the full PS archive.
Kdyby měl Soros pravdu a Německo si muselo vybrat mezi eurobondy a eurem, mnoho Němců by zajisté dalo přednost opuštění eura. Nová německá politická strana by získala mnohem vyšší podporu a nálada ve společnosti by se mohla posunout. Se samotným eurem by pak byl konec; jeho prvotním úkolem bylo koneckonců rozbití dominance Bundesbanky v oblasti měnové politiky.
Soros se však mýlí. Už proto, že se jeho požadavek neopírá o žádný právní základ. Článek 125 Smlouvy o fungování Evropské unie výslovně zakazuje mutualizaci dluhů.
Ze všeho nejhorší je, že si Soros neuvědomuje skutečnou podstatu problémů eurozóny. Pokračující finanční krize je pouze příznakem základního neduhu měnové unie: ztráty konkurenceschopnosti jejích jižních členů.
Euro poskytlo těmto zemím přístup k levným úvěrům a ty je použily k financování mzdového růstu, který nebyl podložený vzestupem produktivity. To vedlo k cenové explozi a masivním vnějším deficitům.
Udržováním přemrštěných cen a nominálních příjmů v těchto zemích pomocí uměle levných úvěrů garantovaných jinými zeměmi by se ztráta konkurenceschopnosti pouze stala trvalou. Zacementování vztahů dlužník-věřitel mezi jednotlivými státy eurozóny by zase přiživilo politické napětí – jak k tomu došlo ve Spojených státech v prvních desetiletích jejich existence.
Aby se jižní státy opět staly konkurenceschopnými, budou muset snížit ceny zboží, zatímco severní státy budou muset přijmout vyšší inflaci. Eurobondy by však přesně tomuto výsledku bránily, protože relativní ceny na severu lze zvýšit pouze za předpokladu, že severní střadatelé budou svůj kapitál investovat doma, místo aby přihlíželi, jak je veřejně eskortován na jih prostřednictvím úvěrových garancí financovaných daňovými poplatníky.
Podle studie banky Goldman Sachs budou muset země jako Řecko, Portugalsko a Španělsko zlevnit o 20-30% a ceny v Německu budou muset stoupnout o 20% oproti průměru eurozóny. Jistě, pokud by Německo společnou měnu zcela opustilo, byl by návrat ke konkurenceschopnosti pro jižní státy snazší, poněvadž zbytkové euro by prošlo devalvací; základní problém zemí postižených krizí by však přetrvával tak dlouho, jak dlouho by v eurozóně zůstávaly ostatní konkurenceschopné státy. Například Španělsko by i pak muselo snížit ceny o 22-24% oproti novému průměru eurozóny.
Z tohoto hlediska by země postižené krizí nebyly ušetřeny bolestných úsporných programů tak dlouho, dokud by setrvávaly v měnové unii zahrnující i konkurenceschopné státy. Jedinou cestou, jak se tomu vyhnout, by bylo opuštění eura a devalvace jejich nových měn. Zatím však zmíněné státy nejeví ochotu se touto cestou vydat.
Politicky by bylo velkou chybou, kdyby se Německo vzdalo eura, protože řeka Rýn by se pak znovu stala hranicí mezi Francií a Německem. Francouzsko-německé usmíření, největší úspěch poválečného období v Evropě, by se pak ocitlo v ohrožení.
Jedinou zbývající možností, jakkoliv může být pro některé státy nepříjemná, je tedy zpřísnění rozpočtových omezení v eurozóně. Po letech snadného přístupu k penězům je nutné nalézt cestu zpátky k realitě. Je-li určitá země zbankrotovaná, musí dát svým věřitelům na vědomí, že nedokáže své dluhy splatit. A spekulanti musí přijmout zodpovědnost za svá rozhodnutí a přestat si halasně říkat o peníze daňových poplatníků, kdykoliv jejich investice nedopadnou dobře.
Z angličtiny přeložil Jiří Kobělka.