The Big Picture brings together a range of PS commentaries to give readers a comprehensive understanding of topics in the news – and the deeper issues driving the news. The Big Question features concise contributor analysis and predictions on timely topics.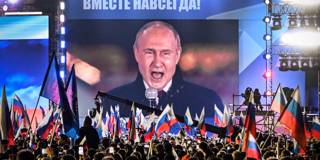 Is Putin in Peril?
Russian President Vladimir Putin seems to be living in a parallel universe. By claiming sovereignty over a huge swath of Ukrainian territory from which Russia's military is steadily retreating, he has staked his political future on a fantasy.
In this Big Question, we ask Robert D. Kaplan, Dina Khapaeva, Mark Leonard, and Angela Stent whether Putin's grip on power will slip along with his apparent grip on reality.
Featured in this Big Question
https://prosyn.org/rOuogns;