Jak Prawo Wright'a Może Naprawić Klimat
OAKLAND - Jako drugi największy na świecie emitent gazów cieplarnianych, Stany Zjednoczone mają kluczowe znaczenie dla zachowania planety zdatnej do życia. Dzięki niedawno uchwalonej ustawie o redukcji inflacji (IRA), która przeznacza setki miliardów dolarów na dekarbonizację, Ameryka wzmocniła swoją wiarygodność przed Konferencją Narodów Zjednoczonych w sprawie Zmian Klimatu (COP27) w Egipcie.
Ameryka jest obecnie dobrze przygotowana do osiągnięcia celu, jakim jest zmniejszenie o połowę emisji do 2030 r. w stosunku do poziomu z 2005 r. Podczas gdy przepisy IRA mogą ograniczyć emisje w USA do 43% do 2030 r., pozostały niedobór może zostać pokryty przez nowe przepisy Agencji Ochrony Środowiska i bardziej zdecydowane działania na szczeblu państwowym, takie jak te, które widzieliśmy w tym roku w Kalifornii.
Jednak choć IRA jest samo w sobie historycznym osiągnięciem, największe korzyści przyniesie w postaci globalnych ekonomicznych efektów ubocznych. Podobnie jak w przypadku polityki Unii Europejskiej "Fit for 55," IRA przyczyni się do rozwoju energii słonecznej, wiatrowej i magazynowania energii w akumulatorach, obniżając tym samym koszty tych czystych technologii dla wszystkich. W ostatecznym rozrachunku wszystkie kraje będą płacić znacznie mniej za ograniczenie własnych emisji w tempie i na skalę niezbędną do utrzymania zmian klimatu w ryzach.
Z pewnością Stany Zjednoczone muszą jeszcze wywiązać się ze swoich innych zobowiązań klimatycznych, zwłaszcza poprzez zapewnienie 11,4 miliarda dolarów rocznie (co jest skromną sumą w porównaniu z innymi wydatkami USA), które zobowiązały się przeznaczyć na finansowanie działań łagodzących i adaptacyjnych w krajach globalnego Południa. Co ciekawe, ogromne krajowe inwestycje w czyste technologie dokonywane przez USA i UE mogą być o wiele bardziej wartościowe niż jakiekolwiek bezpośrednie finansowanie z ich strony, ze względu na mało znane zjawisko znane jako Prawo Wright'a.
Prawo Wright'a, nazwane na cześć amerykańskiego inżyniera Theodore Wright, który jako pierwszy zauważył je w latach 30-tych ubiegłego wieku, przewiduje, że każde skumulowane podwojenie globalnej produkcji danej technologii obniży jej koszt o stały procent. Jak potwierdzają ostatnie badania przeprowadzone na Uniwersytecie w Oxfordzie, koszty energii słonecznej, wiatrowej, baterii i elektrolizerów gwałtownie spadły wraz ze wzrostem ich globalnej produkcji.
Co ważniejsze, naukowcy odkryli, że prawo Wrighta sprawdza się nawet po osiągnięciu przez innowacyjną technologię wysokiego poziomu dojrzałości rynkowej. Oznacza to, że 370 miliardów dolarów inwestycji IRA w produkcję czystej energii może spowodować jeszcze szybszy spadek kosztów technologii potrzebnych do rozwiązania kryzysu klimatycznego, zapewniając wyższą jakość życia dla miliardów ludzi.
Subscribe to PS Digital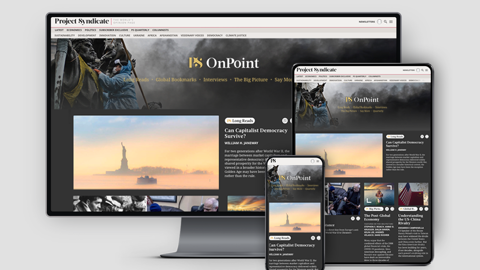 Subscribe to PS Digital
Access every new PS commentary, our entire On Point suite of subscriber-exclusive content – including Longer Reads, Insider Interviews, Big Picture/Big Question, and Say More – and the full PS archive.
Na przykład nasze modelowanie w Energy Innovation pokazuje, że te inwestycje rządowe mogą dodać 1053 gigawatów nowej energii wiatrowej i słonecznej do amerykańskiej sieci, czyniąc ją w 85% czystą w ciągu zaledwie ośmiu lat. Podobnie, nowe ulgi podatkowe dotyczące pojazdów elektrycznych mogą sprawić, że do 2030 roku około jedna trzecia wszystkich nowych samochodów osobowych i ciężarowych sprzedawanych w USA będzie miała napęd elektryczny. Oczekuje się również, że zachęty IRA przyczynią się do zwiększenia mocy elektrolizerów o pięć gigawatów, co pozwoli na produkcję bezemisyjnego wodoru, który będzie miał kluczowe znaczenie dla ograniczenia emisji w przemyśle chemicznym i lotnictwie.
Ponadto inwestycje publiczne IRA uwolnią kilkakrotnie więcej kapitału prywatnego. Jeśli dodamy do tego inwestycje europejskie oraz ogromny nacisk Chin na czystą energię i pojazdy elektryczne, to będziemy świadkami eksplozji rocznego wdrażania innowacyjnych czystych technologii.
Oprócz zmniejszenia emisji w największych i najbardziej zanieczyszczających gospodarkach świata, gwałtowny wzrost czystych technologii sprawi, że przekształcenie systemów energetycznych w pozostałych częściach świata będzie znacznie tańsze. W rzeczywistości jesteśmy już świadkami tej dynamiki. Ekologiczne inwestycje Niemiec i Kalifornii na początku ubiegłej dekady pomogły obniżyć koszty energii słonecznej o 85% i wiatrowej o 56% w latach 2010-2020. Podobnie popyt na pojazdy elektryczne w Chinach przyczynił się do obniżenia kosztów baterii o 89% od 2010 roku.
Ze swojej strony Indie wykorzystały spadające koszty poprzez zaprojektowanie sprytnych aukcji energii, które skutkują najniższymi na świecie cenami energii słonecznej w skali użytkowej. Wraz z przyspieszeniem spadku kosztów, kraje Globalnego Południa będą mogły wykorzystać zalety prawa Wright'a poprzez odważną politykę dekarbonizacji samochodów, chłodzenia i energii elektrycznej.
Modelowanie Energy Innovation konsekwentnie pokazuje, że ambitna polityka w zakresie czystej energii rozwija gospodarki i tworzy miejsca pracy, jednocześnie poprawiając jakość powietrza. Jeszcze przed IRA badania wykazały, że Indie mogą zaoszczędzić ponad 60 bilionów rupii (752 miliardy dolarów) do 2050 r., jeśli przyjmą politykę wysokiej dekarbonizacji.
W tym celu szczególnie skutecznym instrumentem są normy eksploatacyjne - wymagające corocznie coraz większego minimalnego udziału czystej energii i pojazdów elektrycznych. W krajach o niskich i średnich dochodach taka polityka może wykorzystać inwestycje USA i UE bez kosztów dla rządów poza egzekwowaniem przepisów i może zapobiec sytuacji, w której dany kraj stanie się wysypiskiem śmieci dla zanieczyszczających pojazdów i sprzętu.
Zrozumienie prawa Wright'a może pomóc zmienić kierunek dialogu Północ-Południe podczas COP27. Inwestycje krajowe najbogatszych krajów obniżą koszty krajów rozwijających się i pozwolą dalej rozciągnąć międzynarodowe finansowanie. Im mniej kosztowne staną się działania na rzecz klimatu, tym większe będą nasze szanse na utrzymanie stabilności klimatu.
Z angielskiego przetłumaczyła Marz McNamer