Jak může Wrightův zákon napravit klima
OAKLAND – Spojené státy jakožto druhý největší emitent skleníkových plynů na světě jsou pro zachování obyvatelné planety klíčové. A díky nedávno přijatému zákonu o snížení inflace (IRA) – který vyčleňuje stamiliardy dolarů na dekarbonizaci – upevnila Amerika svou důvěryhodnost právě před Konferencí OSN o změně klimatu (COP27) v Egyptě.
Spojené státy dnes mají dobře nakročeno k tomu, aby dosáhly cíle snížit do roku 2030 své emise na polovinu oproti úrovni z roku 2005. Zatímco ustanovení IRA by mohla vést k poklesu amerických emisí do roku 2030 o 43%, o zbytek se mohou postarat nová pravidla Agentury pro ochranu životního prostředí a ráznější akce na státní úrovni, jakých jsme letos byli svědky v Kalifornii.
Ačkoliv je však IRA sám o sobě historickým úspěchem, jeho největší přínos bude mít podobu příznivých vedlejších dopadů na globální ekonomiku. Podobně jako politika "Fit for 55" Evropské unie se také IRA stane hnacím motorem sluneční a větrné energetiky a bateriových úložišť, čímž sníží náklady na tyto čisté technologie všem. V konečném důsledku tak všechny země zaplatí mnohem méně za snižování svých emisí takovou rychlostí a v takové míře, aby udržely klimatické změny pod kontrolou.
Jistě, USA stále potřebují dostát svým dalším klimatickým závazkům, v neposlední řadě poskytováním částky 11,4 miliardy dolarů ročně (v porovnání s jinými americkými výdaji je to nicotná suma), kterou přislíbila na financování zmírňování následků oteplování globálního Jihu a adaptace na ně. Ačkoliv to však působí kontraintuitivně, mohutné domácí investice USA a EU do čistých technologií budou mít zřejmě mnohem větší hodnotu než jakékoliv přímé financování, které poskytnou, a to díky málo známému fenoménu zvanému Wrightův zákon.
Ten získal název podle amerického inženýra Theodorea Wrighta, který ho ve 30. letech pozoroval jako první. Wrightův zákon predikuje, že každé kumulativní zdvojnásobení globální produkce určité technologie sníží její náklady o konstantní procento. A jak potvrzuje nedávný výzkum Oxfordské univerzity, náklady na solární, větrné, bateriové a elektrolytické technologie se zvyšováním jejich produkce opravdu výrazně klesají.
Ještě podstatnější však je zjištění vědců, že Wrightův zákon platí i poté, co inovativní technologie dosáhnou vysoké úrovně tržní zralosti. To znamená, že investice do výroby čisté energie, která díky IRA dosáhne 370 miliard dolarů, by mohla vyvolat ještě rychlejší pokles nákladů na technologie potřebné k řešení klimatické krize a zajistit vyšší kvalitu života pro miliardy lidí.
Subscribe to PS Digital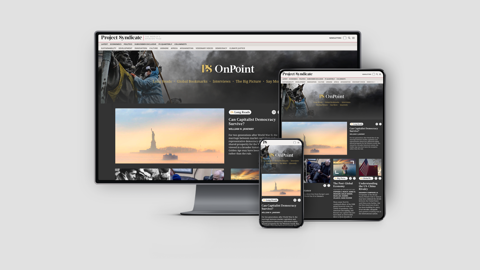 Subscribe to PS Digital
Access every new PS commentary, our entire On Point suite of subscriber-exclusive content – including Longer Reads, Insider Interviews, Big Picture/Big Question, and Say More – and the full PS archive.

Například naše modelování v Energy Innovation ukazuje, že tyto vládní investice by mohly do americké sítě dodat 1,053 gigawattu nové větrné a solární energie, čímž by se tato síť stala za pouhých osm let z 85% čistou. Stejně tak nové daňové slevy na elektromobily, které ze zákona vyplývají, by mohly zajistit, že do roku 2030 bude zhruba třetina všech nových osobních i nákladních automobilů prodaných v USA na elektrický pohon. Dále se očekává, že pobídky IRA dodají pět gigawattů elektrolytické kapacity k výrobě nulového vodíku, což bude klíčové pro snížení emisí v chemickém a leteckém průmyslu.
Veřejné investice vyplývající z IRA navíc odblokují několikanásobně vyšší soukromý kapitál. Když k tomu připočteme evropské investice a mohutné prosazování čisté energie a elektromobility v Číně, lze předpokládat, že zavádění inovativních čistých technologií zažije explozivní růst.
Vedle snižování emisí v největších a nejvíce znečišťujících ekonomikách světa zajistí exponenciální růst čistých technologií také dramatický pokles nákladů na transformaci energetických soustav ve zbytku světa. Tento dynamický vývoj koneckonců vidíme už dnes. Zelené investice Německa a Kalifornie na počátku uplynulého desetiletí pomohly v letech 2010 až 2020 snížit náklady na sluneční energii o 85% a na větrnou energii o 56%. Stejně tak poptávka po elektromobilech v Číně přispěla od roku 2010 k poklesu nákladů na baterie o 89%.
Indie tyto klesající náklady kapitalizuje tím, že organizuje chytré energetické dražby, jejichž výsledkem jsou nejnižší ceny solární energie na komunální úrovni na světě. A s dalším zrychlováním poklesu nákladů budou moci země z celého globálního Jihu využívat přínosů Wrightova zákona prostřednictvím smělých politik směřujících k dekarbonizaci automobilů, chlazení a elektřiny.
Naše modely setrvale ukazují, že ambiciózní politika čisté energie zajišťuje hospodářský růst, vytváří pracovní místa a současně zlepšuje kvalitu ovzduší. Už před schválením IRA výzkum zjistil, že pokud Indie přijme politiku intenzivní dekarbonizace, mohla by do roku 2050 ušetřit více než 60 bilionů rupií (752 miliard dolarů).
Obzvláště účinným nástrojem k dosažení tohoto cíle jsou standardy výkonu, které vyžadují rok od roku vyšší minimální podíl čisté energie a elektromobility. V nízkopříjmových a středněpříjmových zemích může taková politika elegantně využívat investic z USA a EU, což vládám nepřináší žádné náklady s výjimkou nákladů na vymáhání standardů, a země tak mohou předejít tomu, aby se staly odkladištěm znečišťujících vozidel a vybavení.
Pochopení Wrightova zákona může přispět k přeformulování dialogu mezi Severem a Jihem na konferenci COP27. Domácí investice nejbohatších zemí sníží náklady i rozvojovým státům a dále rozšíří mezinárodní finance. Čím levnější bude klimatická akce, tím vyšší budou naše naděje na udržení klimatické stability.
Z angličtiny přeložil Jiří Kobělka