Die Krise der Zentralbank-Governance
LONDON – Hinsichtlich des Verhältnisses zwischen Währungsbehörden und Regierungen bestehen bedeutende Unterschiede zwischen den Vereinigten Staaten und der Eurozone. In den USA verfolgt man ausnahmslos ein traditionelles Muster, im Rahmen dessen Regierungspolitiker, mit Blick auf den Wahlzyklus, tendenziell für eine expansive Fiskalpolitik und gelockerte geldpolitische Bedingungen eintreten, während die auf die Durchsetzung ihrer Unabhängigkeit bedachte Notenbank Federal Reserve auf der Hut vor politischer Einflussnahme ist.  Würde man die Autonomie der Fed infrage stellen, wäre die nationale und - damit auch – die makroökonomische Stabilität gefährdet.
In der Eurozone stellt sich das Muster genau umgekehrt dar. Insgesamt zögern die fiskalpolitischen Entscheidungsträger, sogar angesichts einer Konjunkturabschwächung (wie sie derzeit im Gange ist), Konjunkturanreize zu setzen. Letzten Endes ist es die Europäische Zentralbank, die versucht, andere zu aktivem Handeln zu drängen. Für diese Umkehrung der Rollen zwischen Regierungen und geldpolitischen Entscheidungsträgern bestehen keine historischen Vorbilder. Vielmehr ergab sich diese Konstellation als unerwartete Folge der Gestaltung der Eurozone und sie droht nun, die Stabilität des Blocks nachhaltig zu gefährden.
Allgemeiner betrachtet sind sowohl in den USA als auch in der Eurozone Symptome einer Krise der wirtschaftspolitischen Governance zu beobachten, die seit mehr als 30 Jahren ihren Lauf nimmt. In den USA wird die Unabhängigkeit der Fed vom Kongress gewährt, der sie ihr grundsätzlich auch entziehen könnte, während die Unabhängigkeit der EZB durch den Vertrag von Maastricht geschützt ist. Das ist für die Europäer allerdings nur ein schwacher Trost, wenn man bedenkt, dass die Spannungen zwischen den europäischen Währungsbehörden und den Regierungen der Mitgliedsstaaten den Konsens zugunsten der Einheitswährung letztlich untergraben könnten.  
Als staatenlose Zentralbank innerhalb eines Blocks, in dem die nationalen Regierungen die fiskalische Souveränität beibehalten, verfügt die EZB über wenige Instrumente, mit denen sie die Regierungen zu einer Wirtschaftspolitik im Einklang mit dem Inflationsziel der Zentralbank drängen könnte. Die EZB kann höchstens die Botschaft vermitteln, dass im Falle von Null- oder Negativzinsen die Fiskalpolitik zur Ankurbelung der Gesamtnachfrage oder zur Beeinflussung der Inflation wichtiger ist, als Geldpolitik.
Es ist jedoch unwahrscheinlich, dass souveräne Staaten auf derartige Botschaften reagieren, wenn diese nicht mit eigenen nationalen Zielen vereinbar sind, die unweigerlich Vorrang vor den Prioritäten der gesamten Eurozone haben. Letzten Endes bleibt die EZB weiterhin die Wirtschaftsinstitution letzter Instanz. Während der Eurokrise vor fast einem Jahrzehnt war die EZB gezwungen, die letztgültige Verantwortung für die Finanzstabilität zu übernehmen, und zwar ungeachtet dessen, ob das Problem Liquidität oder Bonität war. Und jetzt wird sie letztendlich für die Stabilisierung der Produktion in der Eurozone verantwortlich sein, unabhängig davon, was die nationalen Regierungen tun (oder nicht tun).
Prinzipiell könnte man in der Eurozone mit Geldpolitik noch viel mehr erreichen. Wollte die EZB jedoch in der Praxis mehr umsetzen, als sie es schon getan hat, wäre dazu eine umstrittene und polarisierende Ausweitung ihres Aufgabenbereichs erforderlich. Ihr politischer Entscheidungsspielraum würde seine politische, wenn nicht gar wirtschaftliche Grenze schnell erreichen.
Subscribe now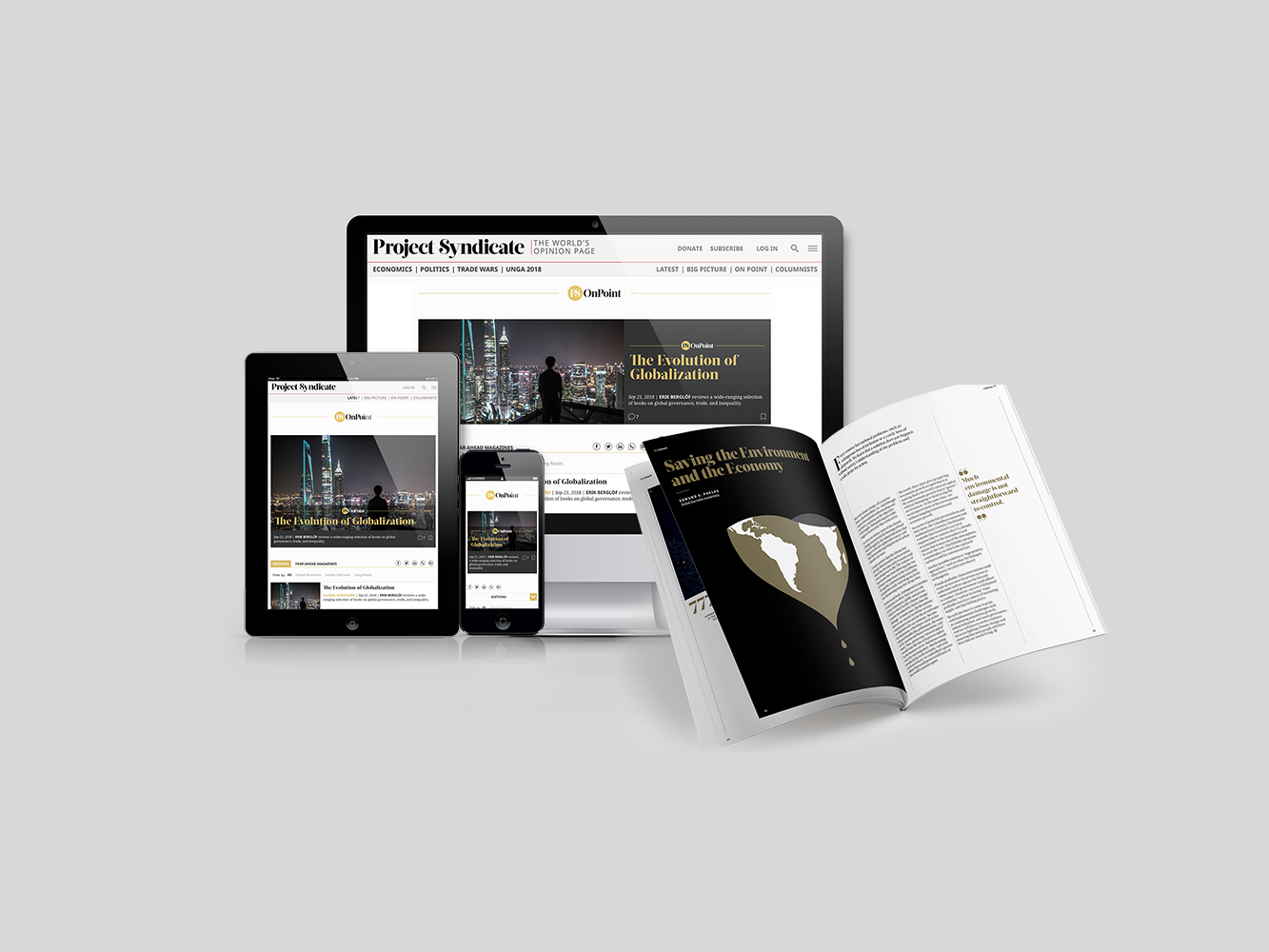 Subscribe now
Subscribe today and get unlimited access to OnPoint, the Big Picture, the PS archive of more than 14,000 commentaries, and our annual magazine, for less than $2 a week.
Da die Bekämpfung der Inflation in den 1980er und 1990er-Jahren oberste wirtschaftspolitische Priorität war, erhielten die Zentralbanken das Mandat, sich voll und ganz auf die Preisstabilität zu konzentrieren. Man war sich weitgehend einig, dass ein derart eng gefasstes Mandat die Unabhängigkeit der Zentralbank angesichts des politischen Drucks in Richtung einer potenziell inflationären Politik gewährleisten würde. Außerdem enthielt der Vertrag von Maastricht Fiskalregeln, die die Mitgliedsstaaten daran hinderten, übermäßige Schulden anzuhäufen. Dadurch räumte man Bedenken aus, wonach eine Staatsschuldenkrise den gesamten Block destabilisieren könnte.
Doch im heutigen Umfeld der niedrigen Zinsen, des schwachen Wachstums und der hohen Risikoaversion unter den Anlegern besteht die wichtigste "Externalität" für die Eurozone in der schwachen Binnennachfrage aus größeren Mitgliedsländern wie Deutschland.  Weder mit den bestehenden Haushaltsregeln noch mit dem Rahmenwerk der EU für die Koordinierung der makroökonomischen Politik kann dieses Problem angemessen in Angriff genommen werden.
Die EZB und die Europäische Kommission können also zwar moralische Appelle aussenden, aber es ist ihnen nicht möglich, die Regierung eines Mitgliedsstaates zu fiskalischer Expansion zu zwingen. Und obwohl der Vertrag von Maastricht die EZB vor jener Art der Druckausübung schützt, die Präsident Donald Trump der Fed angedeihen ließ, kann dieser Vertrag die Eurozone nicht vor den politischen Verwerfungen schützen, die entstünden, wenn die EZB ihren Zuständigkeitsbereich erweitern würde.
Der Vertrag von Maastricht hat sich als Inbegriff des "historischen Determinismus" entpuppt. Bei seiner Unterzeichnung im Jahr 1992 präsentierten sich die wirtschaftlichen Herausforderungen ganz anders als heute. Damals bestand der intellektuelle Konsens darin, dass Fiskalregeln und eine unabhängige Zentralbank mit eng gefasstem Mandat für die makroökonomische Stabilität ausreichend seien. Tatsächlich erklären diese Faktoren warum die Nordeuropäer – insbesondere die Deutschen – die Idee einer gemeinsamen Währung überhaupt akzeptierten.
Heute wäre eine derartige Entwicklung nicht möglich, da neue Herausforderungen zu einem neuen Konsens sowohl in der Fiskal- als auch in der Geldpolitik führen würden. Auf beiden Seiten des Atlantiks haben die Zentralbanken ihre Bilanzen massiv ausgeweitet und sind zu "Marktmachern" geworden. Überdies besteht die wachsende Notwendigkeit einer engeren Koordinierung zwischen geld- und fiskalpolitischer Entscheidungsfindung. Andererseits muss die Fiskalpolitik aktiver im Nachfragemanagement eingesetzt werden. Dies erfordert einen völlig neuen Governance-Rahmen, dessen Schaffung insbesondere in der Eurozone überaus schwierig sein wird. Es besteht jedoch keine andere Wahl, da die Unabhängigkeit der EZB, bei aller Notwendigkeit sie zu schützen, nicht ausreicht, um die makroökonomische Stabilität zu gewährleisten.
Aus dem Englischen von Helga Klinger-Groier